The Great Financial Migration?

According to Bank of America Merrill Lynch, investors have pulled more than $30 Billion from U.S. Stock Funds over the past 10 weeks.
This latest week of outflows marks the 10th straight week of outflows, the longest streak of outflows since 2004. 
Keep in mind that this isn't the largest number of outflows since 2004, but it is the longest consecutive streak.
Internal positioning within the market also suggests that investors are becoming increasingly more defensive. 
This is all going on while the stock market reached a record high on August 8th.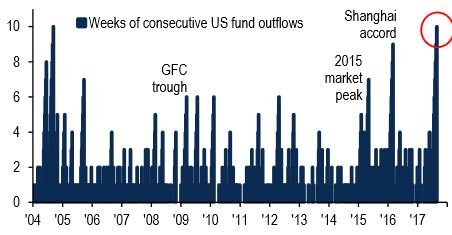 What is going on?
In my opinion there are couple interesting things to note.
For one, August through October are traditionally some of the worst months for the U.S. Stock Market. This could simply be a case where investors are up a lot of money year to date and don't want to risk giving it back with a bad month or two.
Secondly, there has been a large inflow of funds to European and Japanese Stocks over this same time period. An inflow of roughly $36 Billion, which more than offsets the outflows from U.S. Stocks.
However, there is more to the story that just those two items of note...
Money is getting more defensive.
Not only have their been outflows for 10 straight weeks, but it looks like money that remains in the market is positioning itself from more risky investments to more conservative ones.
The defensive utilities sector as well as U.S. Treasury bonds were some of the few areas to see net inflows of funds over the past couple weeks while technology and growth stocks experienced some of the largest outflows.
So yes, it looks like money is getting more defensive and slightly more cautious with seasonal headwinds coming up as well as a market that is near all time highs. 
However, there is one thing that is interesting to me...
Check out the % allocation to precious metals: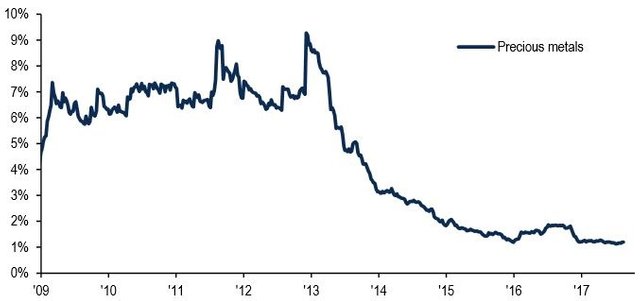 Traditionally, precious metals are an area that money flocks to in times of uncertainty. 
As you can see the percent allocated to metals stayed elevated from 2009 through 2013. It has been trending downwards ever since. 
I would imagine QE has a lot to do wit that, however, QE is has been over for a while now and we just hit a record low this week.
Why is that significant?
Here is why I think that is interesting: 
Money is clearly looking for more defensive place to go. It is looking for a store of value with the U.S Stock Market at an all time high.
Where does it go?
Check out this chart: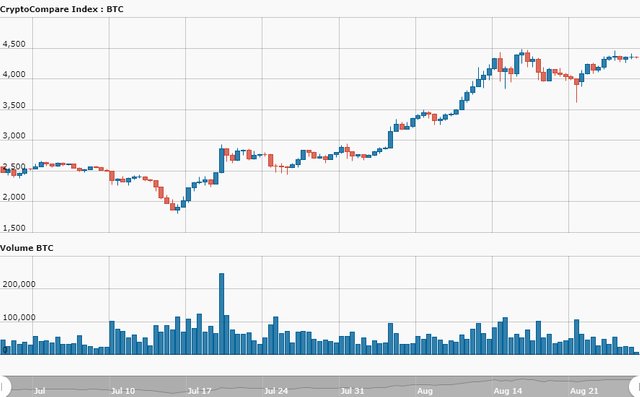 That is a chart of Bitcoin over the last couple months. As you can see it has been on a tear.
Now check out this chart: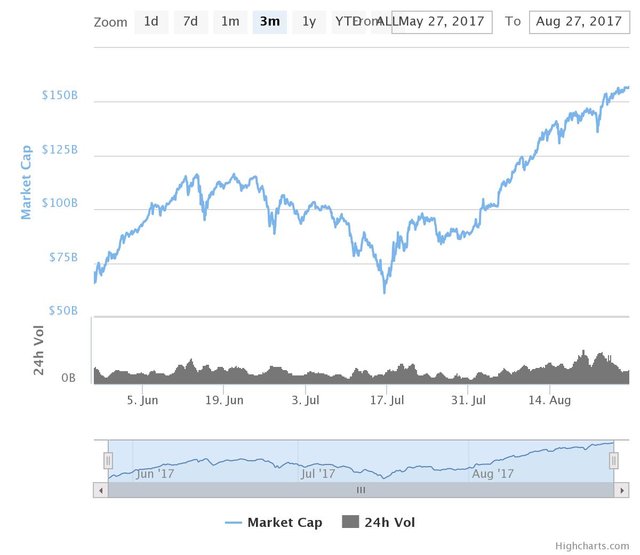 That is a chart of the entire cryptocurrency market cap over the last 3 months.
As you can see a couple months back it hit a low around $60 Billion in total capitalization. Since that time it is up almost $100 Billion to get to it's current level of almost $160 Billion USD.
What is most interesting is that money that is looking for a store of value is finding it's way into Bitcoin and the cryptocurrency markets instead of the more traditional stores of value, like gold. 
This could be the start of something major...
In conclusion:
Yes, we have seen money leaving the U.S. Stock Market and yes we have seen a lot of that money going into European and Japanese Stocks as well as U.S. Treasuries, and also getting more defensive within the U.S. Stock market, but that's not the whole story...
The cryptocurrency total market cap has increased by $100 Billion over that same time period, which means a good portion of those funds have also likely found their way into Bitcoin and other cryptocurrencies.
This is happening while percent allocations to the traditional safe haven gold and other precious metals are hitting record lows.
At some point we will experience a great migration of money leaving traditional investments and finding it's way into crypto, and this is just the very early stages of it. 
Stay informed my friends.
Sources:
https://www.cnbc.com/2017/08/25/investors-pull-billions-from-us-stocks-in-longest-streak-since-2004.html
Image Sources:
https://www.linkedin.com/pulse/understanding-financial-migration-part-2-christo-w-meyer-cfp-ctep
https://www.cnbc.com/2017/08/25/investors-pull-billions-from-us-stocks-in-longest-streak-since-2004.html
https://www.cryptocompare.com/coins/btc/charts/USD?p=3M
Follow me: @jrcornel