MINING RIG: You CAN still build one CHEAP. YES YOU CAN!
I just built a mining rig for dirt cheap. Yes, amidst all of the massive increase in computing component prices (especially GPU), you can still build one cheap. In this post I will share with you my rig details.
Here is a picture of the rig: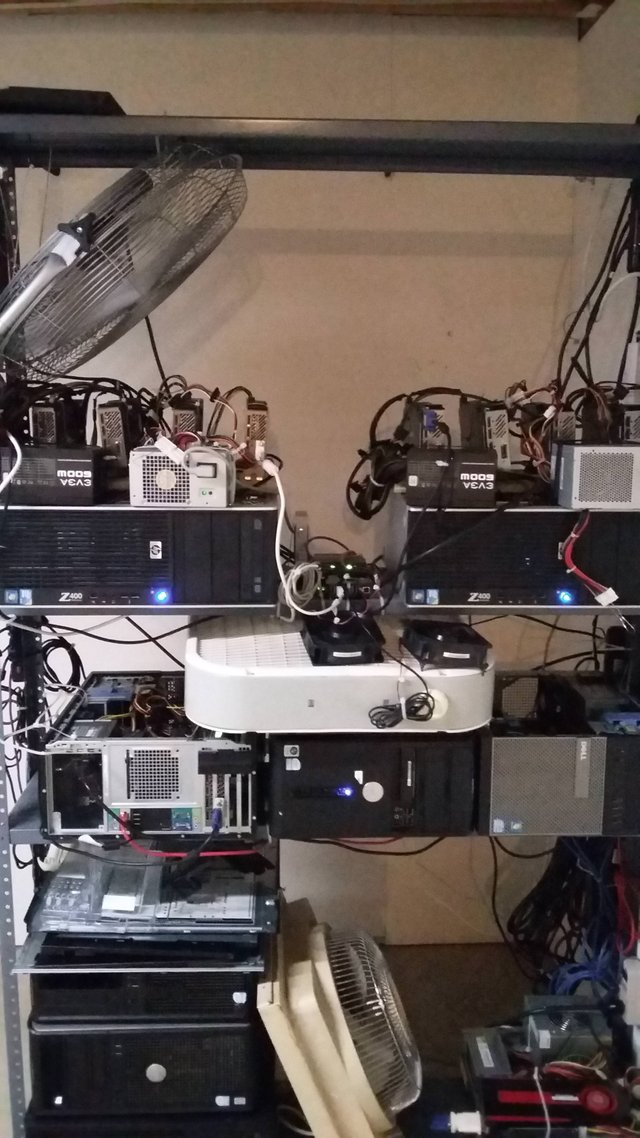 My rig consists of 8 NVIDIA GTX 1080s, as well as some GTX 1060s and one Radeon 7970. I am getting about 6500 sol/s on Equihash for only about $5800.
How did I build it so cheap? Since all components (processors, ram, GPUs, etc are very inflated, I had to get creative).
I will now detail the rig contents, where I sourced the components and how much money I paid, as well as my hash rates.
COMPUTERS
Rather than ordering new motherboards, processors, ram, heatsinks, fans, etc, I got creative and ordered some refurbished PCs. You see, there is still a sweet spot for performance in some machines that you can get very cheap. In particular, I am using:
2 x HP Z400 workstations (each of these has an Intel Xeon processor, 12 GB ram and a 1TB hard drive)
4 x random old and cheap dell PCs. These all have 2GB to 4GB of RAM and processors ranging from Core Duos to Intel I5s (1st gen).
These machines work great! And I mean great. You see, in mining, everything is happening on the GPUs. Especially on Equihash. Transfer rates, etc really don't mean that much. As long as your machines can run the OS, drivers and software, you are good to go (and actually those Z400 machines are pretty fast).
I paid $160 each for the Z400 workstations on Newegg. I bought the dell machines from surplus website for $50 for all 4 machines.
So far we are at $370 for everything.
PSUs
I use the existing PSUs in each machine and add extra power supplies as necessary. I added two PSUs to each Z400. One old dell power supply for each ($5 on ebay), and one nice EVGA 650 W power supply. This is added to the existing 475 watts native to the Z400s. Each Z400 runs 4 x GTX 1080s. The other machines each run 2 x GTX 1060s, except the bottom one which runs 1 x Radeon 7970.
I paid $50 for each EVGA PSU for a total of $100. I actually got these at Best Buy. When I started writing this post I forgot that. Pretty crazy. But, Best Buy has some pretty fair prices still during this tech inflation period.
I also bought some PSU adapters totaling $50. So for power, we are at a total of $150.
PCIE RISERS
I bought a pack of 16 PCIE risers on Newegg for around $95. They are low quality, but they work. They shipped from China and took 11 days to get here. Should have just spent the money on Amazon Prime because I lost several days of profitable mining.
GPUs
And now the moment of truth. The GPUs. OK I must confess, I had the Radeon 7970 already, but it barely contributes anyway. However, you CAN still get GPUs that are refurbished on Newegg.com. The prices on these are actually cheaper that the MSRP prices from months ago. I do not know why, but you can still get them. And the best part is, you can return them for a refund if you want, not just for a replacement. Otherwise, all new GPUs have a replacement only return policy. It is great!
So how do you do it. Well, you check newegg.com anywhere from 10 to 20 times a day. You look at the GPUs you need and sort by price. When you see anything refurbished, you buy as many as you can right away. You don't wait 5 minutes. You don't put them in your cart and then go get your credit card. You have your card on you always. You look, you see, you buy. I was able to buy 8 GTX 1080s (two different models from Gigabyte, 4 single fan and 4 three fan), for…….drumroll…..$500 each. Overclocked they get about 560 sol/s on Equihash. Don't believe me, get on Newegg and give it a try. It might take a few days, but you might get lucky. I still check Newegg but I cannot buy any because I am literally out of power. I need to install new breakers before I expand.
I also was able to buy 6 GTX 1060s for around $200 each refurbished. These are the cheapest 3GB GTX 1060s you can buy. They are single fan models from Zotac. But, they perform well, overclocked (a little hot), they get around 300 sol/s on Equihash.
PRICE AND PERFORMANCE SUMMARY
$4000 - > 8 x GTX 1080s
$1200 - > 6 x GTX 1060s
$0 - > 1 x Radeon 7970
$370 - > PCS
$150 - > Power
$95 - > PCIE Risers
$5815 - > TOTAL
And the hash rates:
6 x GTX 1060 x 300sol/s = 1800 sol/s
8 x GTX 1080 x 560sol/s = 4480 sol/s
1 x Radeon 7970 x 240sol/s = 240 sol/s
Total Hash Rate = 6520 sol/s Equihash (currently ZCASH)
Dollars per hash = $5815 / 6520 = 89 cents per solution (NICE!)
This rig is very profitable.
Power
The entire rig uses about 3.2 Kilowatts.
OVERCLOCKING
I use EVGA Precision XOC to overclock the memory and core clocks, 200Mhz and 100Mhz respectively. Although I will admit, it takes a long time to open it on those old Dell machines.
CLOSING THOUGHTS
Thanks for reading. If you have any questions for me leave them in the comments. If I helped you, upvote (normally I do not ask this but this is post is a long time in the making). I will respond to comments and questions.
I invest in crypto, I am a professor of Computer Science and I work with mining a lot. I do research in general purpose GPU and high performance computing. I have a lot of insight to share so follow me if you want some of this insight. I plan to post a video about this in the future.
Thanks again for reading!
And more pictures of the rig: