Why "I like blockchains, but not cryptocurrency" is ignorant.
Many real businesses, investors, and individuals are getting excited about "distributed ledger technology." They realize how it solves the game theory coordination problem by bringing transparency, shared rules, and permission-less connectivity concerning verifiably trusted data. What they often don't understand is the value of the cryptocurrency itself as it relates to the security of blockchain technology.
Here's the way I see it:
A blockchain without a valuable cryptocurrency is not useful as a blockchain.


People get confused on this, I think, because they get confused with ideas like "private blockchains" or "permissioned blockchains" to the point where they are just talking about a centralized database. There's no "distributed" involved. It's just a ledger. A blockchain should be used when there is a need for Byzantine Fault Tolerance:
A Byzantine fault...is a condition of a computer system, particularly distributed computing systems, where components may fail and there is imperfect information on whether a component has failed. The term takes its name from an allegory, the "Byzantine Generals' Problem", developed to describe this condition, where actors must agree on a concerted strategy to avoid catastrophic system failure, but some of the actors are unreliable.
(via Wikipedia)
If the system itself isn't vulnerable to attacks of this kind, then there is no need for a blockchain because there is no need to protect against it. So much of this comes back to trust. The consensus algorithms involved, whether it's PoW, PoS, or DPoS, all have to create this system of security through trusted, verifiable outcomes.
The rewards pool on Steem, for example, is trusted because the blockchain algorithm itself which is open source and auditable determines how much each new block creates via inflation and where that new currency goes (some to the rewards pool for authors and curators, some to reward those holding Steem Power via increasing the ratio from Steem Power to VESTS, and some to the block producer witnesses as a reward for running the secure system that produced the block).
So getting back to the original point of this article, it's not possible to have a secure blockchain if the rewards given out to those who secure it are not valuable.
To highlight this idea, check out https://www.crypto51.app/ which keeps track of how much it would cost (in theory) to rent enough hash power for PoW mining to 51% attack a chain and double spend.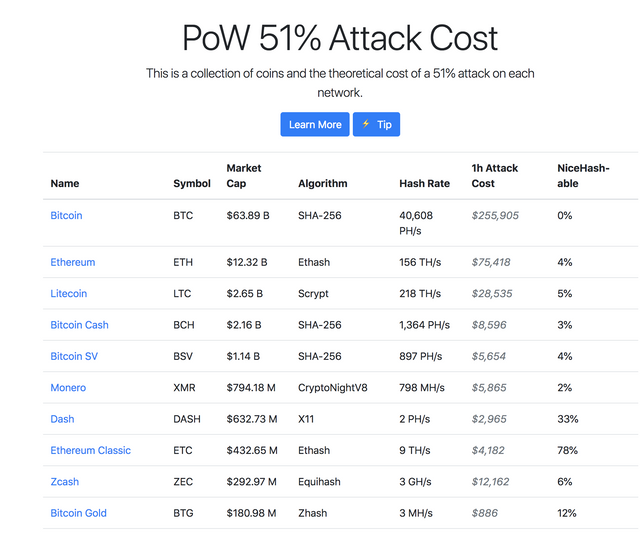 As you can see, the blockchains with the highest market cap also have the highest costs to attack. Going back to our reason for needing a blockchain to begin with, this also means these blockchains are the most secure because they are the most expensive ones to mess up (assuming all else being equal and they don't have a fundamental security flaw in their unique implementation). The value of the blockchain technology is directly connected to the cost to attack it which is directly related to the value of the token given out to those who are securing the network.
The same thing applies to DPoS chains like BitShares, Steem, and EOS. If the token price is so low that it's trivial to buy up enough tokens to vote in your own cabal of block producers to fork the code and make changes however you like (such as allowing a double spend, changing the inflation, etc, etc), then the security of the chain can not be trusted and it will not (or at least, should not) be used to protect anything of value against a Byzantine fault. The token price matters as does the rewards given to the block producers. Those rewards should be high enough to attract top talent who are willing to compete with others for a prize worthy of their attention.
If a token loses all value, then it will not be a valuable blockchain for preventing Byzantine faults because it will not have a trusted security model with real value behind it. It might be an interesting curiosity, a technical hobby toy to learn from, or an exploration of engineering methodology, but it is not valuable or useful as blockchain technology. This is why test networks, for example, are not used to secure anything of value. Test net tokens are easy to obtain and have no value so the systems which use them are not useful as blockchains, but as testing and training grounds. Whoever controls the issuing of new test net tokens controls the chain (much like a centralized database).
Those who try to separate out the value of the blockchain from the value of the cryptocurrency which secures it are, fundamentally, ignorant of either the economic motivational system in place to reward the block producers for creating security or the technical system itself which makes it secure in the first place.
It's okay to be ignorant.
Unfortunately many people see being told they are "ignorant" about a given topic as an insult of some kind (myself included). In reality, it's just a statement of fact. We all have opinions and views on things based on incomplete knowledge. I'm quite certain, for example, that some of what I've written in this post is also ignorant about the many nuances involved. That's okay. Learning that you are ignorant of something is actually a gift as it helps you grow your understanding (and possibly your wisdom). If someone sent you this post because you may have been ignorant, don't take offense. Celebrate that you now know more than you did.
I think we're witnessing the evolution of the future of human interaction via trusted, programmable money. This stuff is important, and it's important to talk about it accurately so we don't find ourselves using centralized systems yet again.
---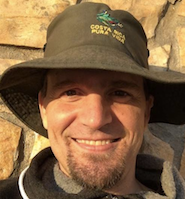 Luke Stokes is a father, husband, programmer, STEEM witness, DAC launcher, and voluntaryist who wants to help create a world we all want to live in. Learn about cryptocurrency at UnderstandingBlockchainFreedom.com







I'm a Witness! Please vote for @lukestokes.mhth