DeGeThal - A user-focused blockchain-powered platform where banking meets crypto
Blockchain has created an alternative economy that empowers users to fully own and control their finances without intermediaries. Through decentralized finance, also called DeFi, users can now access various financial instruments such as lending, synthetics, derivatives and others which were only hitherto available in traditional finance. Hitherto, banks and other financial institutions are the only available trusted systems that provide financial services such as safe deposit custody, lending, etc to people across the globe. Even at that, there are still about 1.6 billion adult population across the world without bank accounts. The legacy financial services have also failed to capture these unbanked people to bring about financial inclusion and benefits to all.
These shortcomings can be adequately solved by cryptotechnology due to its dynamic innovation which has brought about revolution in the financial system especially in payment, buying and selling of digital assets, owning and holding cryptocurrencies as digital assets (NFTs).
The Problem
The banks have failed to serve everyone as a large population of adults still remains unbanked. While cryptocurrency, which has sparked considerable interests and growth in the past decade, is yet to fully achieve global adoption due to lack of a platform that does not only make it easier to buy, sell and store cryptocurrency, but also provide frictionless movement between fiat and crypto.
The Solution
A new platform has been developed which combines banking with crypto to provide an easy route for any category of users to hop in and trade crypto in a single interface without any hassle.
Welcome DeGeThal.
What's DeGeThal?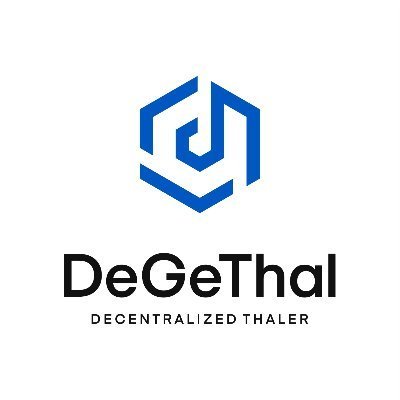 DeGeThal
is a next-gen blockchain-powered platform that integrates smart banking with crypto for a seamless user experience. DeGeThal offers a single interface where users can open bank account, buy and sell crypto, and as well store cryptocurrencies in the wallet. In essence, the DeGeThal application is a multifunctional application that caters for all categories of users, whether newbies or advanced crypto users, even grandmas can easily manage their finances using DeGeThal.
By leveraging blockchain, DeGeThal focuses on driving innovation in the financial space thereby catalyzing financial inclusion for all, irrespective of status and location. The platform is user-focused and is thereby designed to be user-friendly for anyone.
The DeGeThal ecosystem primarily consists of:
DeGeThal wallet
DeGeThal Exchange
DeGeThal token (DTM)
Banking module
The DeGeThal Advantage
Banking Meets Cryptocurrency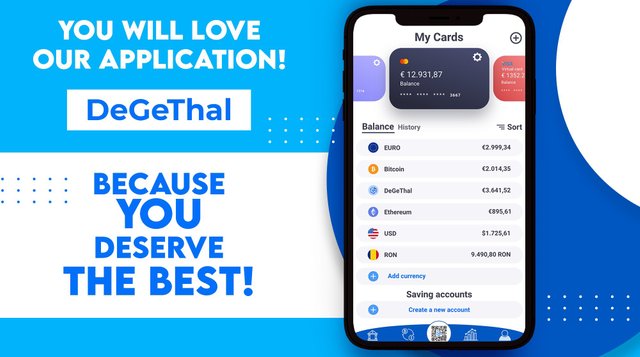 DeGeThal application is pivotal to the DeGeThal ecosystem. It features the banking module and the cryptocurrency module. The banking module enables users to create new bank accounts from the mobile application in few minutes and use virtual cards on it for fiat transactions while the crypto module gives users the access to buy, sell, and hold crypto, that is, it serves as a wallet.
Additionally, users can trade cryptocurrency directly from the application in a secure and safe environment.
Support for Crypto-Fiat transactions
One of the core selling points of DeGeThal is its support for crypto and fiat transactions. This ensures fluid movement between fiat and crypto for all users. No need for OTC, users can easily buy crypto with their fiat or convert their coins back to fiat.
Easy Payment Tool
DeGeThal serves as an easy payment tool for anyone. Users can simply receive fiat and/or crypto easily and swiftly from the application. DeGeThal makes it easier for users to pay with crypto including utility bills and shopping. With the QR code, users can make financial transactions with speed and efficiency.
DeGeThal Token (DTM)
DTM is a BEP-20 token issued on the Binance Smart Chain (BSC) blockchain. The token is pivotal to the utility of the DeGeThal application, and powers the blockchain utility including p2p payments, low transaction fees, and exchange liquidity.
With a total supply of 100,000,000 tokens, DTM will foster a new drive for financial freedom and inclusion for millions of users across the globe.
Conclusion
DeGeThal appears promising and poised to expand the utility and adoption of blockchain wider. The platform caters to the needs of alo categories of users, helping to onboard millions of users to adopt cryptocurrency easily and to bank smartly from their mobile devices.
DeGeThal marks a new era of financial innovation based on blockchain. It's time for financial inclusion of all.
LINKS
For further information on DeGeThal, use the following links:
Website
Twitter
Telegram
Reddit
Facebook
Author's Details
Bitcointalk Username: Mexite
Bitcointalk Authentication Link
BEP-20 Wallet Address: 0x7B66716252919fF2BC55E8D05FCB556C1004BbC8