Facebook Buying Coinbase ?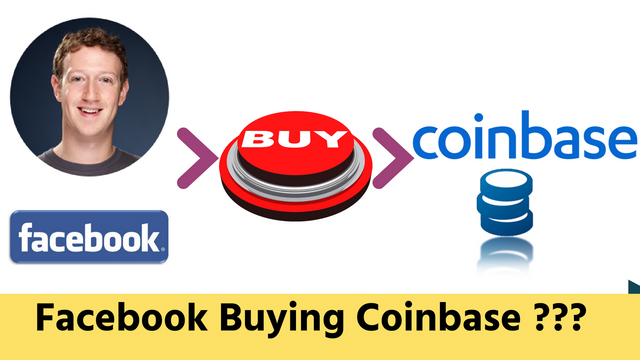 We all know Facebook had lot of controversy over crypto ads ban on their platform few months ago, but now they have reversed their decision and lifted the ban of crypto ads on their platform (ICO ads are still not allowed though) .
Facebook is aware of potential of Blockchain technology that is why they launched their own "exploratory blockchain group" that reports directly to the company's CTO, Mike Schroepfer. Head of the group David Marcus who is former president of PayPal and is the current Vice President of Messaging Products at Facebook where he heads the Facebook Messenger unit and also a board member of Coinbase .
Big rumours that Facebook is very much interesting in buying Coinbase which was earlier reported by economist.com as well . If this happens it will boost Facebook value's and utility and most importantly will add legitimacy to crypto market as well . This will even help cryptocurrency to reach billion of people and that is what we all want , as it will help to boost our crypto market back on track and market to be in Bullish Behavior .
Coinbase has already stated that they want to reach billion people who will use cryptocurrency and there is no better option to have partnership with facebook over it to reach billion people . So if all this happen Facebook coin will be launched too and if that happen it will for sure have huge demand and far more reach then bitcoin as well .
Now lets imagine if Google , Facebook , twitter & instagram all launched their crypto coins it will be big boost for those coins for sure but will ad legitimacy in crypto field with huge pump .
All of this is just rumour until Facebook announces it officially . We all know Mark has said it multiple times that he is studying it deep so that they can use its potential to max . So sooner or later we might heard this rumour to come true as well .
What's Your view on this blog comment below ?
What you think Facebook is really interested in buying Coinbase or not ?
Comment Your Opinion
Thanks
Sumit Kapoor @moneyguruu