100 STEEM + Submission Bonuses ~ Sponsored Writing Contest: Streamity
Welcome to the @OriginalWorks sponsored writing contest! Status: CLOSED. Accepted Languages:
Start Time: 8 AM ET, Saturday
End Time: 8 AM ET, Tuesday
This is a call to all great Steemit writers! Streamity has sponsored a writing contest!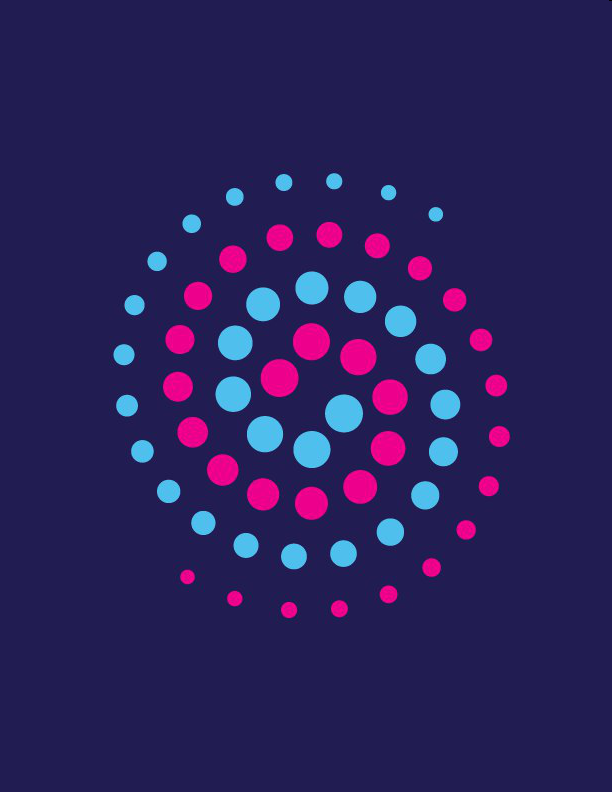 Prizes: 100 STEEM + Submission Bonuses

1st Place: 30 STEEM
2nd Place: 20 STEEM
3rd Place: 15 STEEM
4th Place: 12 STEEM
5th Place: 10 STEEM
6th Place: 8 STEEM
7th Place: 5 STEEM

Deadline: 72 Hours
All articles must be submitted within 72 hours of this post to be considered!
What is Streamity's StreamDesk?
The cryptocurrency market is growing like never before. With this growth, there is a need for an exchange method that is user friendly and accessible to the general population as well as the existing cryptocurrency users. This means a place where exchanges can happen that are not only between various cryptocurrencies but between fiat as well.
The exchanges that currently accept fiat are mostly centralized, and many of those have stopped working with fiat altogether. There is a shortage of ways the everyday consumer can enter the cryptocurrency market. This means that a lot of fiat exchanges must occur P2P(Person to Person, such as meeting in a cafe to make an exchange) using services like localbitcoins to find buyers/sellers.
The problem is that those services are not safe or very inviting to new cryptocurrency users.
This is where the StreamDesk platform comes in. StreamDesk uses smart contracts to ensure safe P2P transactions. The seller's cryptocurrency is blocked within a smart contract. As the fiat is transferred to the seller's account, the smart contract releases the cryptocurrency to the purchaser. The commissions are greatly reduced in comparison to traditional P2P purchase methods while safety is maximized.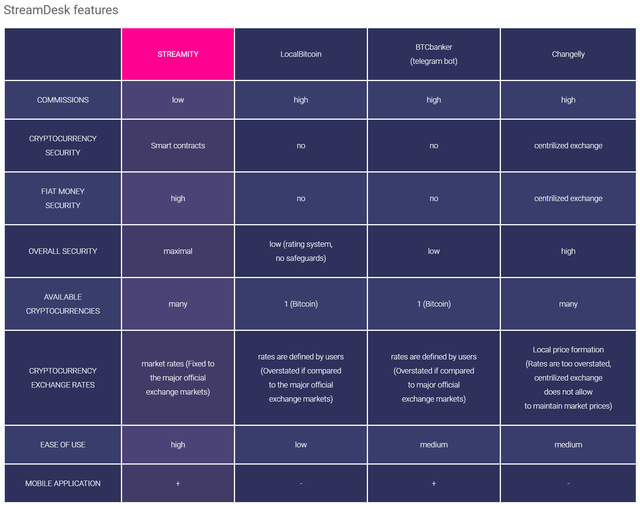 Fiat to Cryptocurrency
In the words of Streamity CEO, Vladislav Kuznetsov:
"...we believe that the StreamDesk service will be in high demand. The connection of a smart contract with the API of payment systems allows 100% guarantee of the transaction, this process is fully automatic, and thanks to the transfer of fiat money directly between users - we can work officially in most jurisdictions! The service commissions are transparent, and the rates are tied to several large exchanges (Poloniex, Bitfinex, Coinbase, Bittrex) and can not be overstated by users."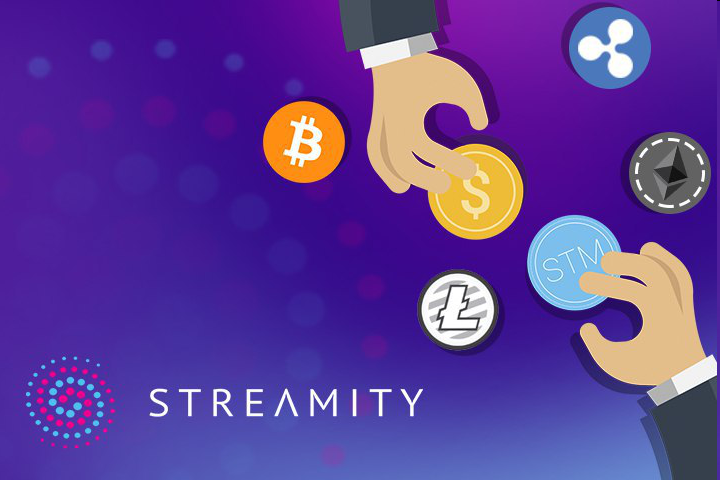 The decentralization of a P2P platform means that users are protected from bad trades and unfair deals. Smart contracts allow for trustless trading. The commissions are completely transparent and prices are based on going rates at major exchanges.
STM Tokens
Streamity is an ecosystem, and StreamDesk is a part of it. As the roadmap outlines, Streamity will launch conversion as well as educational services in the future. The STM tokens will allow use of these services as well as reduced commission rates. They will also be a means of trade on the system as well as on secondary markets.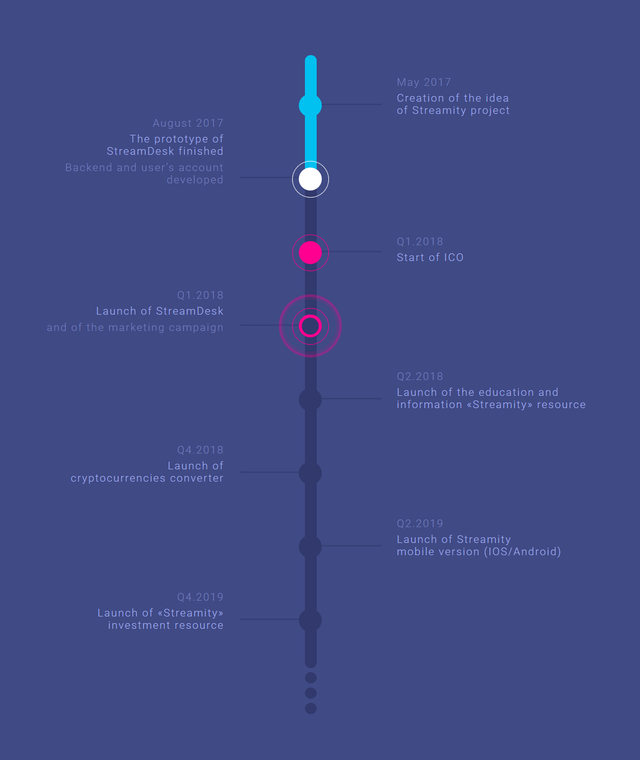 For more information watch this short introduction:
More Information & Resources: Rules & Submission

Write an article about how Streamity will change the way P2P trading is done! Will this prompt fiat users to enter the cryptocurrency market? How will this impact cryptocurrency to fiat conversion for you? How does decentralization benefit P2P trading? As always, the topic is fairly open-ended, so be creative!

Feel free to use images and media from their website. You can even make your own video and have it in your submission!

The article must be 200 to 800 words in length.

To submit please do the following:

Add the word "streamity2018" (without the quotes) at the very end of your article.
Link this post in your submission.
Post the link to your article as a reply to this post.
Resteem this contest post.

How the winners are decided
The submissions will be passed along to the team at Streamity, and they will decide the best articles.
More information & recommendations:

Pay attention to spelling and grammar!
Feel free to use informal language such as "I would, etc"
Use information and resources above to learn more about Streamity!
If you copy something, use quotes. This is an @OriginalWorks contest after all :)

After writing an article, within a few minutes you should get one of these as a response to your article post:

If you don't get one, let me know by adding a quick message after you submit your link as a reply here and I will look into it.
Early bird bonus!!! First 40 submissions get 0.5 STEEM each. The article must meet the contest conditions such as word length and a level of quality.
Disclaimer: @OriginalWorks makes no claims as to the legitimacy or operating procedures of contest topics. @OriginalWorks does guarantee prize payout. The contest topic company may choose to share the winning contest submissions.
Good luck to all the contestants!