How To Register And Login To Your VIT Account On Tube8
Originally posted on my touchit.social blog.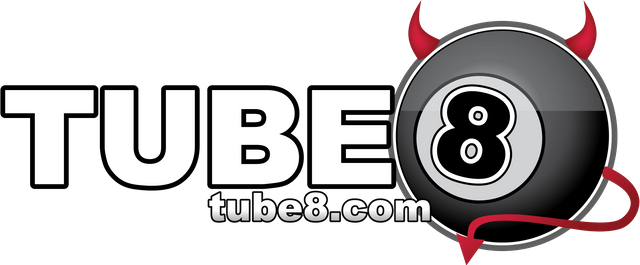 Tube8 has recently integrated with the VIT Blockchain, enabling Tube8 users to register and login to their VIT account while on Tube8. After logging in to their VIT account on Tube8, users can earn VIT cryptocurrency for voting on their favorite VIT enabled videos on Tube8.
This step by step guide has been written during the first phase of integration and as a result may include steps that are unnecessary in the future. I will work to provide updates to this guide when changes are made that streamline the login process. If you find that something in this guide doesn't work and you get stuck, please join the VIT Global Community chat on Telegram or the VIT Discord server and one of the admins or community members will be glad to help. Lastly, I have also written this registration and login guide for Tube8 users who have little to no experience with cryptocurrency in an effort to ensure that they correctly and securely save their master password.
Now that we have all that out of the way, let's get started!
Step 1: Open a new browser window in privacy or incognito mode.
Logging in to your VIT account via Tube8 in incognito mode ensures that you can consistently connect to the VIT blockchain through Tube8.
Step 2: Sign up for a Tube8 account.
If you already have a Tube8 account skip to step 3. If you don't have a Tube8 account, visit Tube8.com and click the GET PAID link in the main navigation menu. A white pop up will appear with information about VIT and Tube8. Click the Get Started button.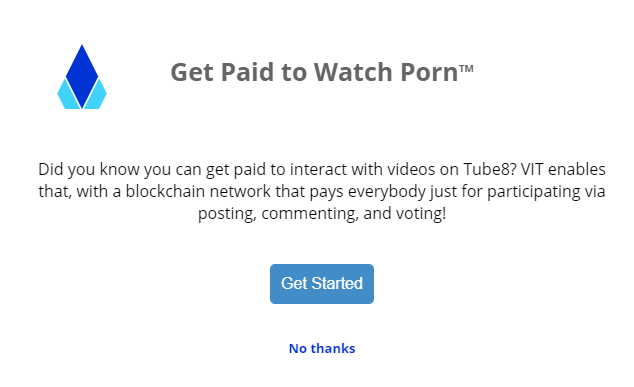 Now fill out the sign up form and click the register now button.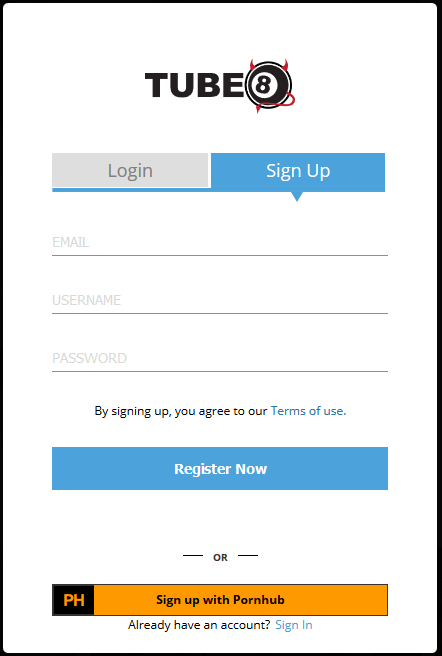 You should receive an email from Tube8 in a few moments with a link to activate your account. In the meantime, click the blue sign in button and login with the username and password you just set.
Step 3: Activate your VIT Account
If you already have a Tube8 account, simply login to it as normal. After logging in you should be greeted by a landing page allowing you to activate your VIT account. If for some reason you do not get this landing page you can access it by clicking on the blue VIT logo next to your username in the upper right corner of the Tube8 screen.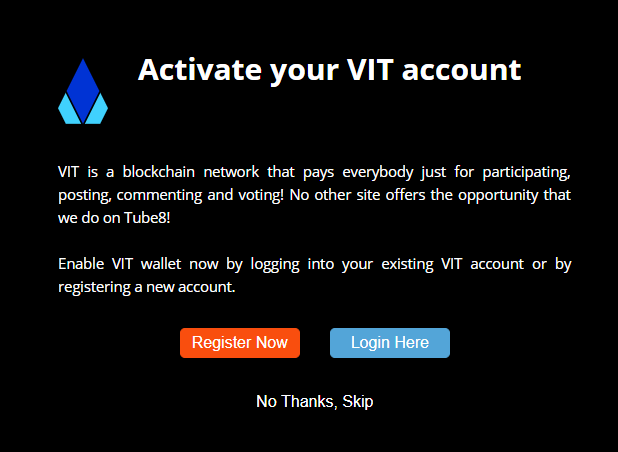 To create a new VIT account to use on Tube8 click the Register Now button. If you already have a VIT account that you want to activate, click the Login Here button and skip to step 5.
Step 4: Register for a new VIT account.
After clicking the register now button you should be greeted with a VIT registration form. The username you set here will be your publically visible username on the VIT blockchain and all VIT enabled websites. It cannot be changed once created. Fill out the username field with your desired username. Then click the generate password button on the right side of the form below the logo and secure password notice.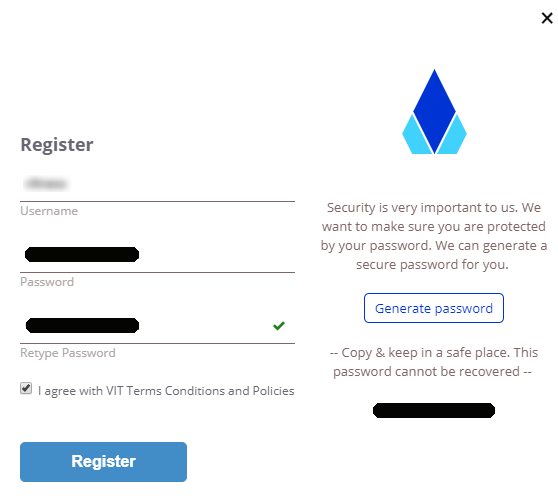 Copy your VIT username and generated password to a text file and save the file to a removable flash drive for safe keeping. Please take a moment to double check that you correctly copied and pasted the password. Check character by character. If you copy this password wrong or if you lose it YOU CANNOT RECOVER OR RESET YOUR PASSWORD. It is not saved anywhere by VIT or Tube8. It is your responsibility to save and maintain the security of your password. So make sure you save it to a text file on a removable flash drive. I also recommend printing out a hard copy. Keep both the flash drive and the hard copy somewhere secure where only you have access.
Now that you have correctly and securely backed up your VIT username and password, manually retype the password into the second password field. Check the agree-to-terms box and click the register button.
If the username is available you will see a green success notification pop up at the top of the screen. The page will then refresh to a VIT login form.
Step 5: Login to VIT
If you successfully created your VIT account in the previous step, enter the username and password you just made in the login form.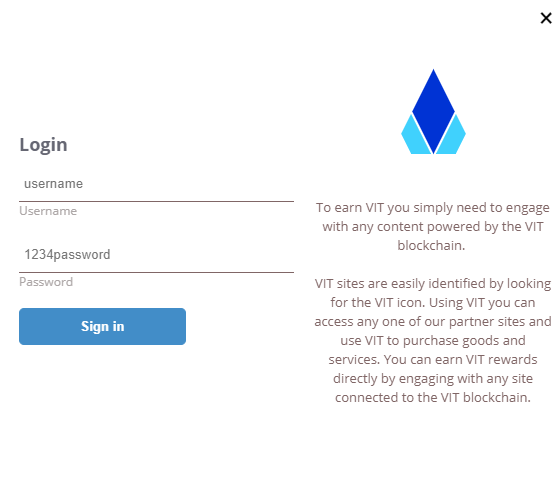 If you already have a VIT account that you use on other sites such as Touch.Tube and Touchit.Social, you can login with your VIT username and master password. At this time you are unable to login to VIT through Tube8 via your posting private key. This will be enabled in due time.
After successfully logging in to your VIT account via Tube8 you will be redirected to your vit-wallet page on Tube8.com. Congratulations! You are ready to start earning VIT.
Step 6: Voting on VIT enabled Tube8 videos.
You can easily find Tube8 enabled videos by clicking the VIDEOS drop down in the main navigation menu and clicking the VIT link in the Browse By column. VIT enabled videos are marked with a VIT logo in the top left of the video screenshot.
Click on a VIT enabled video that interests you and watch it.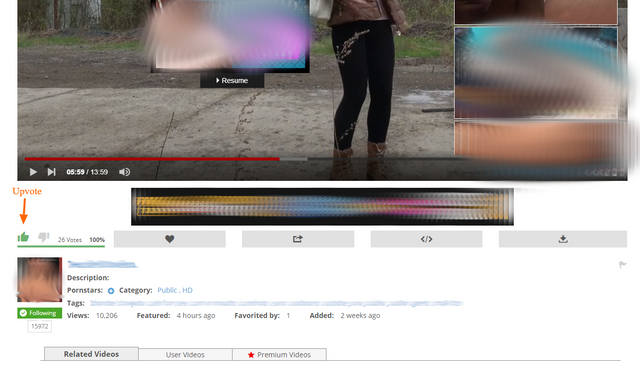 If you like the video click the thumbs up icon just below the video. The thumbs up icon will turn green and you will see a green success message show at the top of the page notifying you that it successfully posted to the VIT blockchain. Congratulations you just paid the uploader some VIT and you also earned some VIT for curating that video.
The VIT you earned from voting for that video will show up in your VIT Wallet when the video reaches the end of the payout period which is seven days after it was VIT enabled on Tube8.com.
At this time all thumb up votes on Tube8.com default to a 10% upvote.
Step 7: Keep voting and keep earning!
So that's all you need to get started. Next time you visit Tube8.com remember to login via incognito mode on your browser and then login to your VIT account like you did in this guide. At 10% per upvote you can easily vote on 100 videos per day and earn maximum curation rewards. If you'd like to power up and make your vote earn even more VIT, then you can purchase VIT on the open market at the cryptocurrency exchange IDAX. Once you purchase VIT on IDAX, you simple withdraw them to your VIT account name. Once in your account, visit your VIT Wallet and use the Power Up section to convert your VIT to VIT Power. Now your vote will generate even more VIT!
If you'd like to learn more about how the VIT blockchian and VIT attention economy work, then join the VIT Global Community chat on Telegram or the VIT Discord server. Resource and information links are available in pinned messages and VIT admins and community members are happy to answer questions.