VIT Touch Tube Frequently Asked Questions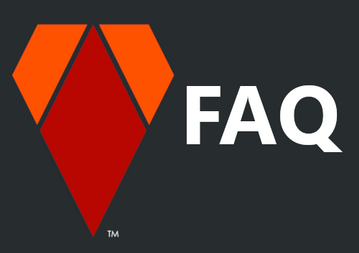 After helping new users in the Telegram channel and answering a lot of these same questions, I decided to put together this handy list of frequently asked questions about Vice Industry Token and Touch.Tube. Please note the answers listed could become out of date with time. If you find that the answer is no longer valid to your question, please consider asking for help in the Vice Industry Token official Telegram group chat.
Also, I am not an official representative of Vice Industry Token. I'm just a user, @mbs305, and I am a VIT Witness. I have put this together as a general resource for the community.
---
How do I create an account on Touch.Tube?
Visit Touch.Tube and click the sign up link in the top right of the page. You can also register a new account directly at https://signup.vit.tube/. Type your desired username, if it is available you can continue to the next step. Before you click continue, copy and paste your selected username into a text file. On the next page, input your preferred email address and confirm you are 18 years old or older. Before you click continue, copy and paste your email address into the same text file. Click continue. You will now get a message telling you to check your email inbox for next steps.
You should receive an email from [email protected] fairly soon after clicking the continue button. It will be an email asking you to verify your email address. If you don't see it in your inbox, check your spam folder. The email will have an email verification link. Click the link to confirm your email.
Once you click the link you will be taken back to https://signup.vit.tube and the page will say you have successfully verified your email address. Click the continue button.
On the next page you will get a message and a ETH address to deposit your initial 1,500 VIT to your account. This 1,500 VIT is yours and will remain yours. It is used as an initial power up for your account so that your votes will actually count for something on the platform. Copy and paste the address to your text file. Then send 1,500 VIT to the address.
Make sure to save your account information: username, email address, deposit address, and transaction hash to a text file. Copy that file to a flash drive. Keep it in a safe place.
After a short period of time you will get an email from [email protected] saying that your information has been verified and you have one last step to create your account. You will have to click an account creation link to finish setting up your account. Click that link.
IMPORTANT: After clicking the link you will be taken to https://signup.vit.tube where you will save your password. Copy the password that you see displayed on that page and save it to your text file. If there is no password visible, click the generate a new password button. Click the button once.
This password is your account wallet's private key. It is EXTREMELY important that you copy and paste that password to the text file that you made earlier with your username and email address. After pasting the password to your text file save it, close it, and copy the file to your flash drive. If you lose your password you will lose your funds. There is no resetting a lost password here. Take your time and make sure you have your username and password saved and in a secure place.
Once you have saved your password click the continue button to move to step two. In the second step you will confirm you account password by entering it into the text field and pressing continue. If you entered your password correctly you and finished and can now login at https://touch.tube/login.
Congratulations!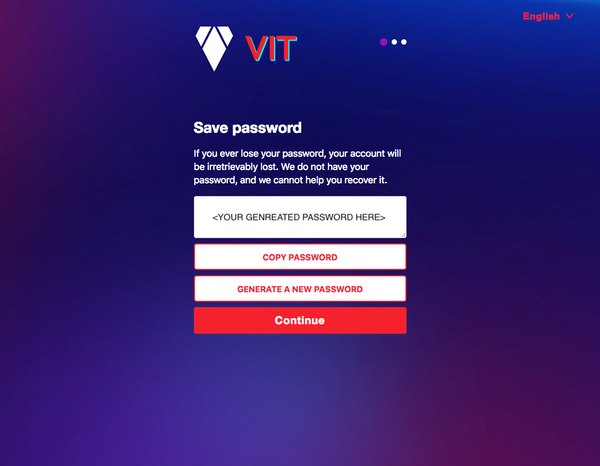 Save Password Step 1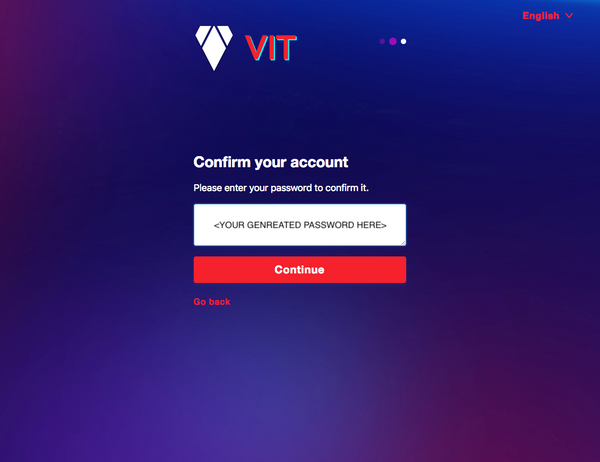 Save Password Step 2
---
After signing up and sending funds, how long do I have to wait until my account is approved?
Typically accounts are approved within 24 to 48 hours. If it has been longer than 48 hours, please send an email to [email protected] and put "REGISTRATION" in the subject line.
---
Where do I get 1,500 VIT for the sign up deposit?
You will need to buy the 1,500 VIT from a cryptocurrency exchange with Bitcoin or Ethereum. There are a few exchanges that have VIT, but at this moment, Cryptopia is by far the easiest and quickest to use. Be advised that Cryptopia currently charges a 300 VIT withdrawal fee. So you will need to make sure you buy 1,800 VIT on Cryptopia and then withdraw the VIT to the ETH address you were given during the sign up process. You can sign up for a Cryptopia account here.
---
I'm totally new to cryptocurrency and don't even have Bitcoin. Where do I get Bitcoin?
You need to buy it with your national currency. Depending on where you are located you will have to use a local fiat-crypto exchange to buy Bitcoin. From that exchange you can then send your Bitcoin to Cryptopia. If you are in the US, Canada, or most European countries you can use Coinbase to purchase Bitcoin with your national currency. If you create a new account, Coinbase typically holds your funds for a few days as a fraud prevention measure. Be patient your funds will remain secure and be released to you soon. You can sign up for a Coinbase account here.
---
How do I earn VIT on Touch.Tube?
You earn VIT by interacting with content on the site, not simply by watching porn. You earn VIT by upvoting the videos that you watch and like. You can also earn VIT if other users upvote any comments you leave on videos. To maximize your comments' chances of being upvoted try posting helpful, unique, funny, and sexy comments on the videos.
---
How much VIT do I earn if I upvote a video?
The amount of VIT you earn depends on a lot of factors. Some of the big factors include:
The total rewards the video earns
Your account's VIT Power at the time you voted
Your account's Voting Power when you voted
The percentage amount that you upvoted the video (10%, 20%, 100%, etc)
All these factors and more will determine how much VIT you earn for upvoting a video. The rewards are split between the video uploader (the author) and the upvoters (the curators). The split is 75% author / 25% curators.
---
When will I get the VIT I earned through upvoting and commenting?
Rewards are earned on a video for seven days. After the reward earning period, all pending VIT on the video and comments is paid out to the authors and curators. So, if you voted on a video that was published to the site just 2 hours ago, you will be paid in about seven days. If you voted on a video that was published to the site six days ago then you will get you VIT when that video is over seven days old (so in about one day).
---
Does it cost me anything to vote?
It only costs your Voting Power, which recharges over time. A 100% upvote will reduce your voting power by 2%. Your Voting Power recharges by 20% every 24 hours.
---
What is unclaimed VIT?
Unclaimed VIT is the VIT that you have earned through author and curation rewards. At this point in time you can claim it and transfer it to VIT Power only. In the future there will be more options for claiming VIT (split between VIT and VIT Power).
---
How does downvoting work?
Down voting a video or comment takes away pending VIT rewards from the video or comment. It also takes away from your voting power. A 100% downvote will reduce your vote power by 2%. You also do not earn VIT by downvoting. It merely reduces the rewards on the video or comment. Also, if there are enough down votes compared to upvotes the video can end up being hidden from the main pages on the site like the Trending page.
---
When should I downvote a video or comment?
The short answer is whenever you want to. It is your VIT, your vote. So you could simply downvote a video because it didn't appeal to your personal tastes. However a common practice on the platform is to simply not watch videos you aren't interested in, instead of downvoting them. A better use of your vote power in this case is to upvote videos you like so the uploader and you earn VIT. This positive interaction encourages the uploader to continue to upload similar content. Then you get to see more content you like and vote for it and earn more VIT.
Most users on the site save their downvotes for obviously pirated content. Videos like full scenes with studio watermark or videos with other tube site logos. The other big target for downvoting is spam comments. A few users have resorted to spamming. They make the same or similar bland or nonsensical comments on dozens of videos. These sort of comments are worthy of downvoting.
---
What is Powering Up and Powering Down?
Powering up is when you convert your VIT to VIT Power. Powering down is when you convert your VIT Power to VIT.
---
What is VIT Power?
VIT Power is essentially VIT that is staked in your wallet. It earns interest based on the VIT currency emissions curve (or current inflation rate). More importantly, VIT Power represents how much influence you have on the network. The more VIT Power you have, the more your votes are worth. As an example, an account with 100k VIT Power will have 10x the power of an account with 10k VIT Power. The100k VIT Power account's 100% upvotes would be worth 10 times the amount of VIT as the 10K VIT Power account.
---
How do I Power Up?
Currently the easiest way to Power Up is to claim your VIT rewards from voting on videos. Currently the only option for claiming VIT is to claim them as VIT Power. In the near future you will have more options for claiming your rewards as VIT, VIT Power, or a combination of the two.
The other way to Power Up is by sending additional VIT from an exchange or an ERC-20 wallet. The system will then exchange the ERC-20 VIT you send for native VIT and deposit it in your VIT wallet. The ERC-20 Exchange feature is still in beta. The ERC-20 exchange is currently throttled at 10K VIT / 24 hour period, with a maximum transaction size of 10K VIT while the developers audit the results to ensure everything is in order.
If you would like to try it out, you can visit your wallet page on https://beta.touch.tube/ where you'll find an ETH address that is associated with your account. Any deposits made to the address will receive a corresponding deposit from vit-depository as can be seen here: https://explore.vit.tube/@vit-depository.
Once the developers are happy with the performance of the exchange in beta they will raise the transaction limits and push the feature to the main site.
---
How do I Power Down?
Currently the Power Down feature is not enabled as the developers are beta testing the Power Up side of the exchange (ERC-20 VIT -> Native VIT). Once enabled, you will be able to "power down" your VIT Power balance and have it transferred to your VIT balance. Then you will be able to send this Native VIT to the VIT-Depository account to be exchanged for ERC-20 VIT that will be sent to the ETH address you have selected.
Powering down is a time delayed process. You don't get your full VIT Power balance in one transfer. Instead the amount you choose to power down is paid out once per week in thirteen equal installments.
---
What are witnesses?
VIT Witnesses are people who run a witness server 24/7 that produces blocks on the VIT blockchain. These witness servers provide the computational power needed to processes all the actions and transactions on the VIT Network. The VIT Community (all the users) elect witnesses to produce blocks and secure the blockchain. Witness voting is open ended. You can vote and unvote whenever you want. You can vote for up to 30 witnesses. In the future you will have the option to proxy your witness voting to another account that you trust.
---
How do I vote for a witness?
The following info is from my previous blog post.
All you need to do is login to your Touch.Tube account and then visit the witnesses page. Once there, click the vote button next to the witness you would like to vote for. You will need to confirm votes by entering your Touch.Tube password. You can vote for a maximum of 30 witnesses.
Before you vote, please take some time to view each witness's Witness URL and their activity on the Chain Explorer. Are the witnesses active on the site? Are they commenting or uploading? Are they voting on other user's videos and comments or do they only vote on their own videos/comments?
A final note on Witness Voting. It is open ended. You don't have to make your votes now. You can wait and learn about the system and current witnesses. You can vote for some now, others later. You can also withdraw your votes at any time from one, some, or all witnesses. Lastly, you can also start your own witness server and become a VIT witness yourself. Join the VIT Witness Discord for more info and assistance.
---
I have more questions that aren't answered here. Where can I get more information?
The best place to get answers to your questions is the Vice Industry Token official Telegram chat group.
If you would like to add any other frequently asked questions that I missed, please do so in the comments.