Why Hashflare Is My Favorite Cloudmining Site.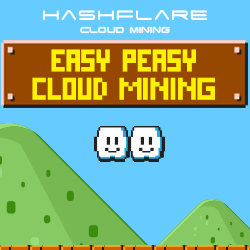 While buying your own miner can be overall more profitable if you can sustain the power costs I love hashflare. I obtained my first contract at $1.50 per 10 gh/s (SHA-256) and even when the hashrate cost increased to $2.20 I've decided to reinvest my daily returns. Although Bitcoin has been volatile research showed that it is the most profitable to cloudmine on hashflare. I will invest in a script contract next month which mines Litecoin but converts to Bitcoin. The biggest issue I see on hashflare which is also happening on coinbase and other platforms has been increasing transaction costs and slow transaction processing.
There are other options, for instance, you can obtain an Antminer for $1,250 (if you can find one at the $1,250 pricetag and receive in less than 3 months) and they can mine up to 12,500 gh/s which can generate over $7,000 annually (depending on the BTC price and other variables) on hashflare this contract would cost $2,750 and only last one year. Keep in mind the equipment produces quite a bit of heat while using lots of power. Also, you have to factor in the cost of additional equipment including power supplies and keeping up with increased difficulty. In crypto, it is smart to diversify so I won't say either is better. The reinvest option allows me to buy additional hashrate instead of cashing out my daily income, this creates additional contracts and they have a pretty fair referral bonus. Please do your research and happy investing.