Autonio Token Economics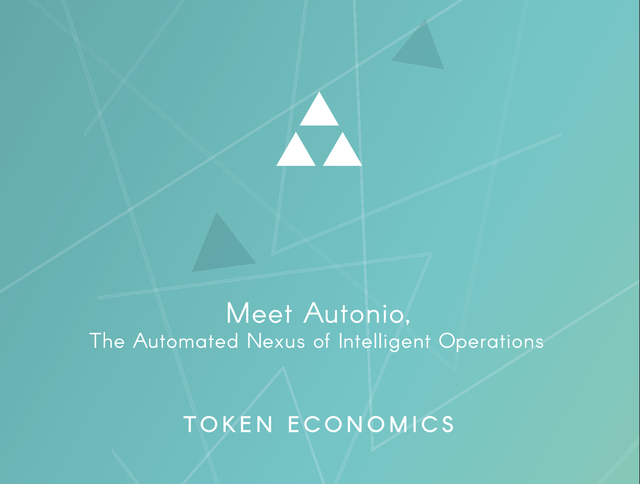 The time has come to finally reveal the token economics proposal from the Autonio Team. We have put a great deal of time and thought into this proposal, working to take all the variables into account, ensuring that our organization will have adequate means to sustain itself in the future and lay a solid foundation for us to fulfill the vision we have set out for the project. As we have said many times before, the Prosperism philosophy is a cornerstone of this platform; decentralizing wealth and creating tools that empower everyone to benefit from volatility of cryptocurrency markets. With that in mind, we present our vision for the future of Autonio:
https://auton.io/vote/Autonio_Token_Economics-Team-Proposal.pdf
A priority for the Autonio team has been implementing new ways we can benefit the people who use our products and the community as a whole. One of the principal ways many projects in the cryptocurrency space go about this is through staking rewards. We have used this term in the past when discussing our plans to reward our loyal community and how these plans would fit into the NIOdex. The conventional staking model employs a "passive staking" model: you hold your tokens for a fixed period of time and are automatically awarded tokens for essentially no additional engagement on the part of the user. This stands in contrast with the "active staking" model we propose. In our model, users and community members are rewarded for their active involvement and participation with the project, creating a utility for our products that rewards users proportionally to how much they engage with the platform. The "active staking" model will help incentivize an active, informed, and dedicated community, while providing an additional use case for the token.
Active Staking Methods
Hold NIO for airdrop tokens:
By holding onto your NIO tokens for a whole year, users will receive up to 50% airdrop of NIOX tokens proportional to the amount of NIO successfully staked. Staking awards will be broken down into successive stages, with greater rewards being distributed to users who stake for longer periods. For example, if you hold onto your NIO for at least 23 days you'll receive up to 5% NIOX for the total amount of NIO held. If during that period any tokens are moved from that initial amount, you will no longer be eligible for the reward. The longer your tokens are staked, the greater the airdrop will be, up to a maximum of 50% of the total amount.


Hold NIOX to vote:
By holding the NIOX token, users will be able to vote for new token listings on the NIOdex. Every few weeks NIOX holders will receive an airdrop of a voting token for each NIOX they hold. Users will be free to use these tokens as they wish. They can be used to vote on listings, sold on the exchange, or traded OTC with other projects who are interested in winning a listing on our smartdex. NIO voting tokens will expire every 10 days, at the end of vote period. The next airdrop of voting tokens will only occur with the next round of listing votes, rewarding users who stay informed, and engage with the voting process.
Make the market:
Our smartdex will offer users an opportunity that is unique in the cryptocurrency space: any user will be able to provide liquidity with their own tokens. No matter what tokens a user holds, if they are listed on our smartdex, they will be able to feed them into the natively integrated market maker. Users will receive NIOX tokens as a percentage of the total volume they generate as a market making reward.

Hold for 0 fee trading:
A new tier of VIP user accounts will be created, allowing anyone that holds over 300,000 NIOX to instantly become a VIP. VIP tiered accounts will pay no fees on our exchange and receive more NIOX tokens as a reward for being a liquidity provider.
60% of fees collected for liquidity:
Market liquidity is always an issue for traders in cryptocurrency markets, but we believe we have found an innovative solution for these concerns. A major portion of the fees accumulated will be utilized to provide liquidity on NIO and NIOX pairs on the smartdex. We will ensure that a large volume of our tokens will be consistently available on our smartdex, allowing users to buy or sell NIO and NIOX at any given time with ease. This is not only a way to give our users greater flexibility in their decisions, but it is also a testament to our team's confidence in the platform.

We have outlined some mechanisms that we believe will provide the Autonio community and userbase with greater utility: active staking, voting on new token listings, and fees that go directly towards liquidity on the dex. There is one final piece of news we would like to announce. Our decentralized trading terminal AutoNIO is currently undergoing a major overhaul. Once this is complete, we plan will make the base version of the app free for everyone! In order to access the rest of the AutoNIO Suite and the advanced features we are making available, a new "hold to use" model will be implemented. This will be explained in more detail in a dedicated post which we will release soon.