A review on FLOGmall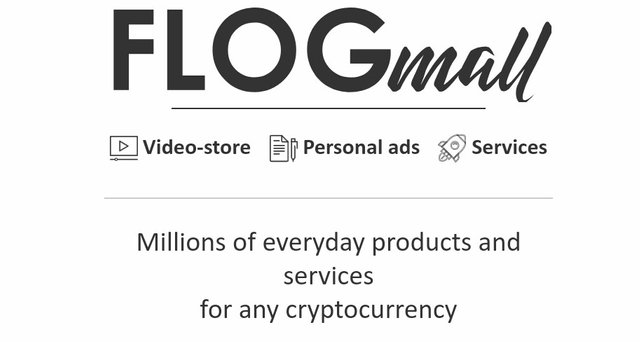 FLOGmall is an international e-commerce platform designed as the most user friendly place where everyday products and services can be sold/bought with/for valuable cryptocurrencies.
Basic idea of FLOGmall
FLOGmall provides you the medium where you can buy/sell anything (product/goods/services) you desire using your cryptocurrency directly, without necessarily converting your crypto assets into fiat currency before placing an order for a product or service.
The platform composes mainly of FLOGmall team and all interested individuals who joined as investors, buyers, sellers, traders, enthusiasts and crypto-holders.
Wonderful features of FLOGmall Platform
FLOGmall is made of the following wonderful features that are set to make trading on its platform a mind blowing a experience
A. FLOGmall token
To ensure ease of transaction and payment on its platform, FLOGmall has generated an open source cryptographic token called Mallcoin (MLC) which is intended to serve as the basic currency (aside all other altcoins that will be introduced) for all forms of payments/transactions conducted on the FLOGmall Platform.
B. Live store
To ensure that platform users have 24/7 assess to goods and services, FLOGmall live store provides all individuals (especially buyers/traders/sellers) direct access to goods and services from around the world, with easy of navigation.
C. Effective communication tool
To also ensure effective and smooth transaction between both sellers and buyers on its platforms, FLOGmall offers tools for effective communication between customers and sellers. These tools are set to allow both customers and sellers to effectively negotiate the purchase of goods/services in a multi-language format, (basically in their own language) without going beyond FLOGmall's platform.
D. Price deployment tool
To also ensure that customers are able to assess how profitable it will be to buy a particular product/service in foreign currency, FLOGmall is set to conveniently display prices of goods and services with reference to Fiat/Cryptocurrency on its platform, so that customers have a fair chance of making informed decision regarding the purchase of a particular goods or service.
E. Security
To also ensure secure buy and sell transaction on its platform, FLOGmall is set to leverage smart contract for all forms of payment/transaction on its platform. With smart contract, all parties involved in the transaction are assured that payment made between each other will reach desired account of the receiver. Interestingly, buyers who purchase a particular from a seller will receive a track code to track the shipment of his purchased product and can at any time see at which stage of delivery his/her order is.
To fully appreciate FLOGmall's project watch the video compiled by FLOGmall below

What is special about FLOGmall
1. FLOGmall allows ordinary people to have wonderful experience with the use of cryptocurrency in their everyday life to buy or to sell goods/ products/ services without necessarily converting their cryptocurrency asset into fiat currency before conducting any buy and selling
2. Another attractive innovation of FLOGmall platform is it built-in automated token exchange service (ATES), an automated service for exchanging of Mallcoin token (MLC) between previous token holders (investors) and platform users
Good news
The good news that FLOGmall presents are in multiple folds, below are few i have carefully outlined
All sellers on FLOGmall platform are set to enjoy free placement of sales of their products when FLOGmall site begins to be fully functional. According to FLOGmall, additional payment will only be made for related services, after when the seller has in practice verified the feasibility of FLOGmall's site for his/her business.

FLOGmall platform is set to ensures secure purchases/sales of goods/services usingsmart contracts for all its transactions.

FLOGmall is set to charge no commission for
a. Payment system regarding buying and selling
b. Placing ad (advertisement) on its platform

The FLOGmall platform is set to provide all customers with increased cashback when selling goods in exchange for Mallcoin tokens, as well as the opportunity to receive discounts when purchasing goods using Mallcoin.

FLOGmall is set to increase Altcoin Mobility, by granting users the chance to exchange (buy/sell) goods/products/services with their Altcoins (that might have lost value in the cryptomarket).

Small entrepreneurs to large corporations on FLOGmall platform will have equal opportunities to promote their stores on its platform. Hence, eliminating the situation of monopolization by larger corporations.

All token holder who purchased Mallcoin at either Pre-ICO or ICO stages are set to gain full access to FLOGmall's built-in automated token exchange service (ATES) from the very first day of FLOGmall operation, to exchange their tokens purchased at the either stage of ICO to sellers and other users on FLOGmall's platform.

All token holder who purchased Mallcoin at either Pre-ICO or ICO stages, are also set to enjoy a discount of up to 80% on the services/products of the FLOGmall's site immediately after its launch.
FLOGmall's Goal
According to FLOGmall, its main goal is to create a platform that will provide customers with the opportunity to choose what they need, rather than what it is profitable for retail chains (sellers) to sell.
In order to fully realize its goal, it is warmly inviting all investors on board to contribute immensely in support of its project into success. Currently, its main sale is ongoing on its platform FLOGmall and set to end on 26th of June 2018. You can however, find details information of its main sale on its platform, so as to make well informed decision regarding your participation and contribution to the project.
In spite of this, if you are a seller and your wish to reserve a selling spot on FLOGmall platform, kindly visit to complete the Sellers application form and submit. For buyers and any other individual who desire to join FLOGmall, FLOGmall provides you an easy and frictionless mode of onboarding with just a press on the sign up button on its website. Follow the basic instruction regarding the sign up process and get yourself and your business on board now.

Final words
To all generous potential investors who have had the chance to read this review, I'm pretty sure you know how to identify a worthy project when you spot one, and FLOGmall is no exception to such a category. As such, I entreat you to visit FLOGmall today to contribute bountifully in support of this project .
Find links to relevant FLOGMall official pages below
Authors Bitcointalk Name: sugarpie2018