Dropil Insight Last 30 Days: 8.19% Return in Aggressive Mode. Know Returns in each Mode!!!!
Hello friends,
Today I am going to share my dropil return for a month. The result is very interesting for me because it gives a very good return. I have added my dropil coins to the desk just before the 30 days, and today it has completed 2 cycles. Remember, 1 Cycle = 15 days.
I was selected "Aggressive" mode that gives me a total of 8.19% return over my investment in equivalent USD value of my total dropil coins. Remember the return will be based on the equivalent USD value on that current time. Here is a performance.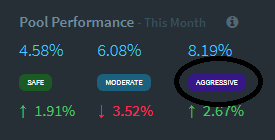 If I was selected "Moderate" then my returns will be 6.08% for a month which is also not a worst return. Remember "Aggressive" mode is more risky than "Moderate" mode.
Similarly, the "Safe" mode returns for the last 30 days is 4.58%.
I will update the next 30 days returns after maturity period. If you want to know it, you may follow us.
Are you a dropil user? Please share you feedback with us. Thank you!