Smart Contract Content Marketplace Advertised By Floyd Mayweather: Hubii Network ICO Has Started Today!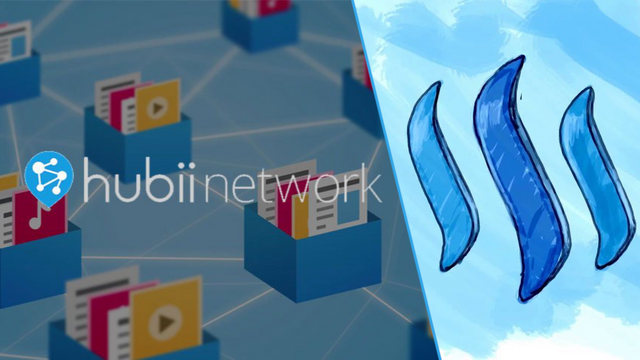 Creating, sharing and finding valuable content on Social Media has become a growing issue.
While content creators struggle to get rewarded for their work, users get flooded with content that doesn't even interest them!
That's why a new startup called Hubii Network aims to create a blockchain-based content marketplace that enables its users to benefit from smart contracts effortlessly!
What is Hubii Network?
Hubii is a decentralized, Ethereum-based marketplace for content.
Creators and rightsholders will be able to get rewarded for their content fairly and directly by the buyers. Through smart contracts, they can also feel safe about the integrity of their rights.
Essentially, Hubii Network wants to help content producers benefit from the power of smart contracts.
"Making use of smart contracts will allow Hubii Network to fix fundamental pain points in the content industry and apply mechanisms never seen before in the market. All this will be delivered whilst having full transparency, accountability and security over the transactions using a new cryptocurrency, Hubiits (HUB). The goal is for the entire Hubii Network to be open source and decentralised in nature."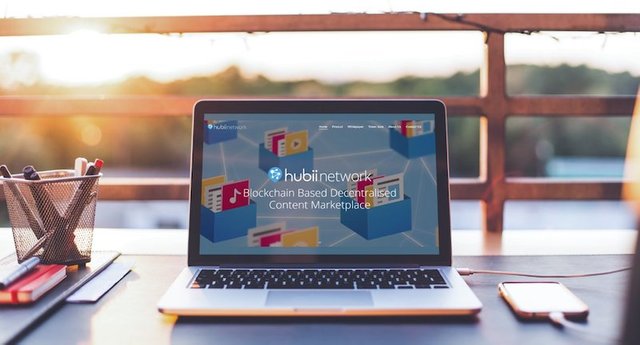 ---
Features / benefits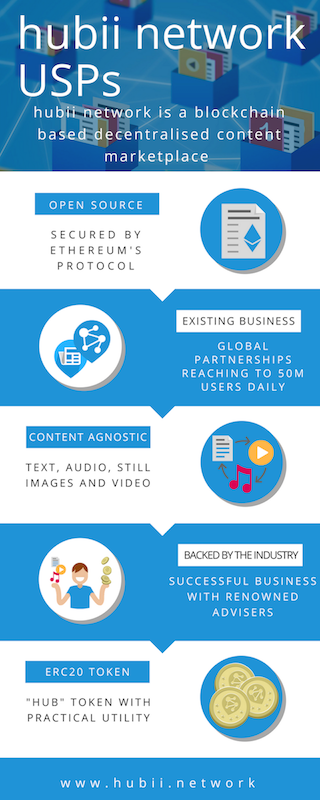 - The native token of the Hubii Network is HBT, or Hubiits - an ERC20 token.
- The project is open-source and secured on the Ethereum Blockchain.
- Already backed by 50 million users - there is already an established user base!
- Content type agnostic - easy-to-use and for everyone!
"The trustless nature of cryptocurrency will allow all parties to make an exchange without the oversight or intermediation of a third party. This will reduce or even eliminate counterparty risk. The objective is to establish a healthy ecosystem whereby creators can define their rules of engagement, distributors get access to a constant pool of content and consumers ultimately get hold of the content they desire."
Use cases
Calling something a "content marketplace" doesn't exactly imply what this platform actually is.
So let's look at some of the real-life use cases for Hubii Network: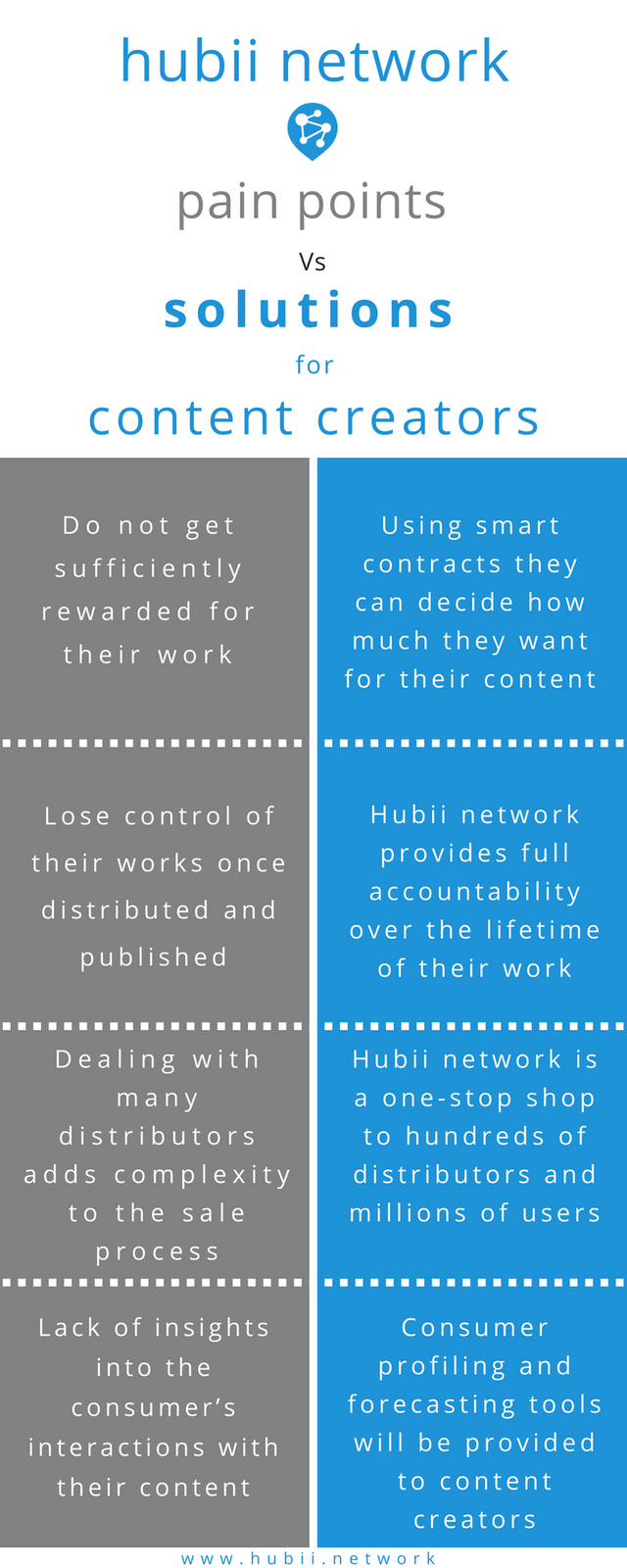 - Content creation and rewards for creators
Let's say someone publishes a podcast within the Hubii Network. There will automatically be a smart contract setup, so when the podcast played a certain number of times, the podcaster receives a certain amount of rewards in form of Hubiits cryptocurrency tokens. It's also possible that a website distributes the podcast through their own network, and then pays Hubiits to the podcaster in return.
- Promoting your content - amplifying reach
You can even promote your content to extend your reach and make your posts more visible. Content creators can choose to create smart contracts, enabling them to share a certain percentage of their earnings for every "X" reads produced by influencers who shared the post through their social media channels.
- Tipping
Content producers can even receive tips through the Hubii smart contracts. Users will be able to tip content creators a certain percentage of Hubiits for each play / read / view.
- Anti-Fake news
Hubii Network aims to reduce the amount of fake news on social media. Content creators are able to create smart contracts stating that a certain percentage of the earnings will be shared among verifiers, who check the article for any inaccuracies before being published.
- Crowdfunding
The Hubii Network can even be utilized as a crowdfunding platform. Let's say a content creator publishes a video through hubii - he will be able to share a certain amount of Hubiits with a certain amount of backers, and have people support his content and tip him to achieve his goal.
Promotion by Floyd Mayweather
Just last month, boxing champion Floyd Mayweather promoted the ICO for the prediction market platform Stox.
Now, he has started advertising Hubii Network on his twitter too.
Considering his 7,4 million twitter followers, and Floyd's huge media attention due to the upcoming fight against Conor McGregor on sunday, this definitely gave Hubii Network a lot of exposure.
And Floyd even adds that people could give him a new nickname - Floyd "Crypto" Mayweather.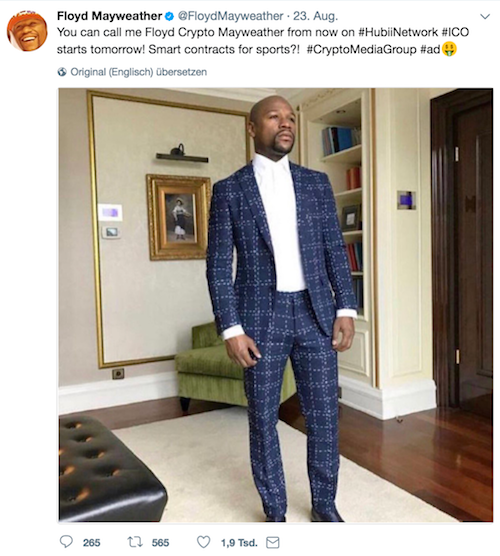 Hubii Network ICO
The tokensale for Hubii Network has started today, August 24.
With a cap of $50 million, the sale will continue for 2 more weeks.
Hubiits will be sold for 1,000 HBT = 1 ETH.
As for the token distributions, 70% of the total supply of Hubiits will be offered in the tokensale, while 10% of tokens are going to core team members and advisors. 5% will be used to build partnerships, 5% are being held to create a liquidity pool for the platform, and the remaining 10% will be used for further platform funding.
So if you're interested in the ICO - it has just started, still time to invest now!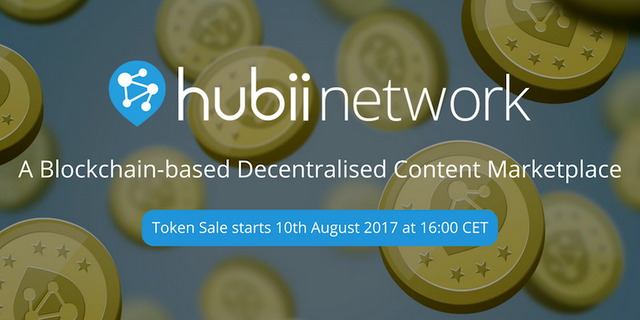 What do you think about the concept of a smart contract content marketplace ?!
Do you think this kind of idea has potential for the future? And how do you feel about celebrities like Floyd "crypto" mayweather advertising ICO's all of a sudden?
Images: 1, 2, 3, 4, 5, Sources: 1, 2, 3, 4, 5
---
- Instagram -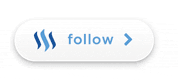 © Sirwinchester