How to vote with Scatter and eosportal.io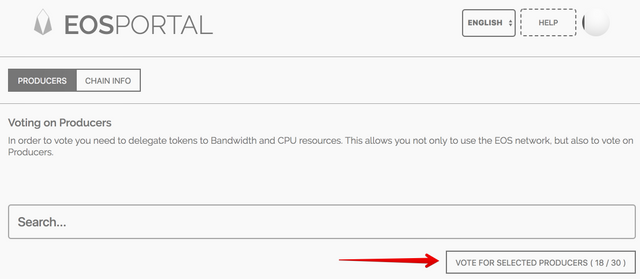 A simple and concise step by step guide:
Install the Scatter browser extension from https://get-scatter.com (for Chrome the ID of the extension in the Chrome Store should say ammjpmhgckkpcamddpolhchgomcojkle).
Open Scatter extension in your browser, it will ask to create a new local Scatter installation.
Choose a new password for Scatter, make it as long and safe as possible and write it down safely (this will be used to encrypt your data locally, e.g. your private key).
You will see a list of 12 seed words, these are simply a backup version of your password, nothing more. Write them down safely.
In Scatter if you click Identities you should see a random one starting with Random... already in there. You can edit this one going forward. But ignore it for now, just be aware this section exists. (In case you're wondering about IDs registered with RIDL's airdrop, don't worry about that for now, that is not yet ready to use.)
In Scatter go to Key Pairs and click the New button in the top right. In there keep EOS selected at the top of the form and then paste your private key in the correct box. It should automatically populate your associated public key, verify yourself that it matches your records. Then click Save.
Visit http://eosportal.io (Important: At this point use HTTP, not HTTPS. Don't worry there's no security risk interacting with this over unencrypted HTTP as your private key never leaves the device and you only send the encrypted/signed transaction to the website.)
You should see a chain starting with the ID aca376f206b8fc2.... Click the SELECT button there.
On the next screen at the top there should be a USE CHAIN button, click that and Scatter should pop up asking to add a new Network with the address node2.liquideos.com (and PORT 8888) - (Note: Previously the old address was 185.109.149.236, you can ignore that one for now, but it might work as well). Confirm with Scatter that you want to add that. If Scatter doesn't pop up or shows a warning message, make sure that it's "unlocked", i.e. click the Scatter icon in the browser and when it asks for your password enter that to unlock it so that it's able to interact with websites. This has been simplified since Scatter now comes with an endorsed network since version 5.0.1.
In Scatter click Identities and hit the edit button (pencil symbol) on your default identity (should be only one in there by default unless you added another one).
Scroll down to the Account section and select the "eos:chain:aca376f..." network and then below that select your EOS Key Pair.
If everything is set up correctly then the system should find your eos account and you should see a small popup to select the account permission you want to use. They should consist of a 12 letter account name, one ending in .active and another one ending in .owner. Best to select the .active permission, this is typically what you want. You should then see the account name show up in red on the identities page in the Account section.
Press the Save button in the top right to store the updates to this identity to successfully associate it with the account you just selected.
Now Scatter should be fully configured with your new main net EOS account. Visit http://eosportal.io, select the right chain again and on the next page at the top click PAIR SCATTER. (If you only see USE CHAIN then press that first and after that PAIR SCATTER should show up there instead.)
After clicking PAIR SCATTER a popup confirmation from Scatter should show up confirming you which account and network you're trying to use. Select the account there and confirm.
Finally on the eosportal.io site you should see VOTE buttons show up next to each block producer. Click them to select that block producer, you can do that now up to 30 times.
Once you selected all the producers you want to vote for press the VOTE FOR SELECTED PRODUCERS ( xx / 30 ) button at the top. Scatter will pop up again asking you to confirm that transaction.
That's it, you're done! You can come back to this page at any point to see or update your current votes, just make sure your Scatter is unlocked.
If you have any problems with this process please mention exactly how far you came and where in there the problems and confusion started.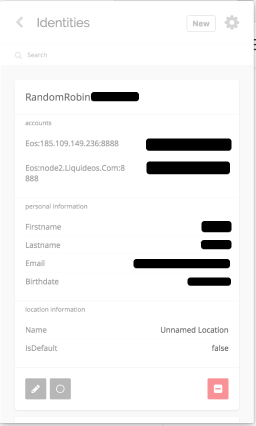 Troubleshooting
Make sure you have the latest version of Scatter, a bunch of bugs have been fixed since this article was first written. You should have (at least) version 5.0.3
If you're having problems because you voted before and the network has since changed. Go into your Permissions panel, click the eosportal one, and click Revoke Identity. Then go through the process of binding the new network to your identity.
If clicking buttons on the web page doesn't open a Scatter popup as you would expect check if it's maybe hidden behind another window. Also check that Scatter is unlocked, it might lock itself again after 30 minutes or whatever time interval is configured for you.
"You don't have any Identities that match the properties that this application is requiring." --> Some of the nodes in the network might be overwhelmed. Here is a list of nodes that are currently at the time of writing worth trying:

node2.liquideos.com:8888
185.109.149.236:8888
mainnet.eoscalgary.io:80
peering.mainnet.eoscanada.com:9876

Remember: Make sure you're not on the https version of eosportal, it should be http://eosportal.io at this time.
"No accounts were found connected to this private key. If you want to import a key which is not generated by Scatter you will need to create an account for the key before importing it." --> Sometimes it can help just trying again 3 or 4 times or waiting for a few seconds, the node might be overwhelmed and note returning info temporarily.
In the Identities section when editing an Identity if you can't get the public key dropdown to work try not clicking the down arrow icon but the field itself, there's a bug waiting to be fixed bringing the dropdown up with the arrow icon.