Simple Guide To Using the ANYONE Dividends Pool system.
The ANYONE Ecosystem isn't just built as a gaming platform leveraging the strengths and advantages of blockchain technology, it is a whole new level of casino gaming, integrated with cryptocurrency exchanging, an investment and dividends pool mechanism units running together to present one completely unprecedented and amazing crypto system. Each of these units, have their individual functions and are well designed to offer interesting features. Users have the opportunity to not only interact with them, but to also use them to achieve even greater results as regarding earning more revenue from the ANYONE Economy. A complete review of each of this units was earlier given on this Article.
ANYONE Dividends Mechanism and How to Use It.
One particularly unique and thrilling feature of the ANYONE Ecosystem is its Dividends Rewarding Mechanism. ANYONE has developed one of the best Dividends Pool system in the industry. The transparency, ease of use and revenue accrual of the Dividends System on ANYONE is next to none. Unlike other dividends systems, ANYONE users can transparently interact with the system and have their revenue expectations revealed to them, equally giving them options of how best to achieve results within any set time frame. The ANYONE Dividends Pool system is simple in design and even basic in usage. To use this system, users need to possess the unique custom platform coin known as ANY Coin or ANY. ANY can be gotten from the external exchanges where it is listed for public trading or from the ANYONE Platform Simple Exchange. The simple steps to follow can be found below:
Prospective users can sign up for an account on: https://wallet.any-one.games by accessing the page and completing the registration form by clicking on sign up from the menu.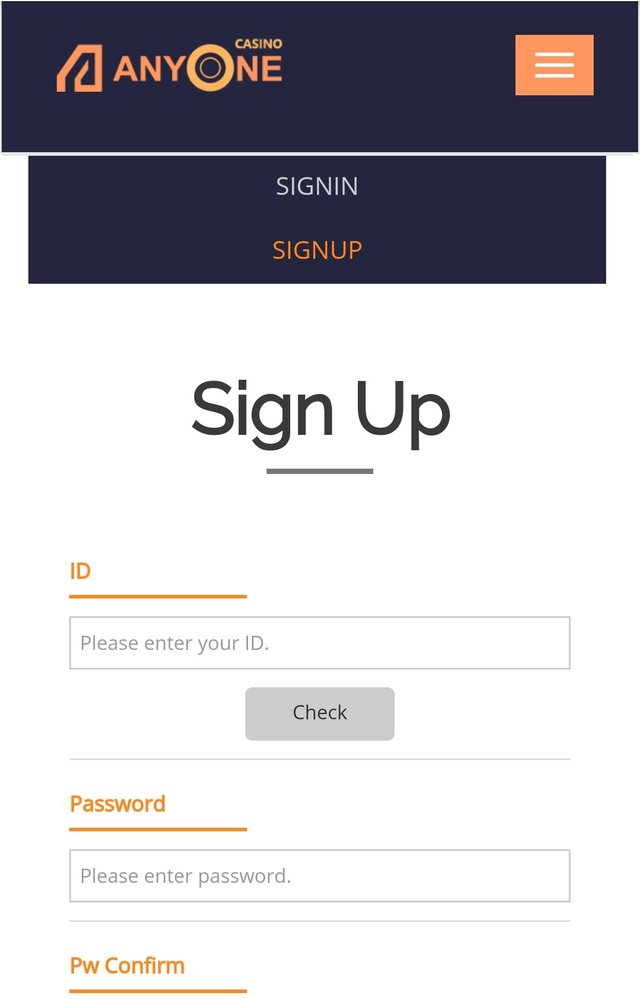 It should be noted that, the registration details and login details used here can be used to access the Casino Gaming Interface of the platform.
Upon registration and email verification of the registered account, users can subsequently login to the wallet platform to get full access to the respective features. Below is an image displaying the internal interface of the Web Wallet dashboard with multiple tabs representing unique functions: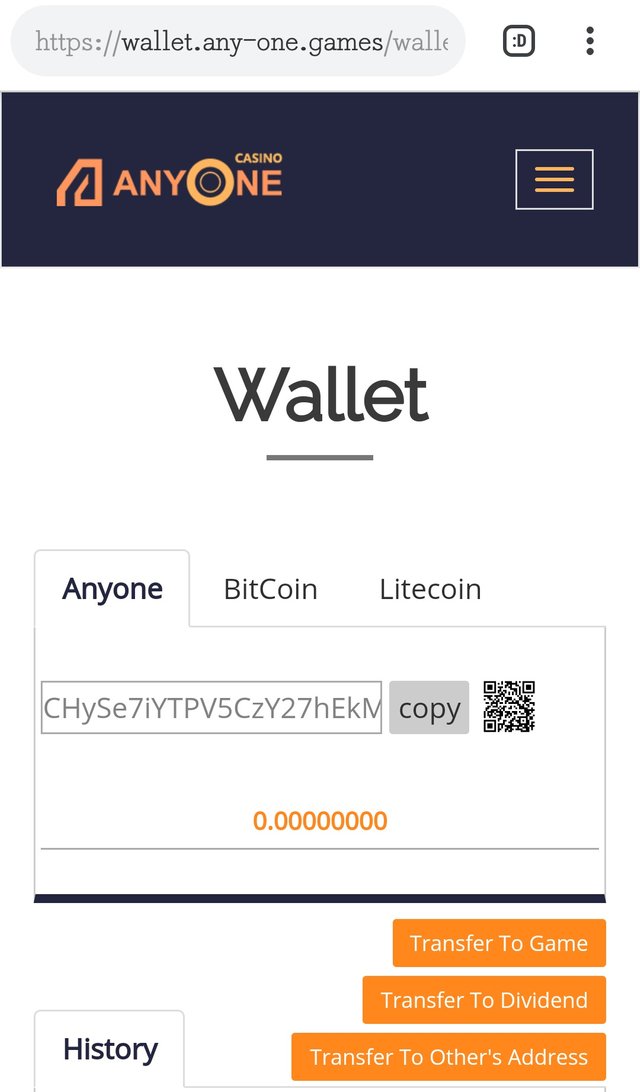 Every user account created is automatically assigned a unique ANYONE Web Wallet Address as seen on the above picture. This address serve as a means of funding the wallet with ANY which can then be used for other platform related activities like staking of ANY in the pool to receive daily dividends or transferring ANY for gaming purposes. Our interest however is on the ANYONE Dividends and to achieve this, users need to deposit ANY to their Web Wallet using the address generated.
Step One:
Users need to fund their Web wallets with ANY gotten from external exchanges or the Simple ANYONE Exchange. Presently, ANY can be gotten from;
https://www.coinexchange.io/market/ANY/BTC
https://crex24.com/exchange/ANY-BTC
https://simple.any-one.exchange/#.
It should also be noted that, the least amount of ANY Coin that can be staked for dividends is 100,000 and can only be staked in multiples of 100,000s that is; (100,000, 200,000, 500,000 etc).
Once ANY Coin is purchased on the above platforms and sent to the Web Wallet, the balance should reflect on the Web interface thus: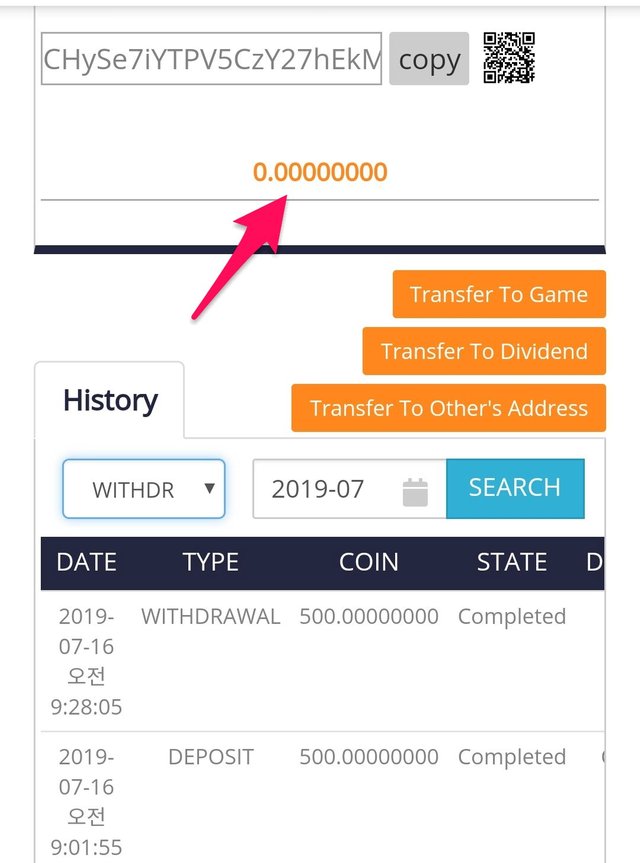 Step Two:
A significant stage is accomplished once the sent ANY Coin appears under the deposit balance on the web interface. The Next step is depositing these Coins into the dividends pool. To do this, users need to make sure they have at least 100,000 ANY Coins before they proceed. Once this is confirmed, they can now proceed by clicking the "Transfer to Dividend" tab on their dashboards as can be seen below: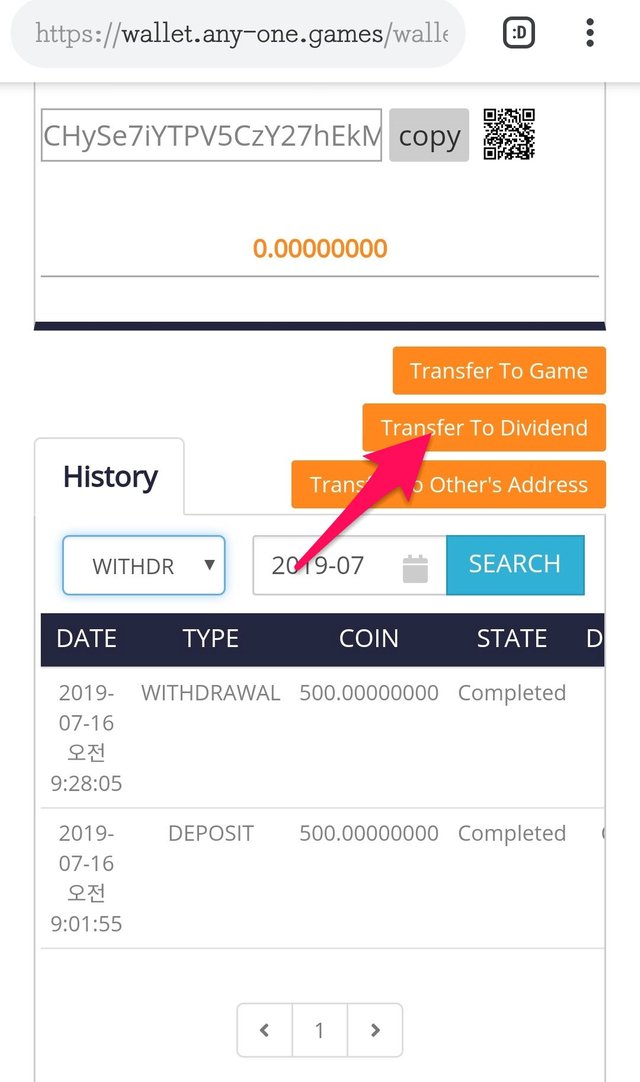 On the next page, kindly input your desired ANY staking amount ensuring that, it comes in multiples of 100,000 as earlier stated and finally, click on the transfer button. This action transfers your indicated staking amount to the dividends pool within a couple of minutes.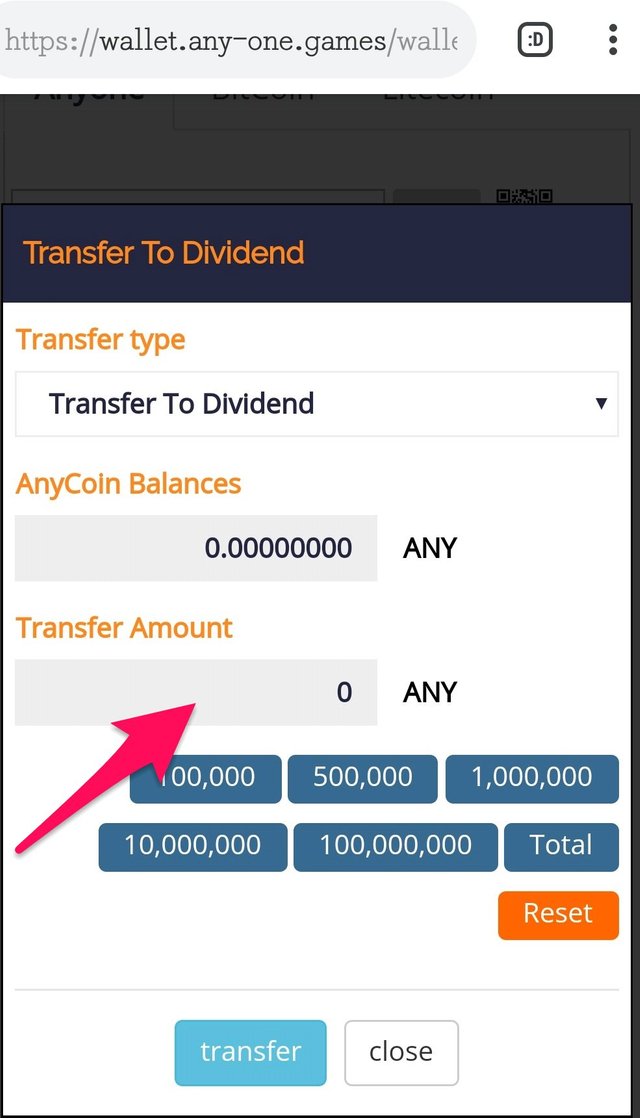 To confirm that withdrawals have been successfully completed, go to history and select withdrawals and input the date or time frame the withdrawal was made, a successfully withdrawn message indicates that the withdrawal was made successfully.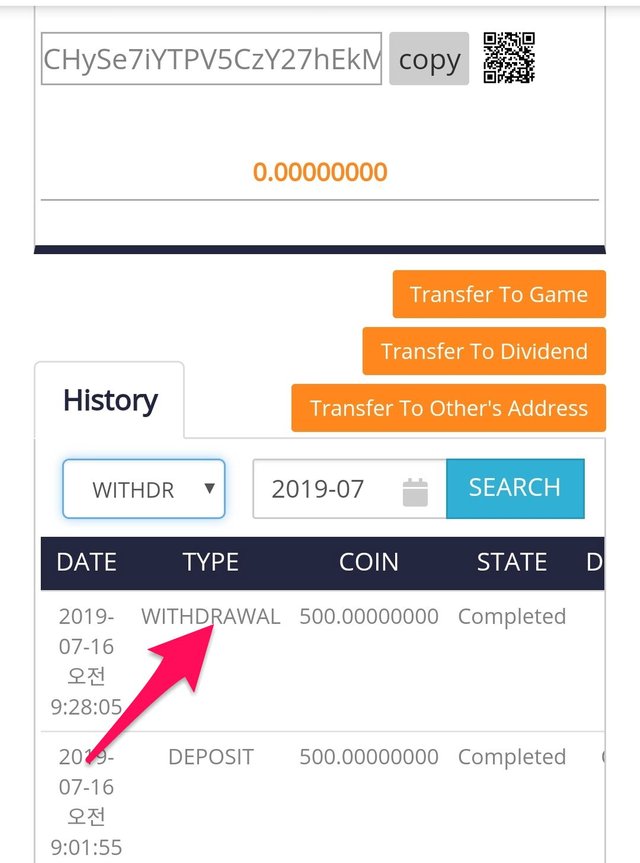 Step Three:
Upon the completion of step two, deposits onto the dividends pool can be confirmed on the ANYONE dividends dashboard. One of the major advantages of ANYONE Dividends Platform is that everything has been made in a completely transparent way, previous daily revenues from each of the casino games can be clearly seen on the platform, also, a list of the top 100 dividends holders can be seen with their revenue earning percentages and structures, cool isn't it?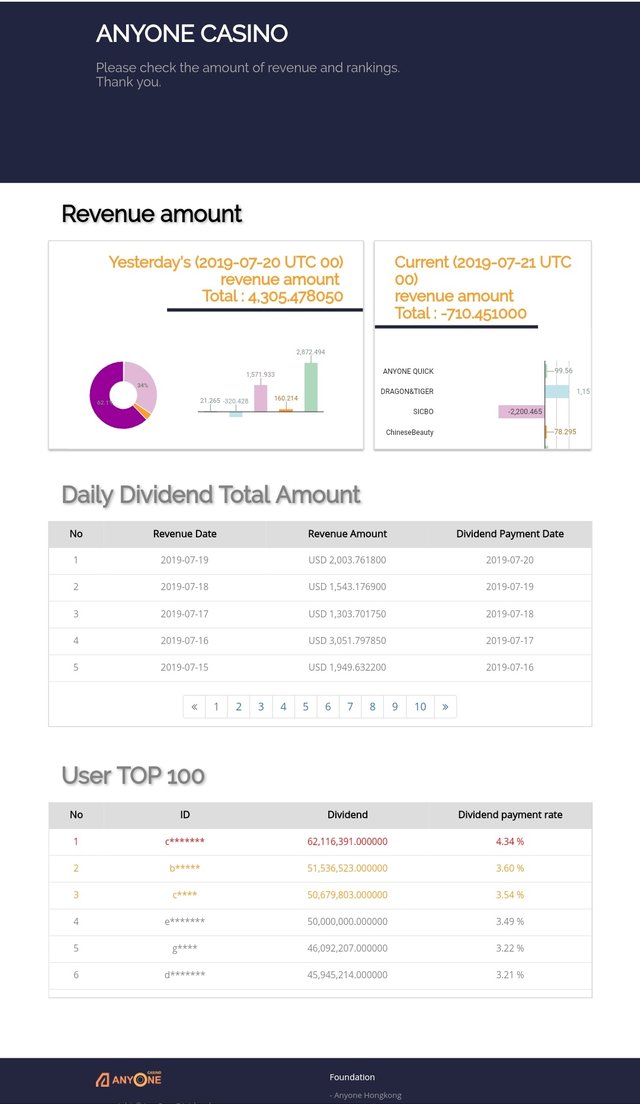 To view your ANY Coins that were transferred from the web wallet onto the Dividends Pool, a user needs to login with the same details used when signing up for the Web wallet. Go to the menu on: https://dividend.any-one.games and select sign in, wait for the next page, then select dividends from the menu on the dashboard and view your deposit and dividends details on the dividends platform, showing your complete ANY Coins deposited with your dividends sharing percentage, the date and time the staking was created.
Please note that, ANYONE Dividends are paid in USD and your first dividends earning will appear 24hrs after your dividends staking is approved and added to the pool. For instance, as seen on the image above, staking was done at exactly 9:10 am on May 22nd 2019, first dividends accrual was calculated according to user's dividends rates and deposited at exactly 23rd of May, 2019. This applies to all accounts participating in the dividends system with the only difference being the dividends rates. The dividends rates could be higher or lower depending on a User's total staked ANY Coins in the pool. Also, daily dividends could be lower or higher depending on the daily revenue gotten from the casino games. On a highly profitable day, dividends will be higher and vice versa. To enjoy the maximum benefits of the dividends system, it is recommended that users stake a large amount of ANY Coin in the pool.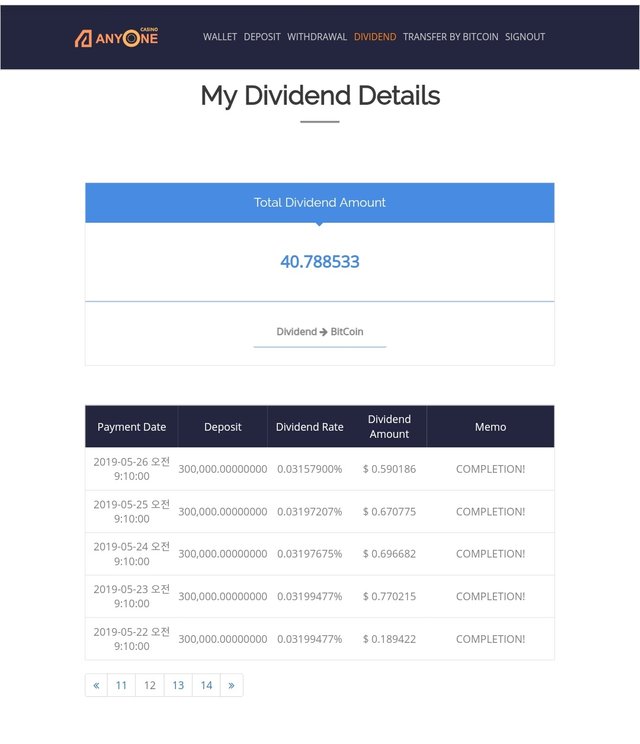 Withdrawals of ANYONE Dividends.
ANYONE has clearly installed a carefully thought out system and made it so simple and flexible ensuring a smooth and fascinating experience for all users. Dividends withdrawals are as easy as pushing a few buttons and having your funds deposited in your preferred wallet address. Dividends withdrawals have been enabled to Bitcoin Crypto Asset. Not only does this serve to ensure a continuous preservation of the ANY Coin value, it is equally easy for everyone since bitcoin is the commonest and most preferred cryptocurrency. Withdrawing Bitcoin ensures that the ANY Coin circulating supply is checked and controlled thus, limiting over flooding of the market with more than necessary coins at a time.
Steps to Withdrawing Dividends.
With the implemented withdrawal policy initiated by ANYONE to further boost the strength of the platform, a dividend pool holder must ensure they have a minimum of 10usd on their Dividends balance before they stand a chance to request for their dividends pay out on Wednesdays of every week or a minimum of 1000usd for regular withdrawals on every day of the week. To withdraw, firstly turn on Google authentication from the menu where you have "AUTHY". This can be completed by using either AUTHY app or Google Authenticator app. After this is done, locate the dividend tab on your dashboard and click on the "Dividend to Bitcoin" tab to initiate withdrawal process.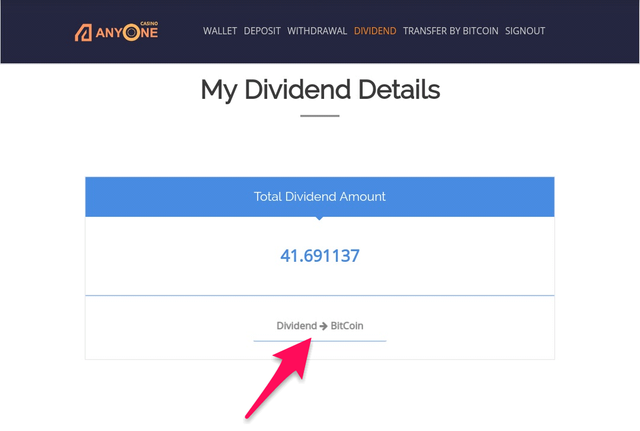 On the next page, input all requested details on the withdrawal form carefully and correctly, once done, click on the transfer button to complete your withdrawal.
Withdrawal Form Data Input Guide:
ADDR: This represents a space to input your correct Bitcoin receiving address. It is recommended that you use a private bitcoin wallet address.
EMAIL: For security reasons, this is preselected according to the email provided during registration and cannot be changed.
On this tab click on the "SEND" button at the end to automatically generate a One Time Password sent to your email. This Password or Pin is valid for 3 minutes and must be entered on the next space where you have the 3 minutes timer before you can proceed.
OTP: On this space, if activated as recommended above, type in the generated One Time Password from your authenticator (Authy or Google Authenticator) app.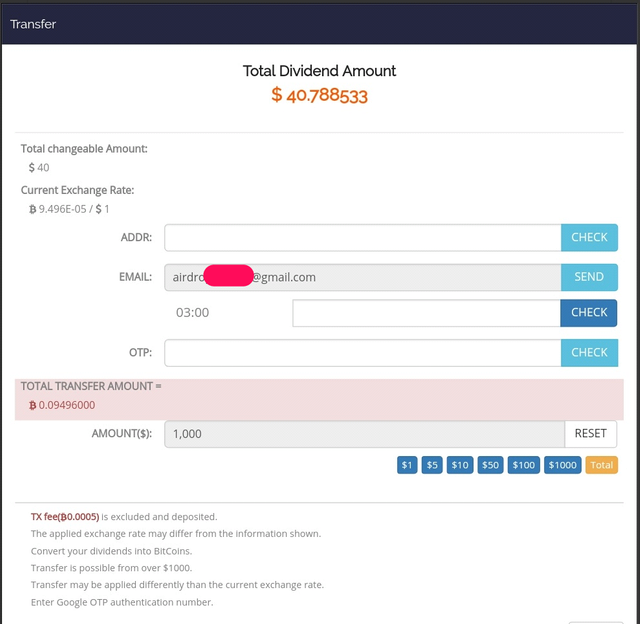 Under Total Transfer Amount, type in the desired withdrawal amount which must be 10usd and above depending on the withdrawal day. Once this is done, proceed with your withdrawal request and wait for it to be processed and sent to your Bitcoin wallet. It is as simple as that and shouldn't take more than 30 minutes to receive your funds.
Please kindly note that, a service withdrawal charge of 0.0005btc is incurred for every withdrawal made.
Conclusion
The ANYONE Dividends Pool system is one of the cardinal points of the ANYONE Economy and it serves up nicely as a major instrument of attraction and comfort to users who understand its potentials. It ranks up there with the best in the industry through its notable strengths of transparency, passive wealth creation and simplicity. Also, the ANYONE Dividends system is designed to be sustainable due to its integration with the casino gaming system which will only get bigger and better with time thus, giving early adopters the opportunity to earn decent incomes as more gamers become active in ANYONE platform usage.
Furthermore, it is worthy to recognise that ANYONE is focusing solely on making its platform one of the best in the world, working tirelessly to ensure a completely dependable, efficient and reliable blockchain based solution with its state of the art platform.
For more information about the project, kindly access the official resource links below:
Project information
Website: https://www.any-one.org/
Explorer: https://explorer.any-one.org
Exchange:
https://simple.any-one.exchange (upgrade in progress)
https://www.coinexchange.io
https://www.crex24.com
CASINO: http://any-one.games
Dividend: https://dividend.any-one.games
Web wallet: https://wallet.any-one.games
bitcointalk: https://bitcointalk.org/index.php?topic=5111683.0
White paper:
https://github.com/anyonecore/AnyoneBinary/blob/62c88dabbff8b18dac71268afda9830129863411/ANYONE_WHITEPAPER_en.pdf?raw=true
_
Anyone Social media
Discord: https://discord.gg/YhaDDGh
Telegram Group: https://t.me/AnyoneLTD
Telegram Notice Channel: https://t.me/AnyoneNotice
Anyone Korean telegram community
Https://t.me/anyoneKR
Kakaotalk community: https://open.kakao.com/o/g95DJUib
Twitter: https://twitter.com/anyoneLTD
__
OFFICIAL WALLETS
Windows 32bit: https://github.com/anyonecore/AnyoneBinary/releases/download/0.16.3.1/anyone-qt32.zip
Winodws 64bit: https://github.com/anyonecore/AnyoneBinary/releases/download/0.16.3.1/anyone-qt64.zip
ANDROID: https://github.com/anyonecore/AnyoneBinary/releases/download/0.16.3.1/Anyone-3.3.4.0.apk
Article Written By: EmmaBen
Bitcointalk Profile Link: https://bitcointalk.org/index.php?action=profile;u=2096551;sa=summary