CHC CHAINCOIN 🚀 Blasting Off to New Highs even in a down market.
Hello Steemians,

CHC CHAINCOIN 🚀 Blasting Off to new Highs even in a down market.
During the current mini crash in Cryptos a few alt coins have remained stable and strong. LTC took a small hit but remained relatively stable and now seems to be moving back over $50. Another more less known crypto called CHC CHAINCOIN has been making strong gains since July5th and has reached new highs.
There is a big difference between ChainCoin and other coins that increase in price quickly. The majority of the investors are "HODLERS" and not Pump and Dumpers. The truth is that many cryptos that see huge price increases will soon dump back down. This is commonly known as a "pump and dump". This coin is the opposite of a pump and dump as most investors plan on holding for the Longterm.
Take a look at the charts and see how strong and stable CHC has been even after the increase. I also decided to take a long term position into CHC and plan on purchasing more and HODLING for at least a year or two. You can purchase CHC from cryptopia. https://www.cryptopia.co.nz/Register?referrer=stacking999
The chart from Cryptopia shows its recent gains and it only seems to be moving higher while remaining stable due to most of the investors holding for the long term. The roadmap on the ChainCoin website is very impressive and worth looking into. http://www.chaincoin.org/

According to CoinMarketCap CHC has a low circulating supply of 14,976,519 CHC. https://coinmarketcap.com/currencies/chaincoin/
Current Price of $0.433017 and up 116.92%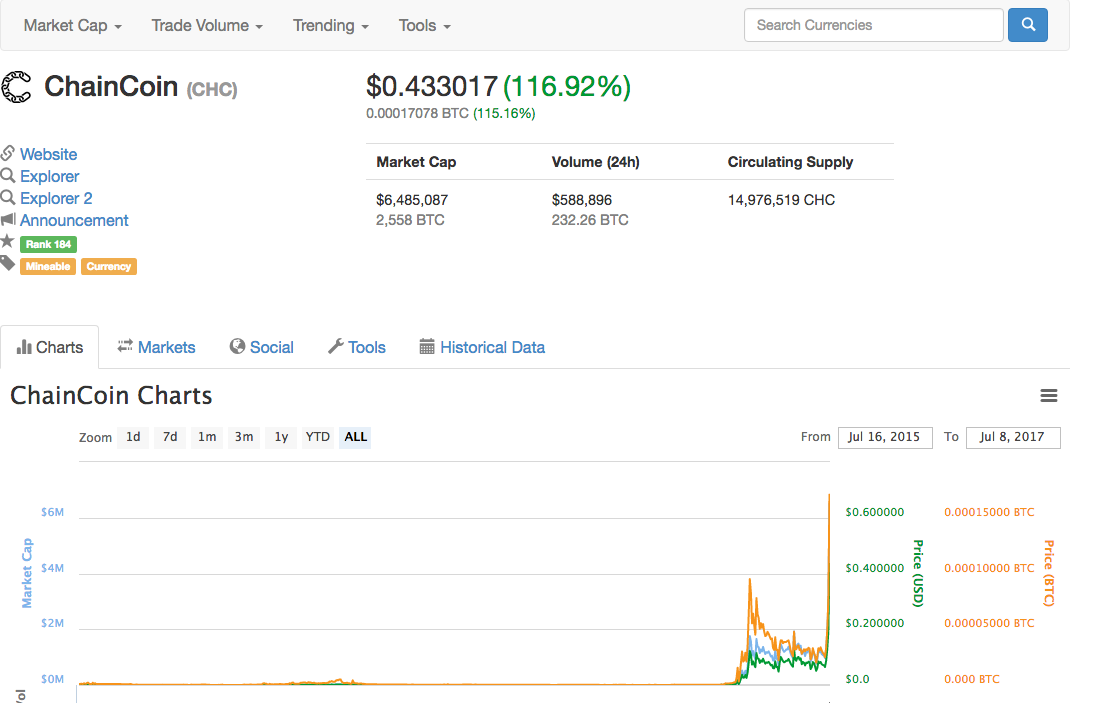 Big Thanks and shoutout to Max who runs the HighOnCoins channel for the positivity in the Crypto Community and sharing the ways of the HODLER! Be sure to checkout his channel for excellent updates on cryptos.


THE CRYPTO MARKET WINNERS ARE HODLERS

I personally believe there's still a lot of time to get into some CHC coin and I see strong potential for this coin reaching one dollar and higher very soon. It also only takes 1,000 coins to start a Masternode but the price is increasing as more people realize the potential of this coin. LTC and CHC too the Moon?! I definitely think so. 🚀 HODL!