stem73 Blockchain NEWS: What is JUST SWAP?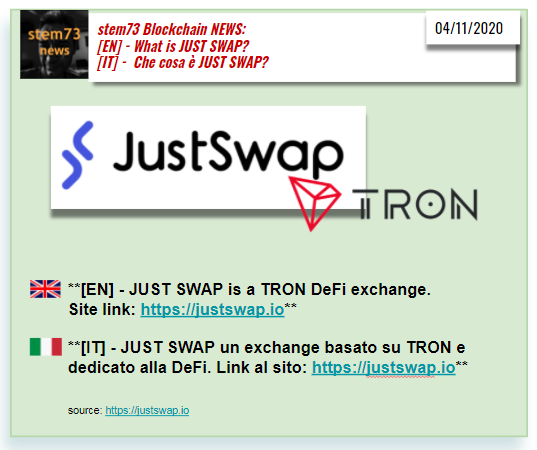 [EN] - JUST SWAP is a TRON DeFi exchange.
Site link: https://justswap.io
[IT] - JUST SWAP un exchange basato su TRON e dedicato alla DeFi. Link al sito: https://justswap.io
source: https://justswap.io
[EN] - My opinion
I am interested in this exchange, I believe it can have good developments in the future. Once I understand what it is, the next step will be to use it. Do any of you already use it?
[IT] - Considerazioni personali
Mi sto interessando a questo exchange, credo che possa avere dei buoni sviluppi in futuro. Dopo aver capito bene cosa è, il prossimo passo è quello di usarlo. Qualcuni di voi lo usa già?