Amon - Enabling Crypto Spending In Everyday Life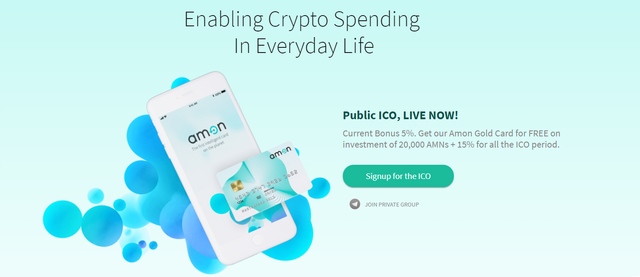 Cryptocurrencies — these decentralized electronic cash systems with no central servers or authority -- are believed to be used in future as the exchange mode. At first there was only Bitcoin, now the idea has become a global phenomenon. Many other cryptocurrencies have soon followed trail like Ethereum, Litecoin and Ripple among others.
More and more people start investing in them and use them for purchasing products and services. It even caught the attention of many banks, governments and companies as it has the potential to take its power from them. It's needless to say that what we are facing is a financial revolution, something that can change the world.
Nonetheless, their use is still relatively rare not to mention the complexity of its concept. There is also the risk in its high market volatility -- one cryptocurrency can have 1000% value in one day and none in another. Amon, a financial cryptocurrency platform, addresses these issues.
With the Amon Card and Wallet, it will be easy for people to organize their cryptocurrencies, share their earnings to family and friends and also utilize it in their transactions. Meanwhile Amon Al is developed to ensure users the best value for their money every time they make a purchase by knowing which is the real-time best performing cryptocurrency. It also protects them from the market's volatility as the Al learns from its fluctuations leading to better predictions for the future trends.

Amon's private Initial Coin Offering has started last March 1, 2018. People who participated for this ICO received 25 percent AMN token bonusand a free Amon Gold Card. Meanwhile thefirst public ICO started last March 4 and will run until April 4. The bonuses that is received by the participants in this public event progressively decreases for every quarter that has passed of this time period.
The Amon group plans release
The Amon wallet by the second quarter of 2018. After which they will acquire e-money license and money decentralization by the third quarter. Amon is targeting a 5% share in the potential market in a realistic scenario with 60k users for the next year. The group expects their revenues to increase from six million Euros to sixty million Euros for the next five years.
Learn more:
Announcement
News
Website
Whitepaper
Facebook
Telegram
Twitter
Video:
Best,
Tony