Suretly, the first Crowdvouching Platform

Thousands of people are looking for a platform to invest their money and earn profits but cannot do this because in order to do this they need a qualified lender's certificate which they don't have. Suretly is the solution to this problem. Suretly was created in June 2016. Suretly (https://www.ico.suretly.com/) is an online platform that provides short term loans to the borrowers. Suretly provides people with new type of investment alternative that is "crowdvouching".
Crowdvouching is the modern day investment alternative in which an individual invests money and gets it back with a reasonable profit. The money invested by the individual is lent to the individuals who are in need of some urgent money. There is a very less chance of losing money in crowdvouching, because only a part of lenders money is lent to a borrower. For example: If an individual has 100 dollars and he or she invests this money in crowdvouching, this money gets divided into ten parts and only 10 dollars are paid to one borrower who needs 100 dollars by individual. The rest 90 dollars are collected from other investors or money lenders likewise. Suretly connects borrowers, lenders & vouchers.
Suretly provides a number of benefits some of which are listed below:
1t eliminates lender's default risk.
1t has a decreased interest rate for burrowers.
The best part about this platform is that it provides a new and easy way for making profits.
This is an easy way for lenders to earn money.
1t is an easy way for borrowers to borrow money with low interest rates
Suretly's crowdvouching platform has been created to help borrowers to borrow money easily and all lenders to earn reasonable profits for lending their money but especially, borrowers who find it difficult to apply for loans, due to poor credit history.
Suretly can also be called as the modern day bank which is accessible for everyone. Any person who has some extra cash could earn profits by using that cash for lending purposes. lt is because of Suretly that there will be no need for banks for borrowing purposes as Suretly is an easy way of lending and borrowing money.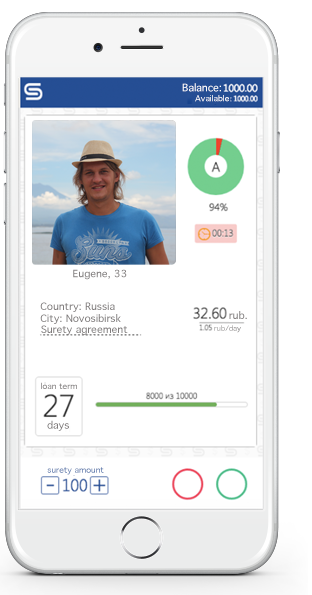 '

Suretly is the solution to the problem of all borrowers who want to borrow money at low interest rates. lt also is the solution to the problems of those people who have some extra money and don't know where to invest it and earn profits. Suretly is the perfect platform for lending as well as borrowing purposes .Many people need urgent money for various purposes but cannot apply for loans in banks due to various reasons but Suretly is a platform where everyone can borrow money at low interest rate despite if they are having a poor credit background or not Suretly is the perfect side business for people who have some extra cash and want to earn profits through it.
Suretly also has the minimal risk of not getting your money back from the borrowers as the money of the lender is divided into many parts. Suretly is easily accessible through Internet.
What is crowdvouching?
Learn more:
https://www.ico.suretly.com/
https://bitcointalk.org/index.php?topic=1879035.0
Image credits:
1
Written by Tony & CryptoBjorn
If you like this post then an upvote and/or following me is very much appreciated.