EOS the Ethereum killer - The Intelligent Investment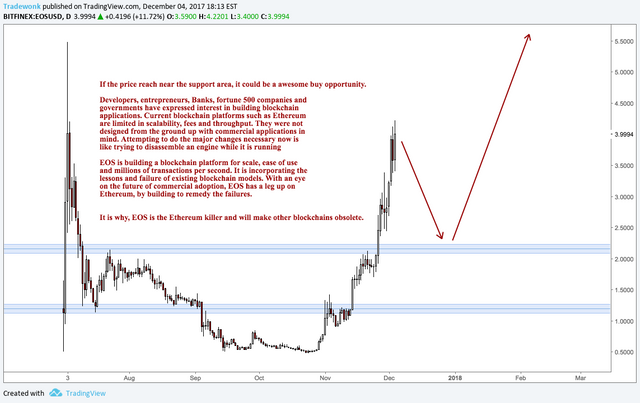 Hello traders, few days ago i made a post on Tradingview, where i recommended to buy and hold EOS. I want to point out that it is still a good idea to buy EOS where the price is today, but in the case of some will wait until the price falls more, then i have mentioned in my post the demand area where it could be very good opportunity to buy.
Many Entrepreneurs, Banks, developers, F 500 companies and governments have expressed their interest in building blockchain app's. The Current blockchain platforms such as Ethereum are limited in scalability, fees & throughput.
They was not designed from the ground up with commercial applications in mind. Attempting to do the major changes necessary now is like trying to disassemble an engine while it is running
EOS is building a blockchain platform for scale, ease of use and millions of transactions per second. It is incorporating the lessons and failure of existing blockchain models. With an eye on the future of commercial adoption, EOS has a leg up on Ethereum, by building to remedy the failures.
It is why, EOS is the Ethereum killer and will make other blockchains obsolete.
Current price of EOS is $3.5 and i can easily see the price hit $100 in the near future. We don't have to go many years back when Etherum was at $.3.5 ( 08-02-2016 ).
Click here to view my original post on TradingView.
---
Thank you for reading!
Don't forget to upvote, resteem and follow me for more content & contest
Tradingview, https://www.tradingview.com/u/Tradewonk/
Instagram, https://www.instagram.com/tradewonk/
Or any of my other social media channels. Please consider getting your
free account here on Steemit.
"Join the adventure and be inspired." - Tradewonk