Steemprentice (STEEMP) as Value Preservation DAC
Evolving ideaas @steemprentice into tokenized value preservation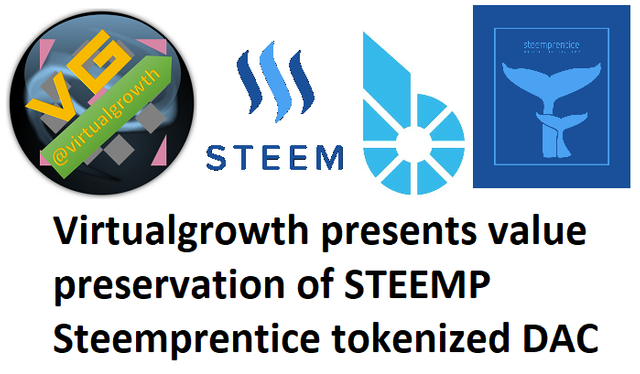 Exploring ideas of value new ideas led to offering tokens (STEEMP on bitshares) in conjunction with @steemprentice which is a member voting group to preserve value in other ways. Recently expressed the thought of creating a new one with no notice so though to expand into new direction of thought with this older evolving idea. Steemprentice membership is capped at about one hundred so will be open to creating new voting votes if the interest is there. Please feel free to comment below if interested in joining such a voting membership group.
Steemprentice
Currently votes for about one hundred (100+) accounts that joined with a membership contribution. Members received contributions about every month since. Members are still currently voted for when they post and curation rewards build up which are then shared with members. This was part tokenized on bitshares with 213.616 tokens help by 31 token holders (other than virtualgrowth). Five thousaand (5000) STEEM POWER was always preserved, in the account, as a base.
STEEM POWER: 4,502.887 STEEM (+303.865 STEEM)
Members may opt for tokens (STEEMP on bitshares) if they chooce (by leaving a comment below or memo sent to @steemprentice).
Diversification
Recently STEEM has been diversified some into LTC/Litecoin and SBD.
Paid 136.526 STEEM for 44.067 SBD
Paid 27.903 STEEM for 9.007 SBD
Paid 23.011 STEEM for 7.428 SBD
Transfer 187.440 STEEM to blocktrades 26f8923b-bcec-441d-96bc-f4ee207bfb87
Transfer 128.730 SBD to blocktrades b9993634-e8fa-4170-beaa-c7061f828f89
Start power down of 4,873.482 STEEM
Claim rewards: 47.093 STEEM POWER
steemp-mm on bitshares has a balance of 2.61291533 OPEN.LTC
(4,502.871 SP + 60.502 $BD + 3.86044983 LTC) / (total) member shares ~ $2.532
STEEMP on bitshares
STEEMP/bitGOLD
STEEMP/bitSILVER
STEEMP/bitUSD
STEEMP/BRIDGE.BTC
STEEMP/ESCODEX.BTC
STEEMP/OPEN.BTC
STEEMP/GDEX.BTC
STEEMP/RUDEX.BTC
STEEMP/BTS
STEEMP/OPEN.DASH
STEEMP/OPEN.EOS
STEEMP/GDEX.EOS
STEEMP/RUDEX.EOS
STEEMP/OPEN.ETH
STEEMP/BRIDGE.ETH
STEEMP/BRIDGE.LTC
STEEMP/OPEN.LTC
STEEMP/OPEN.SBD
STEEMP/OPEN.STEEM
STEEMP/RUDEX.SBD
STEEMP/RUDEX.STEEM