🗞 Daily Crypto News, September, 10th💰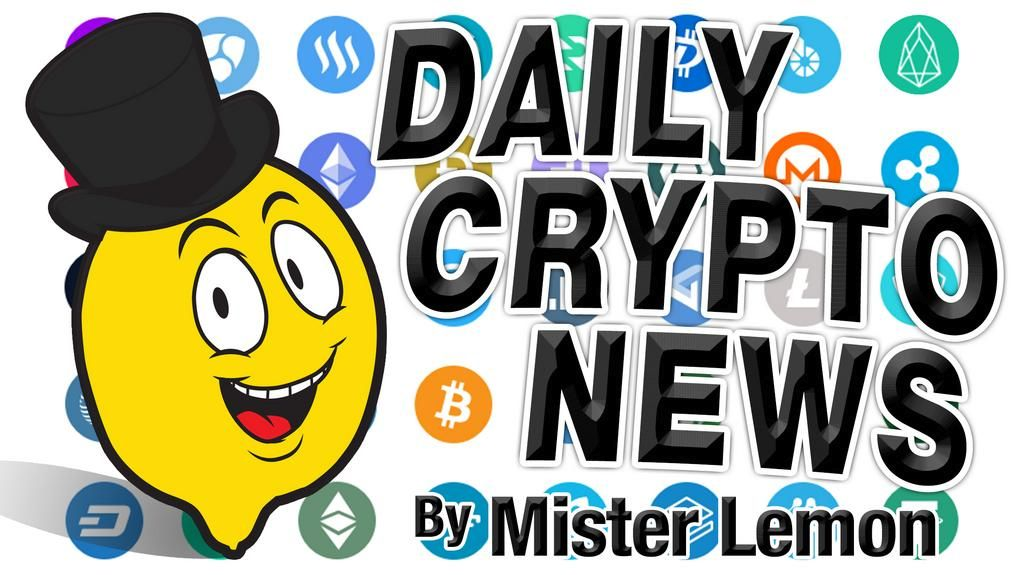 Bitcoin Markets Volatile After US SEC Suspends Trading in Two Crypto-Based Securities ;
China's biggest bitcoin miner in $1bn fundraising ;
Dogecoin Price: Much Excitement Continues as Market Cap Surpasses $715m ;
Interstellar Arrives: Visa, Citi-Backed Chain Acquired By Stellar Startup ;
Banking License Applicant Revolut to Offer One-Click Bitcoin Buying In-App ;
STEEM Trading Update by @cryptopassion
Welcome to the Daily Crypto News: A complete Press Review, Coin Calendar and Trading Analysis. Enjoy!
🗞 Bitcoin Markets Volatile After US SEC Suspends Trading in Two Crypto-Based Securities
US regulators banned trading of XBT Provider's Bitcoin and Ether Tracker One securities Sunday, September 9, briefly sending cryptocurrency markets tumbling.
Citing "confusion" among investors, the U.S. Securities and Exchange Commission (SEC) issued a notice that two exchange-traded notes (ETNs) – Bitcoin Tracker One ("CXBTF") and Ether Tracker One ("CETHF") – would cease trading until September 20.
Read more & Source: https://cointelegraph.com/news/bitcoin-markets-volatile-after-us-sec-suspends-trading-in-two-crypto-based-securities
🗞 China's biggest bitcoin miner in $1bn fundraising
Bitmain, which is responsible for mining more than half of the world's Bitcoin, is attempting to raise up to USD1bn in IPO funding before potentially pursuing an IPO, as it works towards its goal of reaching a valuation of USD30-40bn in the next three years. According to the company, it is currently valued at USD14bn.
Read more & Source: https://steemit.com/bitmain/@vlemon/china-s-biggest-bitcoin-miner-in-usd1bn-fundraising
🗞 Dogecoin Price: Much Excitement Continues as Market Cap Surpasses $715m
A new storm appears to be brewing in the cryptocurrency industry. All top markets are dipping in the red once again, even though it remains unclear what is going on exactly. The Dogecoin continues its strong surge for the time being, although it remains to be seen how long this new leg up remains in place.
Read more & Source: https://nulltx.com/dogecoin-price-much-excitement-continues-as-market-cap-surpasses-715m/
🗞 Interstellar Arrives: Visa, Citi-Backed Chain Acquired By Stellar Startup
A long-rumored acquisition that finds two of the crypto industry's leading entrepreneurs teaming to back the world's sixth-largest blockchain has been confirmed.
Announced Monday, Chain, which raised more than $40 million from financial institutions including Visa and Nasdaq, in the process helping define the narrative for business interest in the technology through its partnerships and stage appearances, has been acquired in an undisclosed deal by Lightyear.io, a startup building on the Stellar protocol.
Read more & Source: https://www.coindesk.com/interstellar-arrives-visa-citi-backed-chain-acquired-by-stellar-startup/
🗞 Banking License Applicant Revolut to Offer One-Click Bitcoin Buying In-App
Britain's Revolut filed a formal application for banking licensing this week. Established British banks are bracing for rule changes domestically and internationally, as more digital-only banks are ever-closer to legal parity with legacy institutions.
Read more & Source: https://news.bitcoin.com/banking-license-applicant-revolut-to-offer-one-click-bitcoin-buying-in-app/
📑 Daily Crypto Calendar, September, 10th💰
Bitcoin (BTC), ZClassic (ZCL)
Snapshot will take place on September 10th, 2018.
MOAR AION in Circulation! The 10th Release (monthly) of 6.25% of AION Tokens for those who participated in AION's Token Release Schedule.
General Event (CRYPTO), Dragonchain (DRGN), UpToken (UP)
"Blockchain Seattle is aimed to educate, connect, and showcase the best of the Pacific NW region's community"
0x (ZRX), Bitcoin (BTC), Ethereum (ETH), XRP (XRP), TRON (TRX)
Trading Carnival is a week-long competition in different markets on Coindelta. Prizes worth INR 5000 distributed daily.
"Smart Contracts are coming to #Waves MainNet in a week, on 10 September!"
This is the deadline date for the Retweet, Video Contest and the Networking-Bounty. 7000 LBC in prizes. https://twitter.com/LBRYCommunity.
Read more & Source: https://steemit.com/cryptocurrency/@vlemon/daily-crypto-calendar-september-10th
Sources: Coincalendar.info, Cryptocalendar.pro, Coinscalendar.com, CoinMarketCal
STEEM Trading Update by my friend @cryptopassion
Here is the chart of yesterday :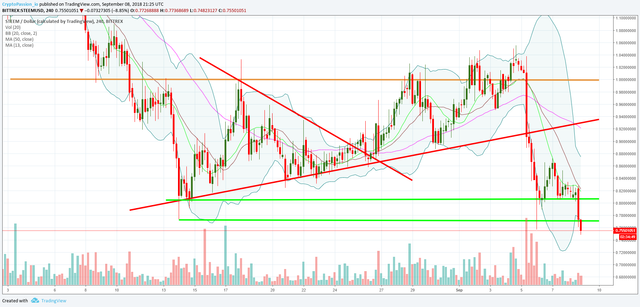 Here is the current chart :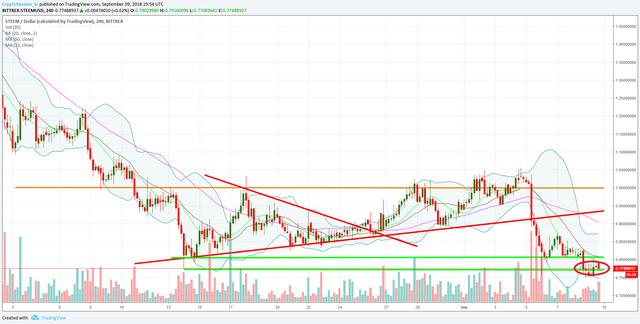 As I was explaining you yesterday, we were breaking the second support line in green around 0.77$ created by the previous low. We did it exactly as foreseen. The line has been broken during some hours and has been saved just after. We are now testing a new time this line as we are just sitting on it. Let's see if this support will become a nice new support level for the STEEM as the 0.80$ has been broken without any hesistation during the last correction.
Last Updates
You don't want to miss a Crypto news?