Nimiq - The 'Apps' are coming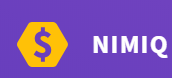 Nimiq - The Browser Based Blockchain
We all think about reaching mass adoption. We hear a lot about 'blockchain' and 'cryptocurrency' but in some way it remains a field rife with geeks and speculators. Mom and pop are nowhere in sight (yet). Somehow, the steps towards a broader adoption are hard. Very hard.
Enter [Nimiq] (https://www.nimiq.com/). Enthousiast are probably aware that Nimiq recently launched and is slowly growing into a rich ecosystem, ready to be adopted in a broad way. Perhaps broader than the average cryptocurrency because it has an excellent feature: browser based.
Cornerstone of the web: Browsers
There are may ways to connect to the Internet but one of the main 'portals' to the Internet remains the Browser. Everyone has a browser. Almost every end user device has a browser. It is the key way of interacting with all that the Internet offers.
Nimiq has brought the blockchain to the browser. No need to install a cryptocurrency wallet. No need to start a specific program for using the blockchain. Just point your browser at www.nimiq.com and you'r connected. It's a great way of getting non-tech savvy people on board.
The Development Does Not Stop
After the launch of the Nimiq network, the team made some adjustments to the core package such as:
upgrading the speed of the software
introducing easy accessible pooled mining via the home page (to ensure that mining is interesting for non-tech people)
And now that the network is up and running for a short while, we see developers building applications that run on top of Nimiq. Basically websites that use the Nimiq blockchain to incorporate blockchain functionality.
Examples are:
Nimipet: adopt a pet and feed it with Nimiq mined through your browser

Nimiqgames: mine some Nimiq through your browser and bring it to Nimiq Games for some online gambling

We can expect more 'apps' to be developed for the Nimiq ecosystem, making this project an accelerator for blockchain appplications that mom and pop could use. This could be an essential step forward towards broader adoption of cryptocurrenciies and blockchain apps in general. Keep your eye on this one.
You can follow the development of the Nimiq ecosphere through the official Nimiq blog and the Discord updates. Be sure to check them out.