CRYPTOCURRENCY MARKET: THE 100% DEFI PLATFORM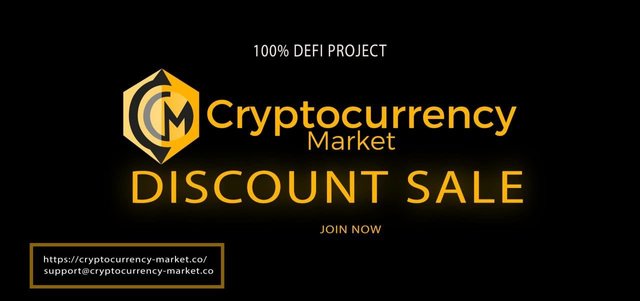 Decentralized Finance or DeFi as it is called is an innovative financial mechanism that seeks to make cryptocurrencies independent.
The debut of this new financial system is coming on the heels of the decentralization pushes across different cryptocurrency niches.
Investors are now looking for more opportunities, and are not solely concentrating on the purported decentralization mantra from popular crypto coins.
Cryptocurrency Market is a new platform for financial enthusiasts, who are looking to take advantage of the robust blockchain technology and cryptocurrencies to make the most out of their trades.
In this new cryptocurrency ecosystem, you would have access to some of the financial instruments that have been missing in the other platforms you are familiar with.
HOW DOES CRYPTOCURRENCY MARKET WORK?
Cryptocurrency Market is a decentralized platform that takes an entirely different approach to cryptocurrency investments.
It is no longer business as usual because this platform is here to redefine how you invest in crypto assets.
As you would discover when you read on, there are a thousand and one reasons why you should rely on Cryptocurrency Market so you can always make informed decisions when looking for viable crypto assets and projects to invest in.

1- Cryptocurrency Assessment
Accessing crypto-assets is the first feature of the broader Cryptocurrency Market ecosystem. As a platform that is interested in the welfare of the users, it doesn't want to compound your problems by feeding you with false information about crypto assets.
Instead, it wants to be your go-to platform for in-depth, accurate and real-time data of any crypto asset class.
To do that, Cryptocurrency Market would aggregate data/information of different crypto assets listed on the platform.
The essence of doing that is not far-fetched from the fact that the platform wants you to be updated about any crypto asset and crypto projects you may be interested in.
Besides, this is a better time to be ahead of the others by obtaining real-time data so you can make market analysis and see the direction the crypto market is pointing to.
2- Currency Swap
While swapping of currencies is always promised by many cryptocurrency platforms, only a few live up to that promise.
That is why I am pleased with the currency swap feature presented by Cryptocurrency. This feature will go a long way to make cryptocurrency and fiat currencies simpler for everyone to interact with the two.
With the Currency Swap feature, you are confident that you can now swap or exchange your crypto asset with another crypto asset. The swap feature also allows you to swap or exchange your crypto assets with any supported fiat currency.
3- Passive Income Via Staking
If you don't want to trade crypto assets, it doesn't mean you cannot make money from the cryptocurrency industry.
Indeed, there are many income opportunities for cryptocurrency investors. One of those ways is to earn passive income by staking your crypto asset to earn another crypto asset while making some money from the APY distributed by the asset's team.
Cryptocurrency Market makes that opportunity available for you via the staking opportunities that allow you to earn passive income through the variety of staking services offered on the platform.
4- Transparency at its Best
The whole purpose of cryptocurrencies and decentralized transactions would be defeated if there was no way to ensure that transparency is upheld at all times.
That is what makes Cryptocurrency Market more attractive – the transparency of the platform is impressive.
At the core of its transparency is the provision of holistic information/data about different crypto assets listed on the platform.
That way, you needn't source for information from multiple sources before you can make an informed decision on your preferred crypto asset.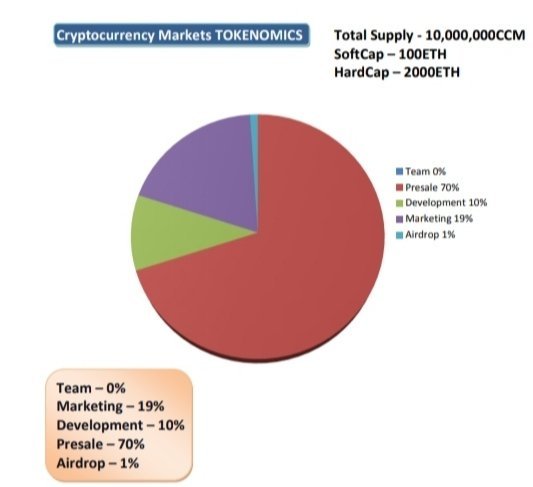 FINAL THOUGHTS
Cryptocurrency Market presents a new ray of hope for cryptocurrency investors. I do hope they seize this opportunity to enjoy the decentralization they always wished for.
USEFUL LINKS
Website: https://cryptocurrency-market.co/
Telegram: https://t.me/CryptocurrencyMarketGroup
Whitepaper: https://cryptocurrency-market.co/whitepaper.pdf
Twitter: https://twitter.com/CryptomarketCo
Facebook: https://www.facebook.com/CryptoMarketCo/
LinkedIn: https://www.linkedin.com/company/cryptocurrency-market-global
Medium: https://medium.com/@cryptocurrencymarketplace
Reddit: https://www.reddit.com/user/CCMCommunity
AUTHOR'S DETAILS
Bitcointalk Username: Flapit
Bitcointalk Profile: https://bitcointalk.org/index.php?action=profile;u=2845998;sa=summary
POA: https://bitcointalk.org/index.php?topic=5301114.msg56129272#msg56129272
0xDb38537dD5Eb846efdE32C0379b28608f665CcF3