Win a Full Geode on CryptoMinerWorld and a 100% Upvote
Everyone Loves Some Loot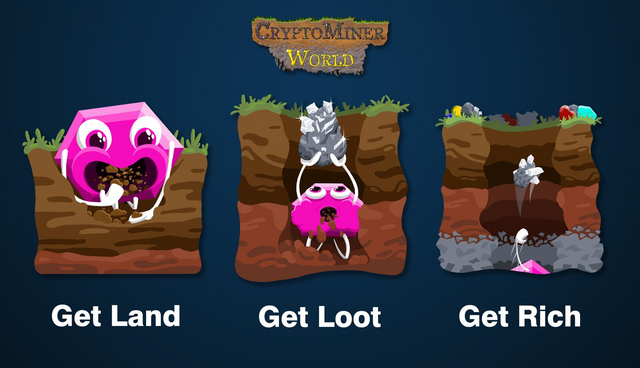 Lets talk about loot. CryptoMinerWorld has some fun and unique forms of loot to keep your gems busy. Not only do you collect loot as your gems dig your plots of land, buy you receive bonus loot when you reach the bottom. Maybe you'll discover another gemstone, or a special artifact that grants additional powers, or even a real life physical prize that can be mailed out to your actual home address. Maybe we'll get real gems, who knows. Another loot item that you will find along the way are keys. They open prize chests. The amount of chests will vary depending on how many plots of land are sold. In a fun twist, your gems will speed bonuses when the month matches the birthstone. ie emerald gets a bonus in May. Lastly, there is the mega prize. Its a chest that is rewarded once all land plots are sold. This chest will be worth over 2000 ETH! Now is your chance to win a FULL GEODE!
-Only entries that complete all the steps will be valid. All valid entries will receive a 100% Upvote!
-The winner will be drawn in The-CIty
You must message me on Mr. Contest Discord to claim your prize!
Need 💰?
You can purchase 💰 by winning an auction @ http://the-city.surge.sh/ . Right now all the auctions are at bottom prices, so you either get a great deal 💰 or win some ETH!
Winner Winner
Congrats @foridulislam21 it looks like all that consistency has paid off. Your now the proud owner of a GEM. Please DM me in The-City to claim it.