Google and Samsung are giving CryptoKitties Some Serious Cash.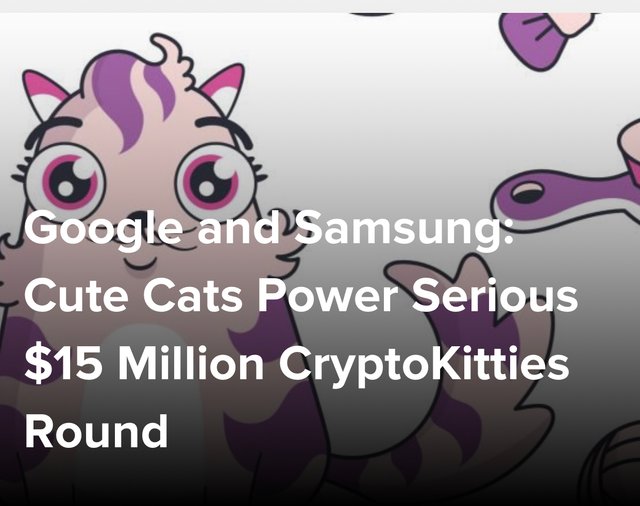 Announced Wednesday, Dapper Labs, the startup that spun out of parent firm Axiom Zen to continue working on CryptoKitties, has secured $15 million in funding. The round was led by Venrock and was joined by Google Ventures, SamsungNEXT and Andreessen Horowitz (a16z), as well as names not normally associated with venture investing, such as the talent agency William Morris Endeavor and e-sports firm aXiomatic.
The new funding comes months after Dapper Labs secured $12 million in a round led by a16z and Union Square Ventures.
More about the article here
More CryptoKitties updates
Some of the rarest CryptoKitties will stop being released on November 30th
What the heck is a Generation 0 Kitty, and why would you care that we won't be releasing any more of them?
Every CryptoKitty has a Generation. Gen 0 Kitties are created directly by the main CryptoKitties smart contract and released directly into the marketplace – they don't have any parents. When a user buys two of them and breeds them together, they get a Gen 1 Kitty.
Every cat in the game is descended from a Gen 0, and that makes those cats particularly special.