Making crypto trading approachable for all
The existing barriers in crypto trading
Crypto is constantly in the news whether it be on social media, TV, or a trending Youtube video. While the thought of getting started in crypto trading is tempting, you may still feel reluctant to dive in. Getting your start in cryptocurrency can be a bit daunting, with so many terms and complex platforms it's difficult to find your fit.
Many tend to believe that in order to become profitable in crypto trading you'll need to be a hot shot trader. Those who have a few notches of experience in crypto may never find the time to actually trade. Barriers exist for both beginners and advanced individuals that prevent them from reaching their goals.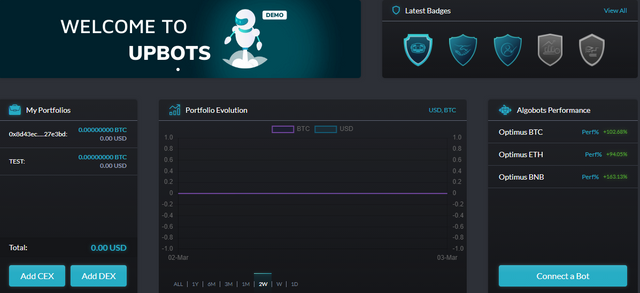 The UpBots solution
Enter UpBots, the all-in-one trading platform with all you need to start trading and keep the momentum going. The way things work with UpBots is as follows: algo developers rent out their trading algorithms, users activate these trading bots to trade for them, the user earns a profit off the trading bot and the dev receives compensation for their winning algo.
Algo bot users can have the bots trade on either the Binance or FTX exchanges, with support for additional exchanges to come.

The secret behind this unique revenue model are our performance fees system, which helps reward algo devs for their hard work. All trading tools on UpBots are free to start using right on their MVP demo platform.
Features that go beyond trading
UpBots' platform features extend even beyond trading on major crypto exchanges. DEX swaps, manual trading, portfolio trackers, and much more are also provided.
If staking crypto tokens is more your thing, then you'll definitely want to take a look at UBXT, the UpBots ERC20 token. By staking UBXT tokens on the FTX exchange you'll earn 25% APR and other sweet rewards.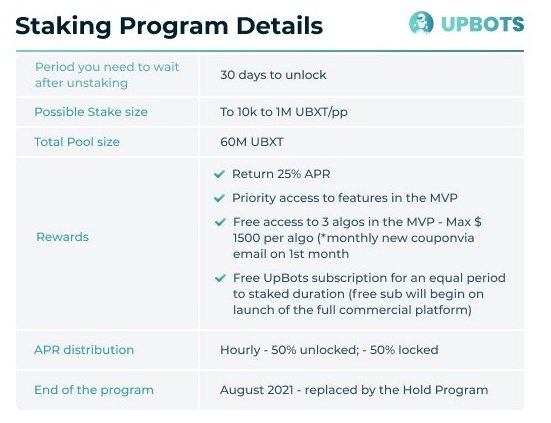 Interest in crypto is continuing to grow as more begin seeing it as an innovative currency and technology. Come give UpBots a try and get your feet wet with trading crypto.