How To Write - Your Very Own Lead Magnet?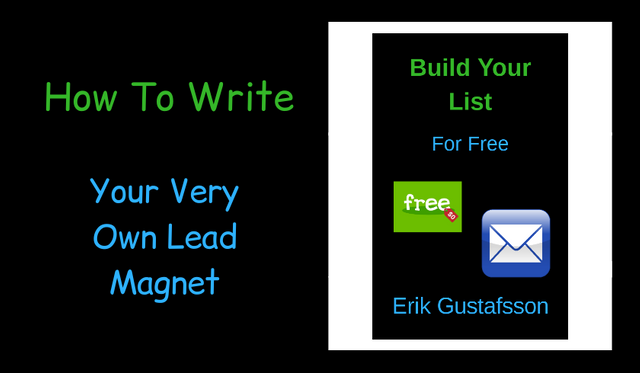 Made in Canva
It's Thursday and the raining of fall continues.
How To Write - Your Very Own Lead Magnet?
So I wanted to continue the line of thought from my Dtube video that I published yesterday about, What Is A Lead Magnet?, and actually write about how you can easily create your own.
As I said in that video a Lead Magnet is something that is used to attract subscribers to your email list, and it can come in many forms, like an email course, a video series, a video or an ebook.
The most common and one of the most successful Lead Magnets is the Rebrandable Ebook, you give away this ebook to the people that subscribe to your list, and they download it and hopefully read it, and they can also rebrand all affiliate links in it, and use it as a Lead Magnet to build their own list.
So this is what I will show you how to do in this post.
Chose A Subject And A Target
The first thing you need to do is to chose what you are going to write about, your subject.
And to get the subject you need to know what the target is, what is your goal with it, besides being a Lead Magnet.
So the best goals and targets is to create a solution to a problem that is faced by your target audience, the people that you want as your subscribers, so let's ask some questions.
Who is your target audience?
What problems do they have?
Does any of these problems cause a lot of trouble?
If yes, do you have or can you create a solution for that?
If yes, this is your subject.
So once you have your subject you need to research it, even if you know it in and out, and make a list with all info that you need to complete it.
Create A Title
After that is done start with the Title, and that can be short to medium long, but the important part is that it gets peoples attention and that it sufficiently describe what your ebook is about.
So it can be anything from 3 to 12 words long, but if it is over 5 words then cut it in 2 pieces and usually with the short part first, but it should be a fitting Title and one that people remember.
Create Your Chapters And Make Notes
So once you have your title you should create your chapters, and keep in mind here this is most likely your first ebook, and it is to be used as a Lead Magnet, so your goal should be to write something that is about 5 to 8 pages long, and you need to adjust the subject and the chapters to fit that legnth.
You will not write the contents of the chapters yet, just their headlines, and make notes about what each chapter is about and any resources that they need to include, like links and images and such.
The first chapter is also your introduction, and it is a very good idea to call it Introduction, this is where you will introduce yourself as the author, and you will also introduce the problem that your ebook is solving.
After the introduction you should lay out the solution in a step by step way, and with one chapter for each major step, and with sub-chapters for each smaller step, and do so all the way to your conclusion and problem solved.
Then comes the rebranding part, do include a link to a tool that can rebrand the affiliate links in your ebook, a great free tool is PDFaid, but there are also paid tools available for this that has more features, some of them even allow you to charge for the rebranding service.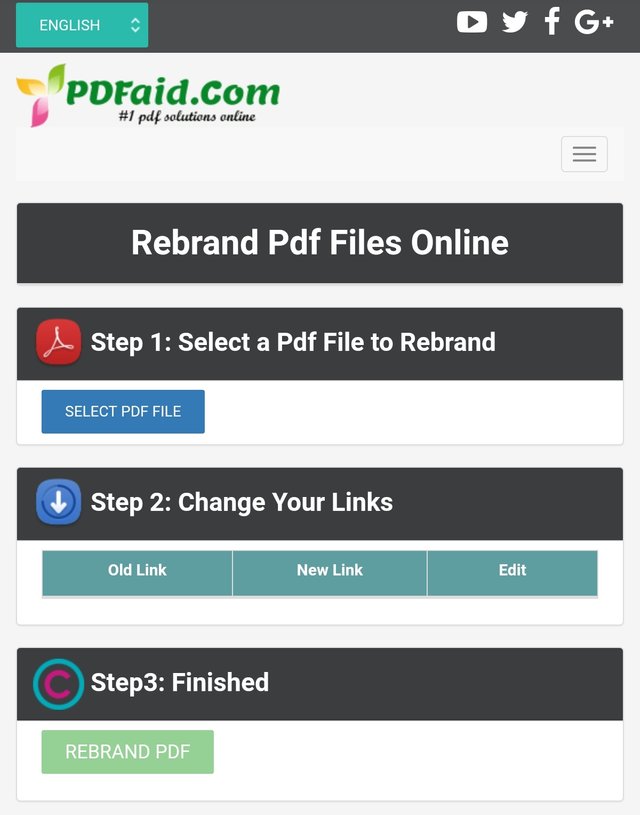 Screenshot from PDFaid
And it is also a good idea to include the tools for building a list, and how to use them.
Autoresponder - Trafficwave
Lead Capture Page + Training - ClickTrackProfit
Conversion Tracking - Hitsconnect
Then comes the finale, the Thank You! chapter, where you will thank your subscribers for reading it, and ensure them that if they have any problems you are there to help them, and sign off with your name and contact details.
And as I said, create the chapter headlines and make notes, do not write the content yet.
Create Your Ecover
Now that you have a Title and an outline of your ebook it's time to create your ecover, and you can do that yourself in Canva, they have templates that is fit for this, for myself I would go with a blank template and then add the title, my name and some graphics, but you can just as well go with a design if you want, or if you have the budget you can hire someone to do the ecover for you.
Start Writing
Now it's finally time to start writing, and you can do this in your preferred Office application, and save it and then export it to PDF once you are all done, that is done either by a specific PDF export function or by Printing it to PDF.
Do also make sure that all the styles are what you prefer them to be, that your Title's and Headlines and Body text is all the right size, font and weight and so on, and just to note, do use the styles instead of changing the same style over and over, it will make it very much easier for you to concentrate on writing, and if you want to include a Table Of Contents it's also necessary.
Once you are all setup, start by inserting your ecover on the first page, and make it fit good, not all programs can fit it all the way to the edges, like if you are using Google Docs on a Tablet, but if you are on a computer you should be able to.
Then move onto the second page, and mark it as the first by inserting automatic page numbers in the footer, and have your name and a small Copyright notice in the header part, and include the Title, a smaller copy of the ecover and your contact details.
After that you can make a Table Of Contents if you want to, or skip it if it's below 10 pages, and after that you should include a Licence, an Earnings Disclaimer and some legal text.
Once that is done you start on your chapters, include their headlines, and use your notes to write the contents of each chapter, and continue until the ebook is finished.
You can of course do all of this in steps that you complete each day to make it easier and you do not have to write it all at once, but do make it a goal to complete it in a week for anything below 10 pages.
And you can also check out my ebook, Build Your List For Free, which I am using as a Lead Magnet to build my list, and I also give out SBI Units to anyone that signs up.
Build Your List
Congratulations you ebook is now complete, and it's time to write some emails and setup your email marketing campaign, using your ebook as the Lead Magnet.
Now that will be the subject of my next post, and I will write out how you are going to set that all up, and my plan is to post that on Saturday since on Friday my plan is to make a Dtube video, until then ...
Stay Awesome!
Sincerely,
Erik Gustafsson
This is all my own personal opinion, do your own research before investing, and seek legal counsel if uncertain.