July 18 -- Steemit Ramble #102 -- Don't You Hate Missing Good Posts?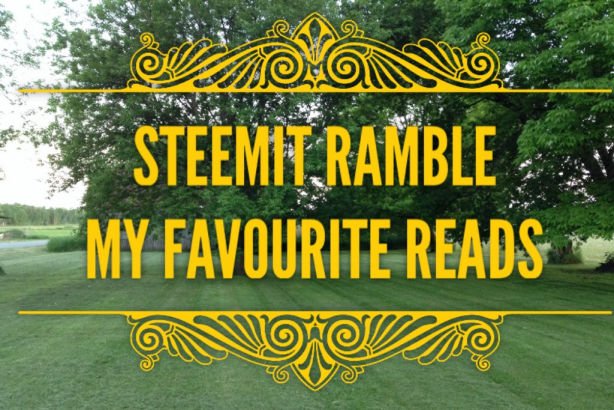 A lot of new people on Steemit these days, which is great. The downside is that I find myself going through even more really lame posts to find the good posts. While I see a lot of people think just because they spend whatever amount of time to create a post, others should just pay attention to them and vote. Well, newsflash, you need to earn my attention to get my vote. There are ways of doing so.
I don't mind short posts if they actually have something to share. A well crafted comic can catch my attention as much as a long post. Posting a photo with nothing to tell me why that photo has value to you, has no value to me. I enjoy posts by artists where they talk a bit about what motivated the artistic piece.
As for videos. I am not a fan of video but, I know some messages are best conveyed by video. So, write an introduction that makes me want to click play on that video. Otherwise, I can't be bothered, there is no value in using my time to see what may or may not be on the video.
On longer posts, short, well written paragraphs are a must. Longer paragraphs on a screen are tedious to read. That is a primary basic when writing for onscreen viewing. Your writing needs to pull me in and make me want to read the rest of the post. If my attention wanders, then it's gone.
When I'm writing a Ramble, I'm looking for well crafted posts which catch my attention and lead me to want to share with others.
Onward to today's rambling
@capetowngirl writes a touching story of friendship. A great story, but, @capetowngirl, please don't do your posts by centering the text, left aligned is so much easier to read.
@krumpi has put together a post of photos of funny building designs from around the world. While I found the photos interesting and diverse, @krumpi could have greatly improved the post by writing some commentary on each photo like who the architect was, the location of the building and maybe even some detail about the premise of the building. But, the photos are cute, so enjoy.
Artists use some fascinating mediums to create their art on. @asimpervez posts about an artist who uses salvaged books to create some fascinating paintings.
Getting along on Steemit can be challenging sometimes. There isn't an official help section to go to. For those who want to know more about how to use the site and the platform @sykochica has created a series of guides to help you learn. A complete list of the guides is included in this post.
@cryptonet writes a brief but to the point post about change. No one can truly change the world, we can change things in our own world which in turns changes our perception of how we experience the world.
@nirolf95 writes a brief but ageless post with a message that needs to be repeated often, especially when faced with a failure.
My formal education is as a robotic technician, a diploma I earned back in the early 1980s. Back then, robots were basically just starting to be used in factory assembly, particularly the car industry. It's fascinating to see how far the use of robotics has come. @steemmaster provides some interesting photos.
@steem-buzz has put together a good post with a group of STEEM tools to use to help grow your account. Nicely done. I use several of them regularly, some of them occasionally and found a couple of new ones.
A truth so simply captured with humour. And of course a cat never hurts with me :)
@neidemaris writes a thoughtful post about the multiple faces we all have. Worth the read.
How often do we find ourself physically present in a situation but our mind has wandered off to something else? @rebeccaryan writes about her challenge for herself to be present in the moment and what better time than while attending a community festival like the Stewart Park Festival in Perth, Ontario. Well written @rebeccaryan.
@globocop has written one of the better guides on what a witness is on the platform that I've seen. Well done and well worth the read.
Wrap-up on Day 102
Well, it has taken me most of the day today to comb through the chaff and come up with what I consider to be good posts. Several times I thought I had come across a really good post only to discover that the material came pretty much directly from another source (thank you cheetah). The moment I see the cheetah message, I wont share that link.
I'm off to a Legion meeting this evening. My first of this term as the Immediate Past President, which means I get to sit at the back of the room, listening and watching. As Past Prez, I can participate at the level I choose rather than as expected. It's a nice spot to be after many many years of being where the buck stops.
Supporting and Upvoting
Let's not forget folks. I'm sharing these posts not only because I like them. I'd really like to see them get support and upvoting.
Please Join the Curation Trail
If you'd like to support the posts I find and upvote while searching for the Ramble shares, please join my Curation Trail on Streemian
Until Tomorrow — Just Steem on
---







---
If you like this, please follow me and upvote the post.
If you'd like to see the other days I've posted, just visit my profile
If you'd like to join my curation trail on Streemian, please click here
---