Mon 24 Feb Journal Entry -- A lot of up & downs!
Hello Steemit!
Late last year I made a commitment for 2020 to spend more of my time studying & on the things that matter. Unfortunately, so far I have been unsuccessful at keeping to my schedule every day.
With almost 2 months already gone off this year, I realized that if I don't start committing right now, my goals for this year will not be reached.
So starting today, this journal form of posts will be my way to keep my tasks & goals in sync with the rest of my busy day.
Mon 24 Feb:
Good:
Today was a cold Monday and it took a whole lot of coffee to get me out of bed this morning! But I managed to complete all(almost all) my tasks for the day & added a few extra hours of study time to the logs.
Bad:
The lazy bug has bitten me early this morning in the cold weather. Even though I did complete all of my required tasks, it took a whole lot more effort than it really should have. Maybe it is the procrastinator in me that delays everything to a point that I rush to complete everything with a lot of stress.
Something Else:
I FINALLY completed the web developer course I signed up for on Udemy. The last few weeks of almost no study really just extended the time it took, but now at least I can move on to reviewing my notes before moving on to the rest of my courses.
---
Daily Tasks Progress: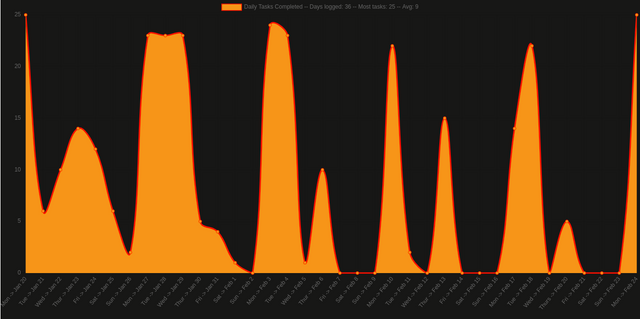 That is a whole lot of peaks! Yeah, the last few weeks have been filled with a lot of ups & downs! But hopefully, from today I can solidify my daily schedule to see a smooth line of completion starting to form on this chart :)
---
Daily Study Hours Progress: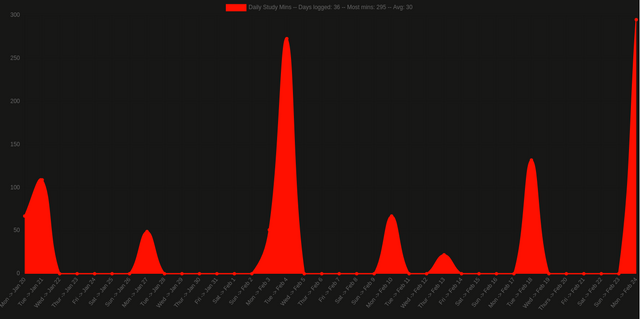 I got some good study hours in today, and damn it feels good! I have never been a fan of sitting down and studying, but it always feels good once you finished a topic with a much better understanding of it. I'm really looking forward to seeing my study hours racking up from now on.
---
Daily Project Hours Progress: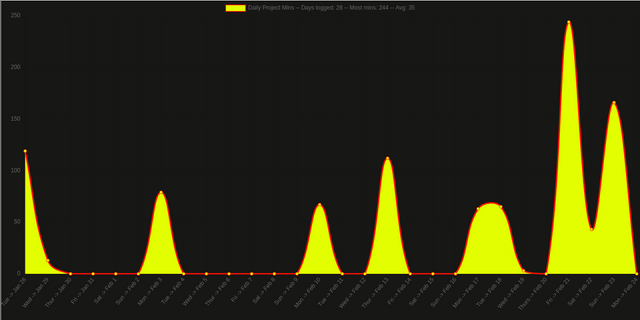 One of my main goals for each day is to spend a minimum of 1 hour working on a project or something else related to it, but today I caught up in a few other tasks before the day let me have an hour to work on a project. Luckily I spent a few solid hours the weekend working on sneaky-ninja(A real shitty name I know :p) So I don't feel too bad missing out on today's 1 hour.
---
Overview for the day:
25 Tasks Completed!
4 Hours : 55 Mins Study Time
0Hours : 0Mins Working on Projects