THE DAIRY GAME : 2nd/08/2020
MOTORCYCLE RIDING, VALUING THE TIME WE HAVE AND STEREOTYPES OF WHICH WORK OR ACTIVITIES A GIVEN GENDA (MALE OR FEMALE) SHOULD DO.
Today I happen to have done an activity of mottocycle riding . Well in most of our African countries including some European countries, women are seen as people who can do certain activities which are left for women alone because they are considered to be a weeker sex such activities include things like cooking, office work but not doing some other activities like riding a bike or motor bike which make the society to underestimate women.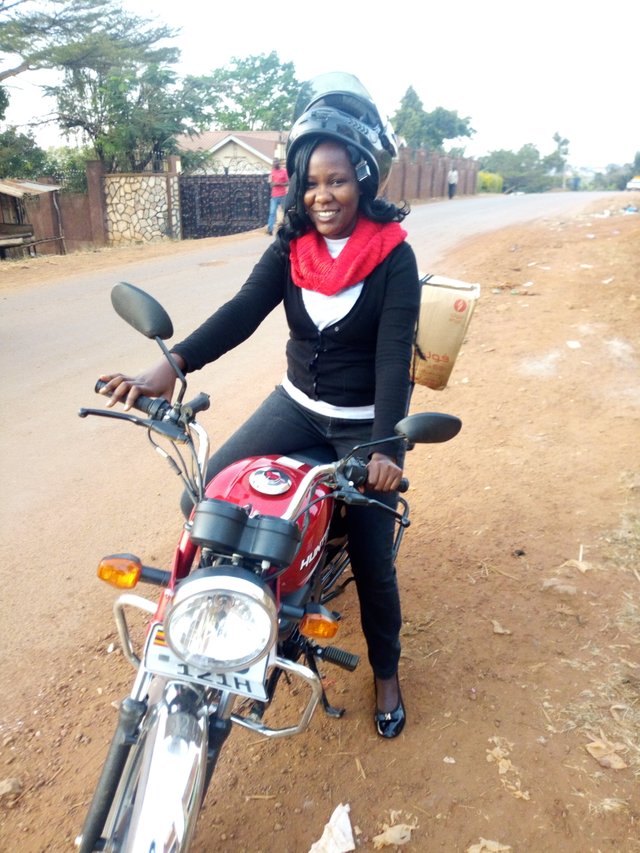 <(This is me)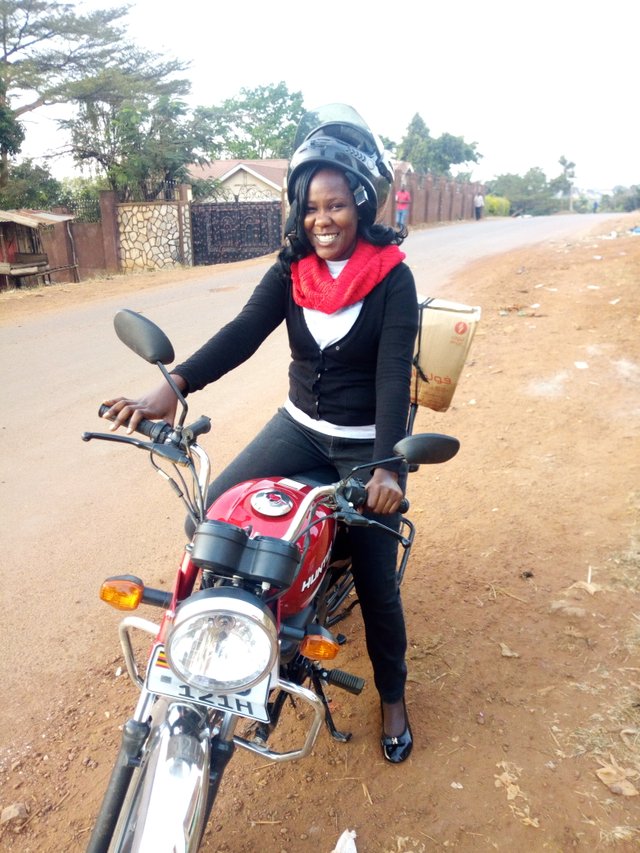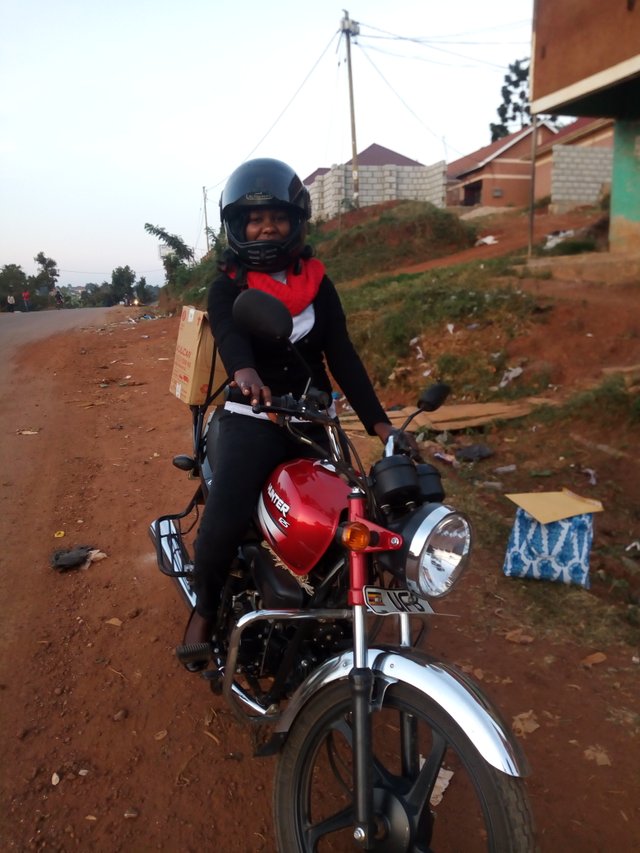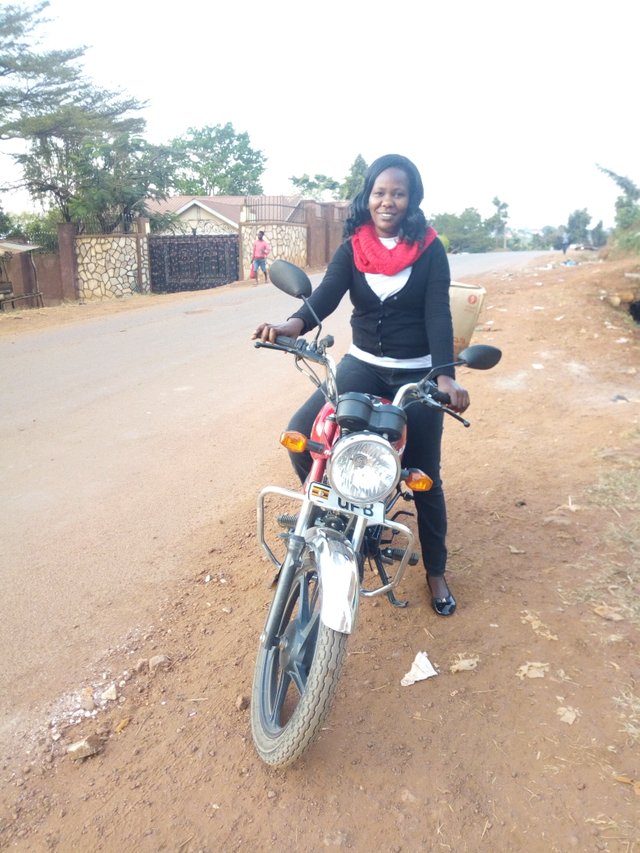 where as men are also considered to do the harder tasks such as building storied house, driving trialors, riding motorcycles and many more.
In Africa especially in Uganda for women to do certain activities expected to be done by men can make every one see a woman as someone voiating the law of norms such women are not supposed to climbed trees, women are not supposed to whistle or build houses and many more .
However due to unavoidable circumstances which are changing in life situations today, women have resorted to ignoring what society has considered as men's activities or works because :-
✓ The women have been neglected with their children to fend for themselves. Which will make them to do jobs of men like driving trialors, riding motorcycles to sustain themselves and the children because in Africa women are totally dependant on men.
✓Women have been educated or empowered to the extent they end up now taking up men's jobs such as engineering which was considered to be for men because men where more educated since women where only seen as marriage materials no one would want time paying tution for them.
✓Some women got interest from seeing their parents especially fathers riding the motorcycle so they also decided how to ride motorcycles.
✓Others learnt because their husbands ride motorcycles so in case they met them riding, they would also opt to ride one.
✓Some women learn because of getting jobs forexample I learnt how to ride one when I got an out reach job. Because there was a lot of movement that was needed work to be done quickly so a motorcycle would be easily used to do such jobs.
✓Motocyles are also used for easy movement during jam. Here in Uganda it is easy to dodge jam when you have a motorcycle but with cars one can spend hours on the road hence motorcycles can easily used to dodge that so that you can reach where you are going so first.
✓Women have also resorted to use mottocycle especially in place where cars do not reach and it is only a motorcycle that can penetrate especially deep on my village called Otuboi cars hardly reach there so women decide to Learn how to ride them.
Time is a scarse resource and how ever one uses it is important. We all use 24 hours a day but some people seem to be so success than other because of how we utilities out time.
Being bussy does not mean you are utilising your time well. How a motorcycle comes in is that sometimes it can be used to have fun in. Order to relieve stress and it can help your mind to be free from worry and many more. So as you work hard you been some time to relax from work.
Mottocycle riding can help you do that . In my own experience as I ride it in the lonely high way my mind goes quiet and I just enjoy the moment, I get cool breath that is so enjoyable while wind is blowing on my face I just like it.
In my old child hood days I was one told of a proverb says "that work without play make jack a dall boy so when you work too much with out relaxing , you may have a low. Productive level due to fatigue, body weakness and many more hence may become busy for nothing.
When you are budgeting your time you need to set priorities such as most important, important and less important respectively so that you can also have to relax when the body is tired and you can finish the less important after relaxing. This will help you enjoy your time at work as your body also gets time to relax.
I am part of team-passion