Tripsteem for Travel Bloggers | DApp Review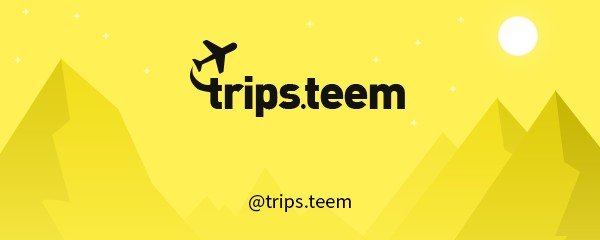 Source
1. What is Trips.teem?
Trips.teem is one of decentralized social DApp listed on the State of the DApps.
Trips.teem is a travel DApp whereby you can blog your travel stories and get rewarded. This is really my area of interest as I chose @rosatravels to be my Steemit username. I love to travel and so does trips.teem.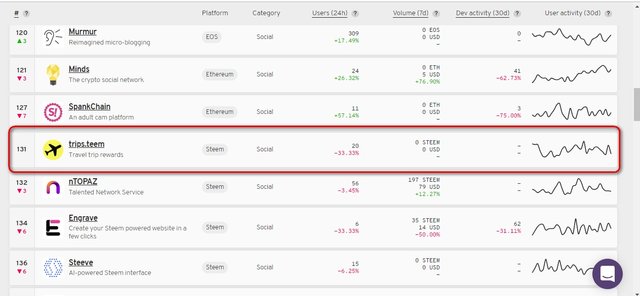 Presently, the ranking of Trips.teem is is at #131 on the State of the DApps. The volume of active users are not very huge at the moment.
The following graph shows the amount of activities and transactions that take place with this Trips.teem app daily, weekly and monthly.

There are only about 20 daily users of this DApp.
You can tell that this is a relatively new DApp.
I am fortunate to be one of the early users of this DApp. The DApp was first used by the Korean people in Korean language last year. In November, 2018, the platform extended to English users. This is where I came in. You can find me in this Trips.teem profile page.

I love this DApp. Having used this DApp platform for the last 4 months, I am now able to write a reiew on this DApp.
2. How To Get Started Using the Trips.teem App
A. Go to the Trips.teem Site
Trip.teem website: https://en.tripsteem.com/
B. Log in using Steem Connect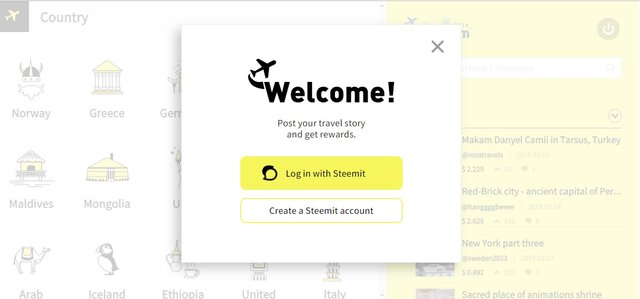 C. Your Profile Page
After you log in you will see your profile page with your profile picture.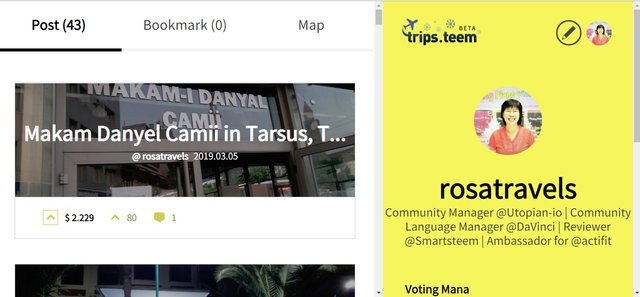 On the left, there are three main pages:
Posts: this gives the nubmer of posts you have made. In my cse, I have created 43 posts in 4 months.
Bookmark: pages that bookmark your favorite
Map: Places that you have been in your postings.
---
D. Start posting using the Editor
Go to the pencil Edit!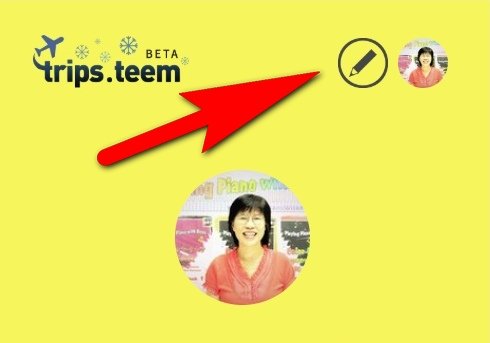 An Editor will open for you start posting!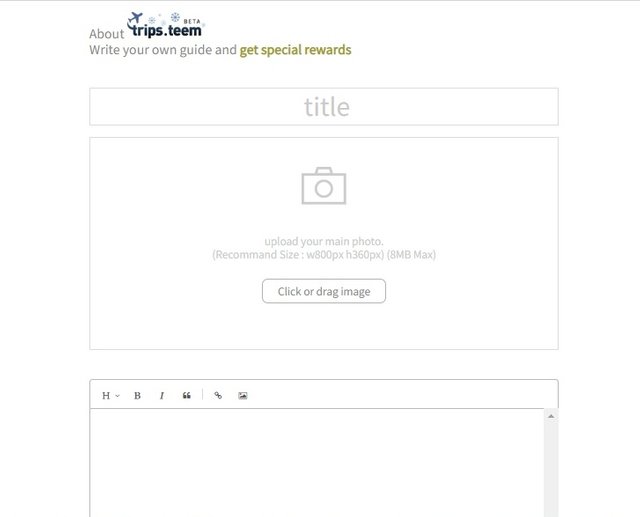 It is very simple and you can start posting:
Post Title
Post Image
Body Post
Press Submit when you finish writing
---
3. Main Components of the Trips.teem App
Trips.teem is a simple and user-friendly interface whereby you can start posting your travels right away.
1. The DApp keeps a record of all your travel places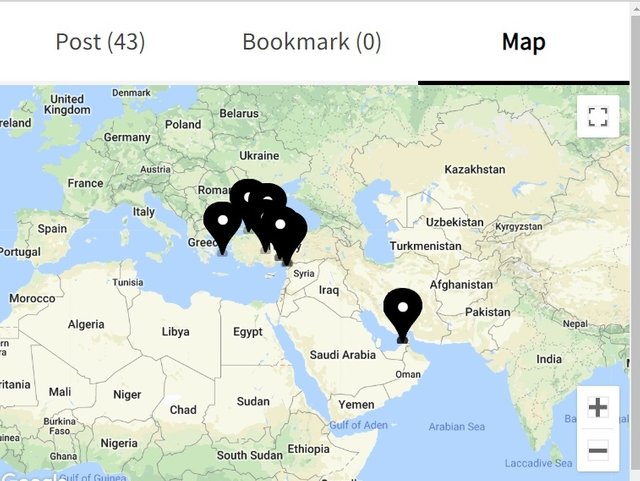 2. The Dapp allows you to choose the countries to write on.
There are 56 countries you can choose from: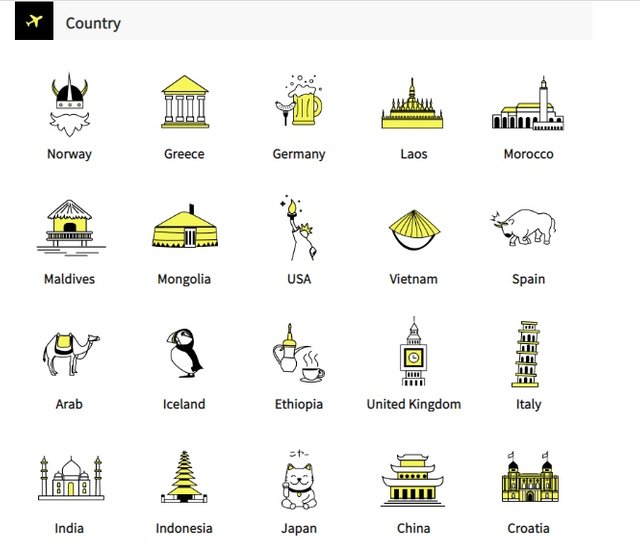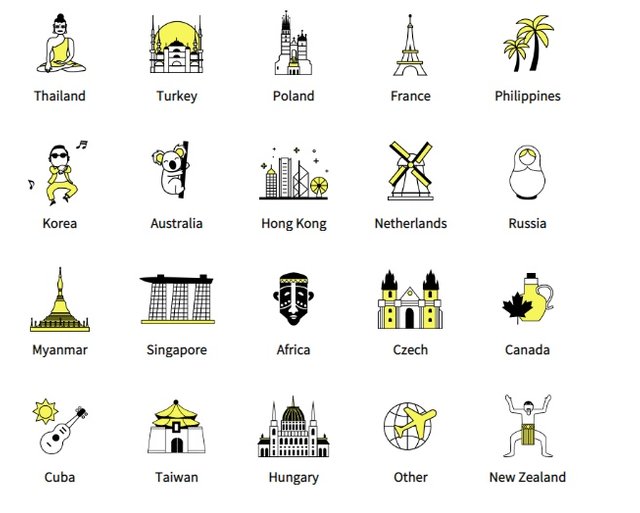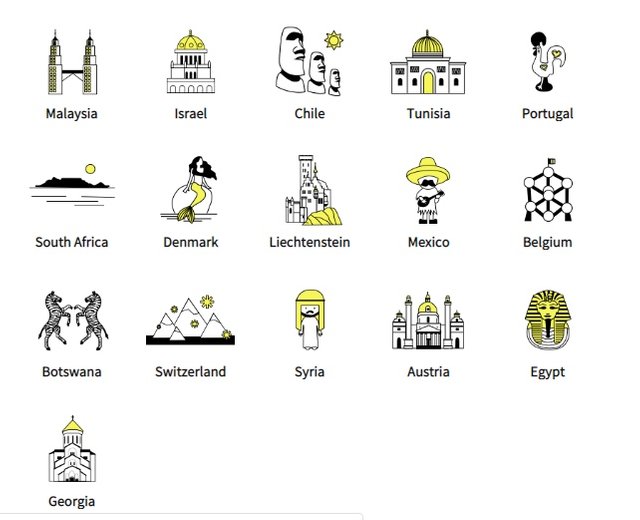 3. Simple Checklist for Posting
The posting is very efficient. There are 3 main areas you need to complete. Once complete, it will show a tick there.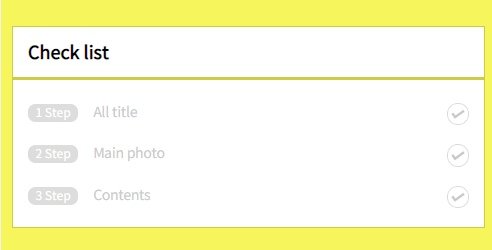 You need to have at least 3 photos to get approved
People photos are not counted as they need to be travel places
Need to write traval map location
Map registration is also mandatory
---
4. What I like about the Trips.teem DApp
The founder @snackplus does a good job in starting to provid this service for the travel industry.
As this DApp platform grows with enriching content, this will provide lots of resources, information for travelers who are looking for travel opportunities.
So far I have enjoyed using @Trip.steem to read about places that others have been. These posts are all written with travelers experiences with their recommendations.
As time goes on, Trips.teem will extend their services to the following areas:
Travel community service
Reviews of touristic places, hotels, restaurants
Flight tickets and hotel reservations
Travel plans and budget
We are still at the early stage. There is a growing potential of this platform turning into a big travel industry service.
5. How Trips.teem app can improve
It will be good if the platform can extend to more languages so that more people can participate in their own language.
The platform first started with the Koreans and then extended to English users.
Right now, there are mainly Korean and English people using the site.
As the platform matures, it would be great if there are more specific guidelines in writing the content of the post. Right now, the traveling posts are not formatted in the same way. So as time goes on, perhaps more team members can join to help out in this area.
It would be good if there is a section where we can keep our 'drafts' there. Right now, we are only allowed to have 1 draft.
6. Comparing Trips.teem with other travel apps
Right now, I have only used one kind of travel app and that is the Trips.teem DApp.
I know that there is another app called Dtrip.app.
The platform is still under development and now in its alpha stage. I have not started using this platform yet as it looks more complicated.
I chose to continue on Trips.teem because of its simplicity so it is easy to start posting without any fuss.
Conclusion - Star Rating
In all reviews, we conclude by giving a rating to the DApp.
For the Trips.teem App, I'd give it a 3.5/5 because it is not a fully developed App yet and still under construction.
But from the user point of view of being able to use this DApp beta version to post my travel stories and getting rewarded, I'd give it a 4.5/5. I have not experienced much problems with the DApp at all.
---
|| Follow @oracle-d.tasks for future tasks ||
---
Thank you for reading this post! If you like the post, please resteem and comment.
谢谢你的阅读!希望你喜欢。如果你喜欢我的分享, 请点赞并跟随我。