DABANKING: BRINGING REVOLUTION IN THE GAMING INDUSTRY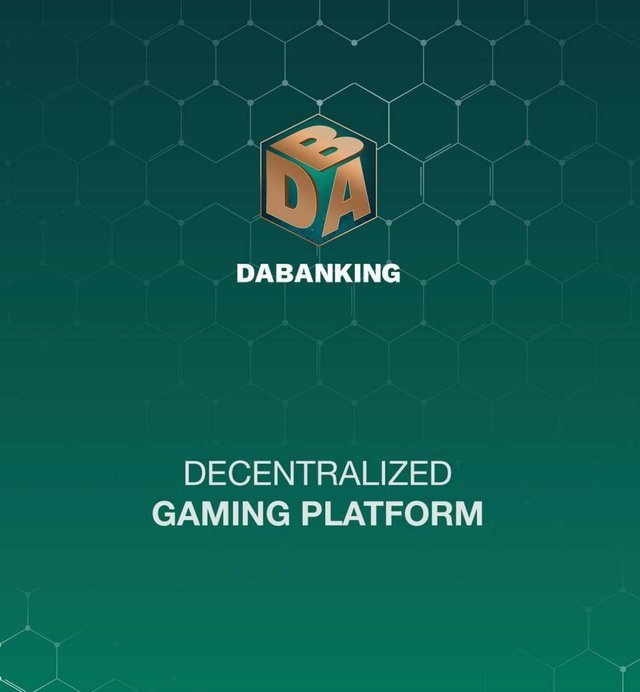 INTRODUCTION
Accelerating digitalization, faster Internet transmission speeds, continuous accumulation of big data, the application of mathematic and cryptographic technologies in the digital era: these are the factors that create a need for developing data recording systems based on of #Blockchain technology due to its advanced features: decentralization, openness, autonomy, irreversibility, and privacy protection. Bitcoin is the first widely used application of Blockchain technology. The Blockchain technology is an invention that creates a decentralized network based on peer-to-peer protocol networks, which allows every computer in that network to become a server making a huge difference to the conventional centralized network.
The Decentralized Applications (Dapps)
Currently, #Dapps are becoming more popular and powerful due to their unbelievable and superior advantages over the traditional applications. The decentralized application (Dapp) characteristic of Blockchain makes it a very reliable means of recording data which can replace traditional methods of recording data and bring radical changes to many industries. Gaming is only the beginning, there are more than 40 big industries that Blockchain could transform including: industrial IOT, cloud storage, cloud computing, digital copyrights, insurance, real estate, healthcare, supply chain management, entertainment, banking, finances and more. With that many potential applications in gaming and life, Blockchain is gaining worldwide adoption.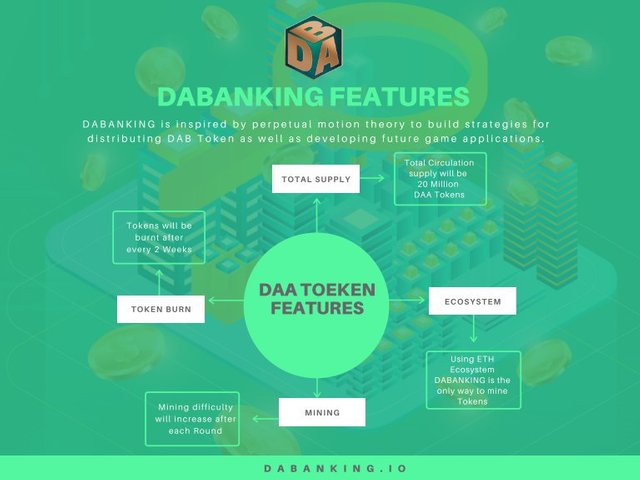 DABANKING
Day in day out, the gaming industry grows with a significant percentage. It's growth currently is more than rapid. More than hundreds of thousand people join across the globe with a revenue generation of more than million dollars. However, the gaming industry suffers from fraud and scams. Gamers are afraid to lose their hard earn funds because of the problem surrounding the existence and ownership of assets in the game. This security and privacy issues encompassing the gaming industry has resulted in the creation of #DABANKING, a decentralized application. Dabanking is a Blockchain-based automated gaming platform and token. Dabanking, the first among the best of decentralized applications has been created to bring a revolutional change to the gaming industry so as to bring back the trust gamers are losing in the industry.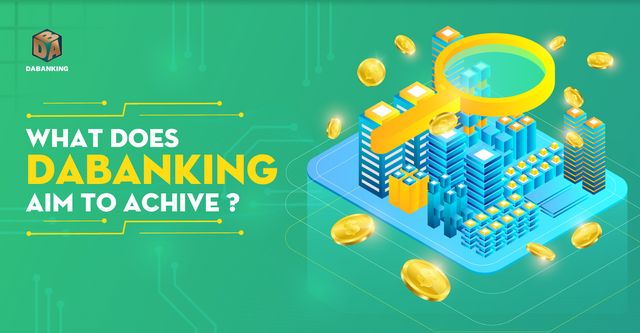 Aim of Dabanking
Dabanking aims at becoming the pioneering utility Blockchain platform in creating an environment to build a decentralized applications (Dapps) with decentralized entertainment services with transparency, fairness and optimal user experience. This will ensure that the gaming industry is much more entertaining and secure as expected by gamers.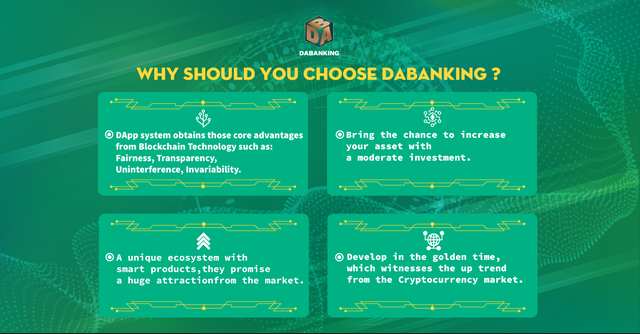 Why you should choose dabanking over the others
There are numerous reasons you should prioritise and choose dabanking over the others. Firstly, Dabanking will ensure that fraudulent activities which used to happened in the traditional gaming is curtailed. With dabanking, users will now be able to track and authenticate the ownership of digital asset types and reduce the cost of third party involvement. Also all payments will be secured with smart contract thereby preventing it from fraudsters as the traditional gaming is expose to. Smart contract allows users to be confident that they will receive authenticated assets/items. Gaming with blockchain integrated has a higher competitive advantage over the traditional gaming which has brought insecurity and fear. Dabanking interface is user friendly and easy to use.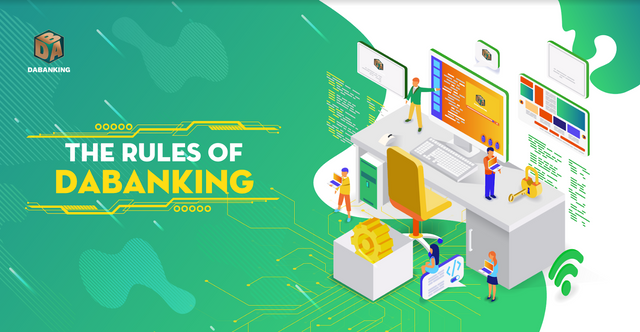 Rules of Dabanking
Install a Metamask wallet on your computer or trust wallet on your phone.
Deposit some ethereum into your Metamask wallet or trust wallet.
Visit dabanking website (dabanking.io) and buy your ticket
Then you can experience the best of fomogames on dabanking platform.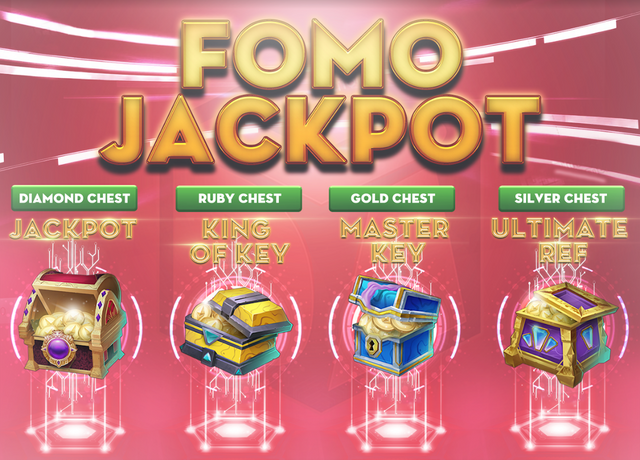 FOMOJACKPOT
#FomoJackpot is the first decentralized application product within the ecosystem of Dabanking built on Ethereum Blockchain. FomoJackpot lotteries allows users to win a significant and appreciable profit in a transparent, free and fair manner with just a 0.002 ETH ticket.
How to play Fomojackpot
Before you play the fomojackpot, users have to register themselves on an account. The game has two rounds and each round is based on a countdown clock. The fomojackpot has two countdown clocks. The first countdown clock, Green Watch, is set for 48 hours. The second countdown clock, Gold Watch, is set for 48 hours. The gold watch only starts to countdown when the current #ETH prize is higher than the previous round. The Gamers have to buy a ticket is and each new ticket adds 30 seconds more. The cost of a ticket is 0.002 ETH. The price increases gradually as the Gold Clock begins to run.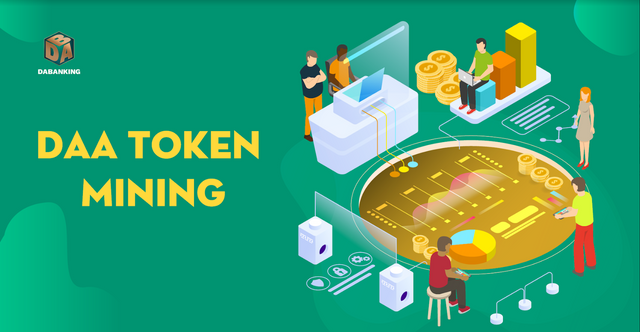 DAA Token Mining
DAA token has a maximum supply of 20million and the only way you can obtain the token is to use "Mining wallet". The mining is done when you buy a tickets and play fomogames with ETH. The DAA token mining process is in 100 rounds group under 10 stages with each stage having 10 rounds.
Prize Distribution
The entire ETH purchased ticket is allocated as follows: 50% into the award, 20% instant income, 17% referral income, 10% of dividend, and 3% develop new products.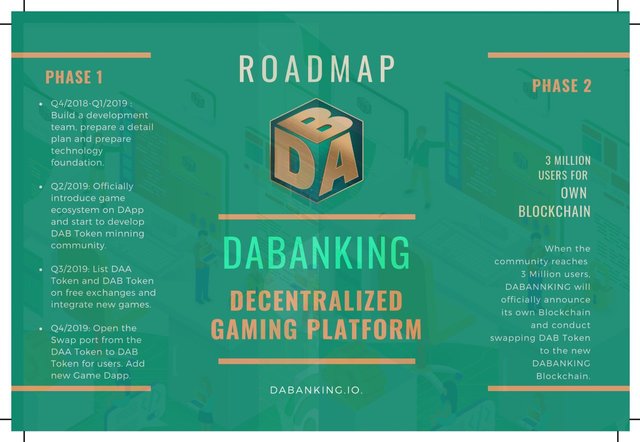 In sum, dabanking and fomoJackpot ar the greatest opportunity to win prizes and play games without any fear of security and authentication issues. Therefore, you need to rush and get your tickets now to win huge and amazing prizes. We need not to only play games but also win and win big. For more information and updates, kindly visit us via;
Website: https://dabanking.io/
Whitepaper: http://dabanking.io/static/whitepaper.pdf
Telegram: https://t.me/DABANKINGOFFICIAL
Proof of Authorship
Bitcointalk username: iamike
Profile link: https://bitcointalk.org/index.php?action=profile;u=1549253