DataBlockChain : Merging Big Data, Artificial Intelligence and Blockchain Technology.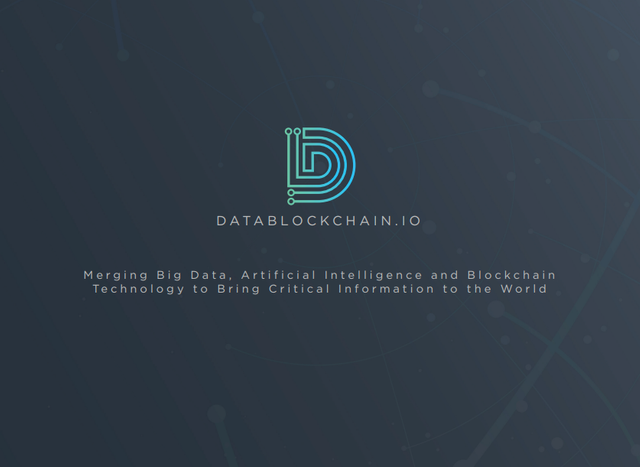 I own and operate a small business and marketing takes a large chunk of my financial budget, currently, I use digital marketing because it's more effective than traditional marketing, this means I use Facebook, Instagram and Third-party affiliate companies. The services I use are very costly for a small business like mine because the companies with the data are private companies and public investment companies that have commercialized the data industry for their benefits and investors benefits. I face other challenges that means I don't have quality services provided because I cannot afford them as a small business meaning that my small business cannot be able to compete with businesses with a marketing budget to spare.
I'm building my business with plans to expand and grow, not to remain stagnant, this means I have to be sourcing data every now and then to conduct my businesses research. I have no budget for the data I need despite acknowledgment this data holds the keys to my business success.
Blockchain technology is a savior to my small business, one of the blockchain projects that has been developed to empower small businesses like mine is DataBlockChain, the project has developed a decentralized platform that will gather relevant data for businesses such as customers data, businesses data, marketing data among others. Small businesses like mine will be able to access quality data just like large institutions have been accessing and this will allow us to have the same data in order to be able to compete with large businesses and also form a horizontal relationship that will allow businesses share and have a common source for data to be used for marketing and business research without paying the big bucks.
(Video Source: YouTube - DBC MVP Walkthrough)
As excited as I was, I was able to check what services DataBlockChain has to offer and checked DataBlockChain Alpha release of the Platform I like the platform user interface which is simple to use for non-technical users, with a beautiful user interface that represents data in graphical representation for easier use. After carefully checking the platform I realized you don't even need to be an experienced cryptocurrency user to use the platform and this is great towards the adoption of the platform by entrepreneurs and businesses.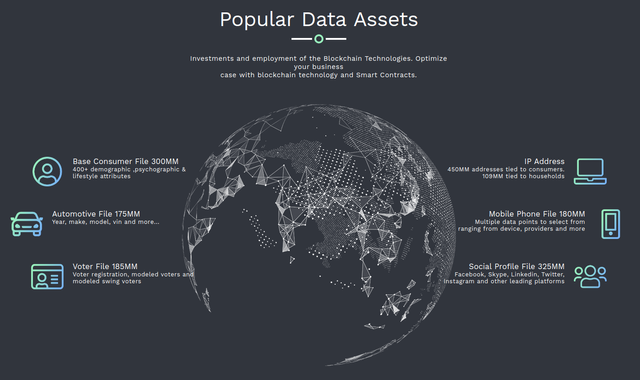 With DataBlockChain, my small businesses will be able to get high-quality data to use in my marketing efforts and customer research and access, I will be able to see and compare customers' needs and market demand and supply through the available billions database of records sourced from a decentralized business environment. Users of the platform will be able to pay for services and store their utility tokens on the embedded wallet that makes it easier to pay with a single click making it easier for non-technical users to have a seamless experience.
DataBlockChain Platform.
══════════════════════════════════

DataBlockChain is an innovative blockchain project that will empower businesses like mine with the infrastructures the need to optimize their marketing and research needs, through access of billions of useful data that they need to optimize their operational processes. DataBlockChain will offer cost-effective services on a decentralized environment and will use artificial intelligence, big data, and blockchain technology to gather and collect data making a small business like mine access premium data that was previously not available for small businesses.

Globalization has changed how businesses operate and we are now operating our businesses globally, this has led to an increase in marketing efforts where advertisement market has grown to a staggering $591 billion according to 2017 research. This is the potential market for DataBlockChain where we have seen demand for data as more businesses become aware of the benefits horizontal business relationships are compared to vertically integrated data mining.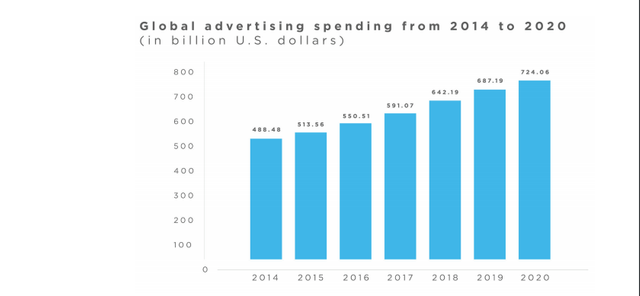 With data being the backbone of modern businesses, there is a need of cost-effective decentralized platform that will be ready to offer services to next generation of businesses which operate without borders and require data for their marketing and operation processes, DataBlockChain will offer comprehensive data services that will be useful to businesses and lower the cost of data by eliminating the need for middlemen and centralized companies that have made data expensive. Below I will highlight how DataBlockChain will benefit my small businesses in its marketing and operational efforts.
DataBlockChain Benefits to Small Businesses.
══════════════════════════════════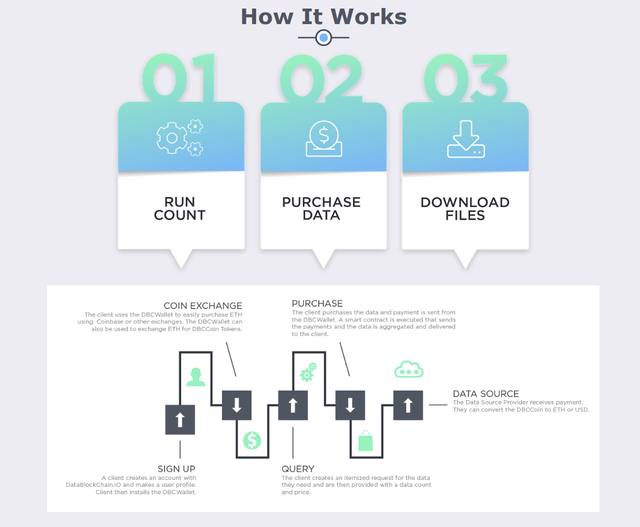 My small businesses will benefit from data required to optimize its businesses planning and operation strategies, this data will be used for research on markets and customer's needs. I will also need this data for day to day optimization of my operations strategies to make sure I'm operating according to the market conditions and change the businesses plan as needs are. As an entrepreneur I will no longer need my records books to research and record data for planning and operations research, DataBlockChain will be there for me.
Imagine my small business having access to big data and being optimized by DataBlockChain analytics to give me the required trends in the market! As an entrepreneur, I believe with this kind of information I will be able to optimize my products to align to the marketing demands which are reflected in DataBlockChain dashboard in real-time to make sure I have access to the data for use in designing my products, marketing, and operations.
With DataBlockChain I will be able to save costs in all aspects of my businesses such as marketing, operations, products design, and data storage, this will be directly reflected in my revenue growth. I will be able to track my sales and access market research to optimize my operations, Through the provided data I will able to align my marketing strategies and also, I will be able to save time and costs associated with the recording of data manually and also on the infrastructure needed to set-up my own data center. This will all be reflected on my revenue statement which is awesome to all entrepreneurs.
DataBlockChain will provide me with the data but I have to use the data towards conversion, the data provided by DataBlockChain is essential for my small business because it will be useful towards understanding my customers and the market allowing me to tailor my products and marketing towards target marketing allowing me to optimize my conversion rate by having what the market needs and wants. The large data provided by DataBlockChain is useful in comparison and analysis and will be sourced from a decentralized business environment making it rich for use in my marketing, operational and research efforts.
With my small business I don't have to compete with large institutions anymore, instead I will be able to have a horizontal businesses relationship where we will share the data through a decentralized database for mutual benefits, I will be able to understand businesses and market behaviors and leverage the use of big data in my business operations.
ICO announcement
══════════════════════════════════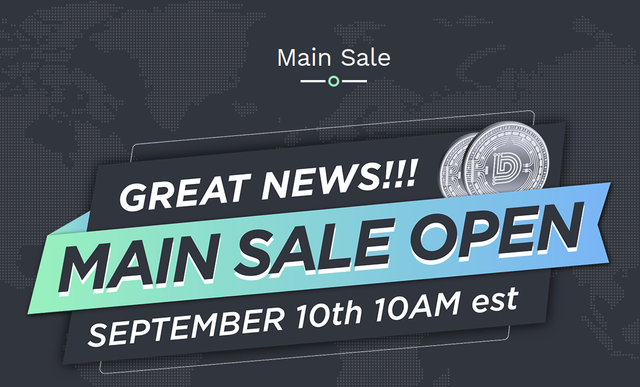 Conclusions.
══════════════════════════════════
Business are being modernized, this digitization of operations has not spared small businesses and are taking advantage of artificial analysis, big data to align themselves in the market strategically and remain relevant in today's modern business environments.
Traditional data databases are not effective in the modern digital world and with the age of the internet we are able to access more data from the internet, the use of this data is limited and is not structured towards optimizing application use cases.
With the large database of data on the internet this will be a rich source of information required to power up big data which we can leverage and use in our businesses, platform such as DataBlockChain are tailored to help us access the infrastructure needed to make use of this new technologies without breaking the back of premium services.
DataBlockChain is powered by blockchain technology and will allow my businesses to use secure, fast accessible data and information in scalable databased that will help my business reach a new level.
══════════════════════════════════

DataBlockChain has already raised $16 Million dollars on its pre-sale, for more information about DataBlockChain and how to get involved, please check out the project's website, whitepaper and social media pages in the reference section below. Thank-you
References.
══════════════════════════════════
Web https://www.datablockchain.io
White paper - https://www.datablockchain.io/pdf/whitepaper.pdf
Bitcointalk AN Thread - https://bitcointalk.org/index.php?topic=3361159
Telegram - https://t.me/DBCIO
Twitter - https://twitter.com/DBC_IO
Facebook - https://www.facebook.com/datablockchainio-210421122875853
Medium - https://medium.com/dbc-io
Reddit - https://icobench.com/ico/www.reddit.com/r/DataBlockChain_IO
GitHub - https://github.com/DataBlockChainIO
══════════════════════════════════
Author: jamesndungu1
BitcoinTalk Profile: https://bitcointalk.org/index.php?action=profile;u=1856049
All Images credited to DataBlockChain Official Website
══════════════════════════════════