Application for DaVinci project as a Translator and a Language Moderator [Persian]
Dear Utopian And davinci Team,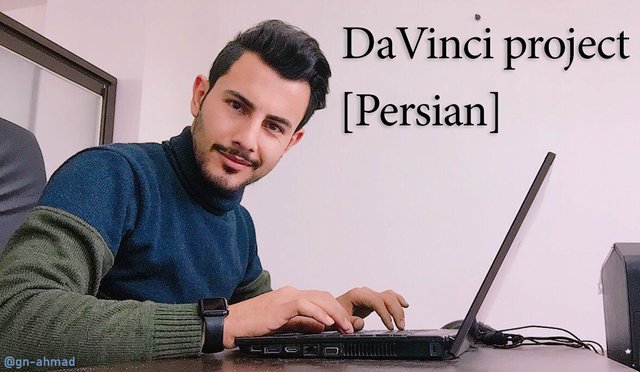 English Introduction
My name is Ahmad Niroomand and my user name in utopian-io is @gn-ahmad.
I have M.A on computer field and after being graduated, I've begun my work since 12 years ago just as I got acquainted with this field. After 4 years, I established a firm with the help of my brother. It's almost 8 years I'm doing this work seriously. I've begun to learn English since my childhood and at the age of 18, I started to translate Persian texts to English professionally. It's about 10 years that I do translating beside working in my firm. I do things like: translating articles, books, thesis, and texts in the field of computer. Since I am always eager to learn and I'm in favor of these debates, I carry on participating in them until I became familiar with utopian-io platform.
I have experience in the field of computer technology and translating for working in utopian-io
Translating articles, books, and texts in the field of computer technology
Web designer and graphic designer (Photoshop)
C#
Mysql
Php
Joomla CMS
Wordpress
Web hosting
Cpanel
Why do I propose myself as a moderator?
It's near more than a year that I become familiar with utopian-io and start my working in translation category, after sometime, I care about utopian-io more and I try to learn its rules and orders until I learned all of them and keep my working solicitously. I'd like to start my cooperation in translation category as a member of team. and prove my abilities. I thank all friends and colleagues who read my suggested post and I hope to be accepted in utopian-io as a moderator. and I'm trying to use this special opportunity in this part.
With all respect, @gn-ahmad
Here is the English audio version
---
معرفی به زبان فارسی
اسم من احمد نیرومند هست و نام حساب کاربری من در utopian-io نیز @gn-ahmad است.
من مدرک تحصیلی خود را در رشته کامپیوتر در مقطع فوق لیسانس دریافت نموده ام و بعد از تحصیل، فعالیت خود را در زمینه کامپیوتر از 12 سال پیش، هنگاهی که با این رشته آشنا شدم آغاز کردم و بعد از گذشت 4سال از این فعالیت یک شرکت کامپیوتری را به کمک برادرم برای خود ثبت نموده ام و تقریبا 8سال است که بطور جدی در این عرصه فعالیت خود را شروع کرده ام و با زبان انگلیسی نیز از دوران کودکی آشنا بوده ام و در سن 18 سالگی بطور جدی شروع به کار مترجمی در زبان فارسی به انگلیسی را آغاز نموده ام و تقریبا 10 سال است که در زمینه مترجمی زبان در کنار کار شرکت خود مشغول به فعالیت هستم و کارهایی نظیر ترجمه مقاله ،ترجمه کتاب، ترجمه پایان نامه و ترجمه متونی در زمینه کامپیوتری را هم انجام دادم و از آنجا که همیشه یادگیری را دوست داشته ام و علاقمند به این نوع مباحث و فعالیت در آنها بودم این کارها را ادامه دادم، تا اینکه با utopian-io آشنا شدم.
توانایی های من در کامپیوتر و ترجمه برای فعالیت در utopian-io
مترجم مقاله، کتاب و متون در زمینه فناوری کامپیوتری
طراح و گرافیست کامپیوتری ( فتوشاپ )
سی شارپ
پایگاه داده
پی اچ پی
پورتال جوملا
ورد پرس
میزبانی صفحات وب
سی پنل
چرا من خودم را به عنوان ناظر معرفی می کنم؟
من تقریبا بیش از یک سال است که با utopian-io آشنا شدم و بعد از آن در بخش مترجمی فعالیت خود را شروع کردم وبعد از گذشت چند مدت به utopian-io بیشتر علاقمند شدم و سعی در یادگیری به قوانین و دستورات آن شدم تا اینکه قوانین آن را یادگرفتم وفعالیت خود را با علاقه بیشتری ادامه دادم و میخواهم در بخش ترجمه شروع به فعالیت نمایم و به عنوان یکی از اعضای تیم شروع به همکاری نمایم و توانایی های خود را در این زمینه نشان دهم و از شما دوستان و همکاران متشکرم که پست پیشنهادی من را مطالعه کردید و امیدوارم که به عنوان یک مدیر در utopian-io پذیرفته شوم و من سعی می کنم از این فرصت ویژه در این قسمت استفاده کنم. با تشکرو احترام @gn-ahmad