My application as a translator for DaVinci Witness project [English-Portuguese]
This is my introduction post to a translator position for the @utopian-io and @davinci.witness projects.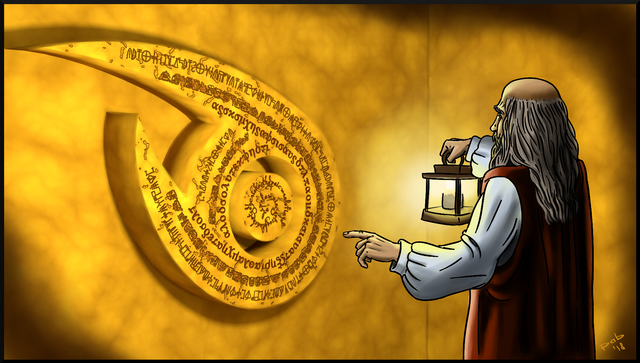 Image made by @pab.ink
Introduction in English
I'm Paulo, a 26 year old Brazilian young man, entrepreneur, poet, Steemian and content creator.
I'm graduated as Technician in Eletronics in the first semester of 2010.
I went to college in the second semestre of 2010, to acquire a Technological Degree in Analysis and Development of Systems, where I learned a lot of T.I., but I didn't finish the graduation.
In the last two years, I worked as a entrepreneur in many areas, such as, social communication, technology, etc., always looking to improve my capacities and skills.
Currently, in addition to the work that I do, I'm a student(in a self-taughr way) of several languages like English, German, Spanish and of course, my own mother language, Portuguese.
I'm now committed with the Steemit platform, where I post my texts and poems, and I am a teacher and facilitator of concepts of technology and entrepreneurship in the region where I live.
Beside that I have worked too in translations of white papers(not released yet) and I participated in an action to translate the Steemit plataform to Portuguese, but unfortunately this initiative did not have great results.
I'm eager to participate in DaVinci project, because I believe I'm capable to translate and contribute to transmit important and valuable information to the brazilian community and other countries of the Lusophone comunity, besides being able to facilitate and ampliate the access of more people to new contents and initiatives.
I do not did yet any test of my skills in English but I intend do it hereafter.
Introdução em Português
Sou o Paulo, um jovem brasileiro de 26 anos, empreendedor, poeta, steemian e criador de conteúdo.
Me formei como Técnico em Eletrônica no primeiro semestre de 2010.
Entrei na faculdade no segundo semestre de 2010 para adquirir uma graduação Tecnológica em Análise em
Desenvolvimento de Sistemas, onde aprendi muito sobre T.I., porém não terminei a graduação.
Nos últimos 2 anos tenho trabalhado como empreendedor em várias áreas como, comunicação social, tecnologia, etc., sempre buscando aprimorar minhas capacidades e habilidades.
Atualmente, em adição aos trabalhos que faço eu sou um estudante(principalmente de forma autodidata) de várias linguagens como inglês, alemão, espanhol e claro, minha própria língua materna, português.
No momento eu sou comprometido com a plataforma Steemit, onde posto meus textos e poemas, e eu sou um professor e facilitador de conceitos de tecnologia e empreendedorismo na região onde vivo.
Além disso, já trabalhei em traduções de white papers(que ainda não foram liberados) e participei em uma ação de tradução da plataforma Steemit para português, infelizmente essa iniciativa não teve grandes resultados.
Eu quero muito participar do projeto DaVinci, pois eu acredito que eu sou capaz de traduzir e contribuir para transmitir informações importantes e valiosas para a comunidade brasileira e outras países da comunidade Lusófona, além de ser capaz de facilitar e ampliar o acesso de mais pessoas a novos conteúdos e iniciativas.
Eu ainda não fiz nenhum teste das minhas habilidades em Inglês, mas pretendo fazer isso futuramente.
Translation Samples
I volunteered to translate one projects for the brazilian community, links presented down below.
This project have a collaboration work with @aldenio, @gustavofreitas, @naturald and the great @phgnomo!
Final relatory's and reports of the Steemit to Portuguese translation project:
https://steemit.com/utopian-io/@menkarbit/steemit-condenser-translation-to-brazilian-portuguese-pt-br
https://steemit.com/pt/@menkarbit/projeto-feedback-finalizacao-da-traducao-do-steemit-para-portugues-br
Audios
Thanks for the attention,
Paulo.