dStors Splits & dCommerce Emerges
Hello Steemians!
As most know, the recent popularity of dStors has generated a significant level of interest within the community. When we were approached by Kali Ju for help with dStors, we wholly transformed the business model to be strategically and tactically executable. We also completely redefined the reward token model to maximally stoke the "What's In It For Me" (WIIFM) approach. We authored the White Paper.
With the recent announcement of Steemit Inc.'s 70% lay off, it became apparent to us that one viable option for the Steem Blockchain was to host "for-profit" entities. While not a novel concept, it was clearly actionable. As result, we authored the recent trending posts, A Profit Essay for Steemians" and "Profit Vision for Steemians". These clearly outlined our strategy and vision on how embracing "for-profit" entrepreneurs would benefit the Steem community for the long term.
The only constant in this Universe is change and to that end, there exist unresolvable leadership differences within the dStors team. Without elaborating the details, we have decided to progress on our own and separate into an independent entity called @dCommerce which now owns all rights to the business & token models in the White Paper, "Monetize Your Shopping" motto and current state of dev project. This separation was a mutual agreement with dStors which will no longer execute the business or token model contained in the White Paper. We view this parting of ways to be exciting and positive as it'll significantly accelerate the go to market strategy and reduce the time-gap for the community's commercial participation.
The dCommerce team is very excited to take the remaining steps to a commercial launch of an online shopping platform that enables quick and efficient spend of STEEM/SBD, while using token rewards to incentivise transaction growth.
This new direction will entail the following:
The new for-profit entity is: @dCommerce; www.dcommerce.live (website under construction).
dCommerce Inc. will also soon be released as a Gibraltar corporation, ready and equipped for a projected ICO.
Essentially, the business model will remain exactly unchanged. It's almost just a name change. The aim of @dCommerce is to match willing buyers and sellers through a crypto token rewards based, peer to peer, borderless shopping platform.
The token, DCC (dCommerce Coin), will have the exact same function as detailed in prior dStors posts for the STORS token. Since SMTs are not yet available, the DCC token will first be launched on the Bitshares (BTS) exchange. DCC will be used to reward both buyers and sellers for completed transactions. It can be spent for Steem upvotes or Whaleshares upshares as well as bought/sold on the Bitshares Exchange.
ALL DCC tokens will carry a convertible option where it can be exchanged for ICO coins in the future.
A revised White Paper with appropriate changes to names, charts and diagrams will be released shortly after the holidays.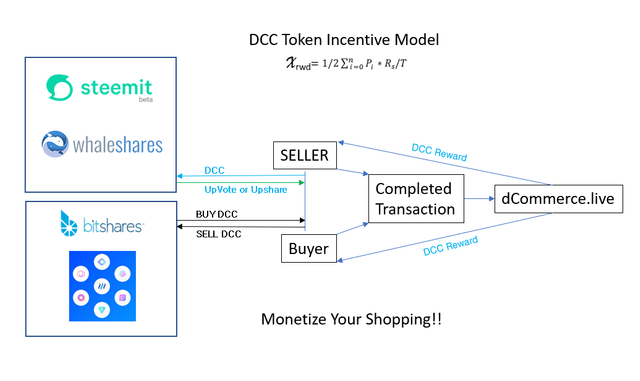 Re-Launch of Round A Delegation Campaign:
For those who had already delegated to dStors Round A; it will have to be repeated and made to the @dCommerce account. We apologize for any inconvenience.
This Round A will enable a 1:4 DCC token reward per SP delegated. This represents a 33% increase from the original Round A.
There will still be a 500 minimum SP delegation requirement to be eligible to receive DCC tokens.
Each qualified delegator will start receiving 50% of earned DCC tokens beginning on month 4 to month 6, equally divided. The remaining 50% will be paid out on the first week of month 7. For example, a 5k SP delegation will trigger a total of 20k DCC tokens every six months.
Prior to launch, the accumulated SP delegation will be used to upvote about 10 times per day, with priority given to anyone who post positively about @dCommerce. Remaining upvotes will be distributed to delegators by order in size of delegations.
ALL who transfer delegations from dStors will have grandfathered in start dates. This means that the start date will be the original delegation date made.
The target for Round A is set at 1 Mil SP.
Close date for this Round A will be announced soon.
---
Delegate to @dCommerce:
Private Placement: If you would like to purchase DCC tokens as a private OTC placement, please contact us on Steemchat or Discord.