280 members in our discord !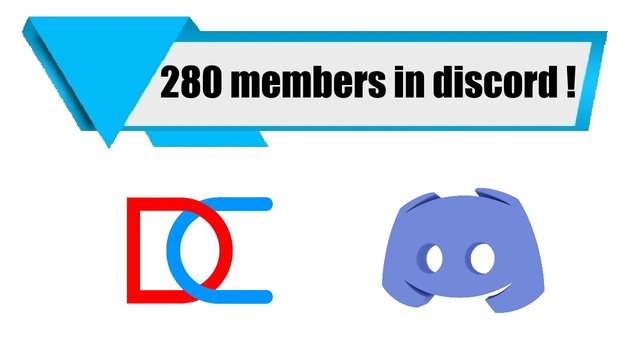 I'm @clixmoney the founder of @dcooperation !
Sometimes I tell me self : ''Where I'm going with all this ? Should I continue this ideas ?''. The answer is unknown !
But, I created @dcooperation almost 2 years ago planing to support as much steemians as I can. A lot of things changed and the idea still alive. When the price of steem was high, everyone was excited to build with me. We had a lot of delegators and people sending us content to share. The the price of steem kept going down and our upvote kept going down and in the end the community became not that active. I watched everything that I build, crushing so fast and I didn't have time or resources to not let that happen. But, I did what I could and that's the most important.
We have now 280 members in our discord server, only a few are active there. I don't organize any contests and we didn't create collaborations for so long time. But, at least I can share the best things that were done.
First of all I started this with creating interviews. I interviewed more than 100 steemians and you can find most of my interviews in my youtube channel here : https://www.youtube.com/c/clixmoney
When I joined @dtube I was asking dtubers to send me videos, I was editing them all together in one and I created a few collaborations. Here the best one about dtube :
Then we had an awesome contest where 180 steem were distributed and a few trailers were created. Now those videos are in @threespeak :
The third !
Then I remember a contest was created about steem and we created this video about it :
I usually spend hours to gather videos and edit everything together.
You can check more of our collaborations here : https://3speak.online/user/dcooperation
Now @dcooperation is working in both steem and hive and in both accounts we have almost the same power, almost the same people are autoupvoted.
I choose to autoupvote people who subscribe to our community here : https://steemit.com/trending/hive-177976
I give 1% autoupvote every single day in case it's a legit account who creates an original content. And 2% for dedicated members to all those community. I mean both chains communities who are promoting, active or just dedicated. I give up to 100% autoupvote every single day to those who create content in our community and to those who send us content to share in our account.
Any type of content is accepted in the community.
In case you want to help me build this and make the community active again, please let me know about that in our discord server.
As you see I'm not giving up on this idea.
All the earnings are going to power up both accounts. Any thing earned from the content you send will go to power up the account. Any member of the community is a partner who can build this with me and profit now and in the future.
If you want to support this, you can delegate some power or sent any amount that will be powered up directly !
@dcooperation is a non-profit project to benifit anyone who contribute in it !
Join our discord server here : https://discordapp.com/invite/UMAMYkP