Deep Cloud
Deep Cloud AI a project to discover absolutely!
Deep cloud what is it?
As the name implies, the project focuses on remote data storage (cloud).
Considerably underestimated until today the cloud system offers many advantages, it helps to decongest networks because you can share files with people who live near you for example. We can also think of energy savings because today's data centers are energy hungry. These large centers have to be refrigerated, which is not the case for smaller units.
Deep Cloud is developing an AI that allows data sharing between close users, which is a real innovation.
At home already, you can buy boxes that can share data between different devices, (computer, television etc ...) Deepcloud does the same but on a global scale.
I have personally invested in another blockchain project (SONM) that allows it to share the power of thousands of computers in order to obtain huge computing power that can be used for various applications. As we can see, many projects are born today and I am sure that in a few years, millions of people will use these revolutionary systems.
Here is a diagram of the Deeplcloud ecosystem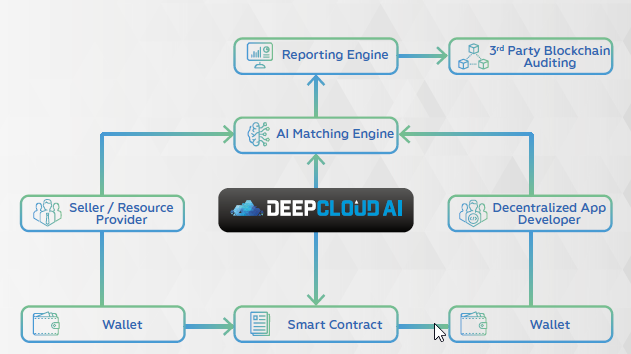 All transactions on DeepCloud AI as processed using Smart Contracts, with full audit trail of the transaction on the chain chain DeepCloud AI.
Deeplcloud AI is a blockchain project, it works with the help of tokens
DEEP tokens are used for all transaction payments. The DEEP token is a utility token that complies with ERC20.
The Deepcloud service will be free for users, only the premium features will be paid.
My personal opinion on this project:
The white paper details the project and the team seems promising, the different rating platforms give a good rating. (4.8 Icobench)
This project is to be followed closely because it has a very good potential, if the team manages to keep its roadmap, the project has a good chance to succeed and become a market leader.
Whitepaper:
https://www.deepcloudai.com/paper/Whitepaper_DeepCloud_AI_Version1_00_ENG.pdf
website: