How much did the military spend yesterday? $4.1 billion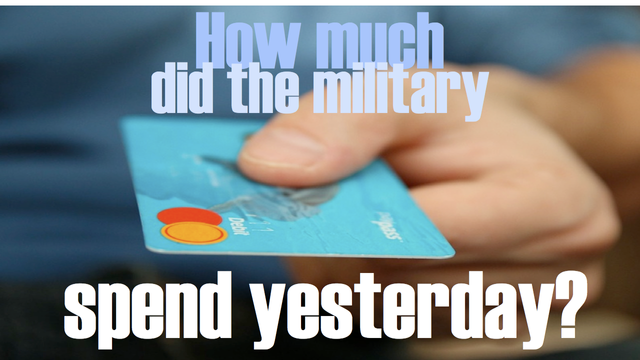 I've been wanting to replace Booz Allen Hamilton on the watchlist with either Rockwell Collins, General Electric, or L3. It varies, but of those three companies, I think L3 is showing up the most, so you'll see L3 listed below with current November totals. Also, please note that November to-date totals have jumped in ways that won't make sense with the last posting; somehow I completely missed Nov. 1 in my earlier tally.
Yesterday's breakdown:
BAE: --
Boeing: $56,577,158 (1 contract, 1 modification)
General Dynamics: --
L3: --
Lockheed Martin: $13,968,568 (1 modification)
Northrop Grumman: --
Raytheon: $32,533,418 (1 contract, 1 modification)
November to-date totals:
BAE: $33,946,052
Boeing: $90,807,427
General Dynamics: $9,043,846
L3: $21,741,021
Lockheed Martin: $291,899,897
Northrop Grumman: $109,830,148
Raytheon: $316,266,115
---
Below are the contracts awarded by the Defense Department
November 7, 2019
totaling $4,106,207,226
Recent record daily spending: $7.3 billion on October 28, 2019
Defense Logistics Agency - $3,432,000,379
Cardinal Health (Waukegan, IL) $2,250,000,000
Owens & Minor Distribution (Mechansville, VA) $1,125,000,000
Raytheon Integrated Defense Systems (Portsmouth, RI) $24,942,879
Mayfield Dairy Farms (Marietta, GA) $19,057,500
Peck & Hale (Sayville, NY) $13,000,000
Navy - $438,517,666
Ameresco Select (Framingham, MA) $170,993,668
JF Taylor (Lexington Park, MD) $109,433,818
Bell / Boeing Joint Project Office (Amarillo, TX) $68,189,550
KBR Diego Garcia (Houston, TX) $60,635,283
Lockheed Martin Rotary & Mission Systems (Syracuse, NY) $13,968,568
Vigor Marine (Portland, OR) $7,706,240
Raytheon (Marlborough, MA) $7,590,539
Army - $213,206,798
Weeks Marine (Covington, LA) $151,305,750
CDO Technologies (Dayton, OH), Lowry Holding Company (Brighton, MI) $48,100,712
Great Lakes Dredge & Dock (Oak Brook, IL) $13,800,336
Air Force - $22,482,383
Boeing (St. Louis, MO) $22,482,383

This information is provided to highlight just how much taxpayer money is spent, per day, to enrich companies participating in the military industrial complex. The idea that our economy requires a governmental redistribution of wealth from individual taxpayers to large corporations that are friendly and well-connected to government came from the Keynesian argument for demand "stimulus" -- that our economy's health depends on higher and higher levels of spending. For this reason, personal saving is discouraged and often penalized by the government. But because individuals still tend to follow personal incentives to save, the Keynesian argument remains in effect: that government should spend money the public is reluctant to spend through tax-and-spend policies. Its spending primarily enriches the military industrial complex, including the big seven: BAE, Boeing, General Dynamics, L3, Lockheed Martin, Northrop Grumman, and Raytheon.