How much did the military spend yesterday? $1.22 billion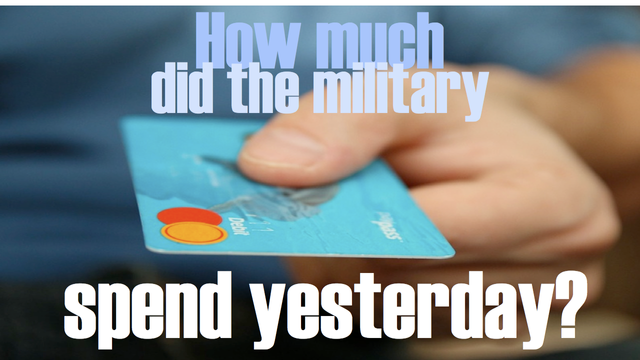 Yesterday Raytheon broke the $1 billion barrier with another $386 million modification (increase) to an existing contract. General Dynamics is poised to do the same thing any day now. (Note that included in Lockheed Martin's award amount for yesterday, we're including the modification to an existing contract awarded to Sikorsky Aircraft which is a Lockheed Martin company.)
Yesterday's breakdown:
BAE: $31,042,124 (2 modifications)
Boeing: --
General Dynamics: --
L3: $77,247,414 con
Lockheed Martin: $198,566,589 (3 contracts, 1 modification)
Northrop Grumman: --
Raytheon: $386,000,000 (1 modification)
November to-date totals:
BAE: $380,601,633
Boeing: $523,818,303
General Dynamics: $939,638,383
L3: $133,993,432
Lockheed Martin: $3,982,616,957
Northrop Grumman: $155,011,682
Raytheon: $1,163,530,639
---
Below are the contracts awarded by the Defense Department
November 20, 2019
totaling $1,226,918,818
Recent record daily spending: $7.3 billion on October 28, 2019
Air Force - $538,247,414
Raytheon (Tucson, AZ) $386,000,000
L3 Communications Vertex Aerospace (Madison, MS) $77,247,414
JYG Innovations (Dayton, OH), Stellar Innovations & Solutions (Moraine, OH), Indigenous Technologies (Chickasha, OK) $75,000,000
Army - $465,439,577
VGW Geospatial (O'Fallon, IL) $240,000,000
Lockheed Martin (Orlando, FL) $93,000,000
The Morganti Group (Danbury, CT) $88,515,202
Mobley Contractors (Morrilton, AR) $20,219,318
SAF Inc. (Akron, OH) $8,555,145
Threat Tec (Hampton, VA) $8,066,481
Lockheed Martin Missile & Fire Control (Grand Prairie, TX) $7,083,431
Navy - $208,019,553
Lockheed Martin (Baltimore, MD) $86,346,780
Schmidt-Prime Group (Pensacola, FL) $30,000,000
Progeny Systems (Manassas, VA) $23,488,366
BAE Systems Technology Solutions & Services (Rockville, MD) $15,796,385
The Nutmeg Companies (Norwich, CT) $15,360,720
BAE Systems (Rockville, MD) $15,245,739
Sikorsky Aircraft (Stratford, CT) $12,136,378
San Diego Gas & Electric (San Diego, CA) $9,645,185
Defense Logistics Agency - $15,212,274
Creighton AB (Reidsville, NC) $7,635,468
Optima Batteries (Milwaukee, WI) $7,576,806

This information is provided to highlight just how much taxpayer money is spent, per day, to enrich companies participating in the military industrial complex. The idea that our economy requires a governmental redistribution of wealth from individual taxpayers to large corporations that are friendly and well-connected to government came from the Keynesian argument for demand "stimulus" -- that our economy's health depends on higher and higher levels of spending. For this reason, personal saving is discouraged and often penalized by the government. But because individuals still tend to follow personal incentives to save, the Keynesian argument remains in effect: that government should spend money the public is reluctant to spend through tax-and-spend policies. Its spending primarily enriches the military industrial complex, including the big seven: BAE, Boeing, General Dynamics, L3, Lockheed Martin, Northrop Grumman, and Raytheon.