How much did the military spend yesterday? $621 million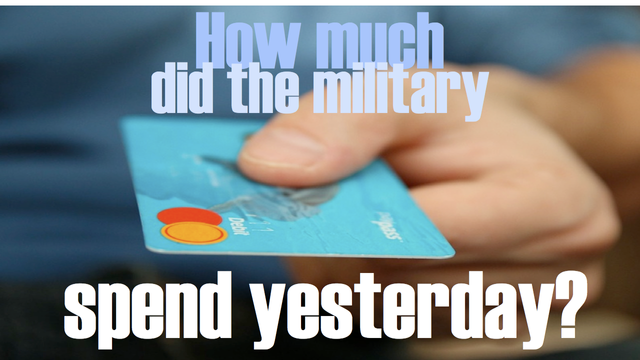 The last day of October saw a few more contracts for our watchlist than we've been seeing: a total of two contracts and six modifications of existing contracts. Lockheed Martin won the day and, as we'll see in the October wrap-up post, they won the month, as well.
Yesterday's breakdown:
BAE: --
Boeing: $32,571,353 (2 modifications)
Booz Allen Hamilton: --
General Dynamics: $136,790,491 (1 contract, 1 modification)
Lockheed Martin: $139,663,509 (1 modification)
Northrop Grumman: --
Raytheon: $70,073,278 (1 contract, 2 modifications)
October to-date totals:
BAE: $271,776,390
Boeing: $330,406,600
Booz Allen Hamilton: $0
General Dynamics: $765,647,338
Lockheed Martin: $7,745,391,454
Northrop Grumman: $262,911,202
Raytheon: $248,334,913
---
Below are the contracts awarded by the Defense Department
October 31, 2019
totaling $621,211,471
Recent record daily spending: $7.3 billion on October 28, 2019
Navy - $331,809,790
General Dynamics Mission Systems (Pittsfield, MA) $90,686,673
Management Services Group d/b/a Global Technical Systems (Virginia Beach, VA) $83,726,453
Dyncorp International (Ft. Worth, TX) $56,496,749
General Dynamics Information Technology (Fairfax, VA) $46,103,818
Boston Consulting Group (Bethesda, MD) $16,054,435
Raytheon (Tewksbury, MA) $11,517,079
Boeing (St. Louis, MO) $10,000,353
Physical Optics (Torrance, CA) $8,631,282
Sealift (Oyster Bay, NY) $8,592,948
Missile Defense Agency - $139,663,509
Lockheed Martin Rotary & Mission Systems (Moorestown, NJ) $139,663,509
Defense Logistics Agency - $72,208,829
Raytheon (Marlborough, MA) $36,306,061
Rockwell Collins (Cedar Rapids, IA) $35,902,768
Air Force - $54,152,664
Boeing (Layton, UT) $22,571,000
Raytheon (Tewksbury, MA) $22,250,138
L3 Harris Technologies (Colorado Springs, CO) $9,331,526
Army - $23,376,679
Olsson Industrial Electric (Springfield, OR) $14,644,904
Thoma-Sea Marine Constructors (Houma, LA) $8,731,775

This information is provided to highlight just how much taxpayer money is spent, per day, to enrich companies participating in the military industrial complex. The idea that our economy requires a governmental redistribution of wealth from individual taxpayers to large corporations that are friendly and well-connected to government came from the Keynesian argument for demand "stimulus" -- that our economy's health depends on higher and higher levels of spending. For this reason, personal saving is discouraged and often penalized by the government. But because individuals still tend to follow personal incentives to save, the Keynesian argument remains in effect: that government should spend money the public is reluctant to spend through tax-and-spend policies. Its spending primarily enriches the military industrial complex, including the big seven: BAE, Boeing, Booz Allen Hamilton, General Dynamics, Lockheed Martin, Northrop Grumman, and Raytheon.