October's highest paid defense contractor: Lockheed Martin ($7.7 billion)
October's highest paid defense contractor: Lockheed Martin ($7.7 billion)
September's highest paid defense contractor: Northrop Grumman ($5.1 billion)
Of the seven companies contracting for the defense department that we're watching in this series, October's big winner was Lockheed Martin with awards of $7.7 billion for the month.
October saw pretty low spending, being the first month of the new quarter, so Lockheed was the only company with awards amounting into the billions. In September, by contrast, five of the seven companies on our watchlist saw awards in the billions.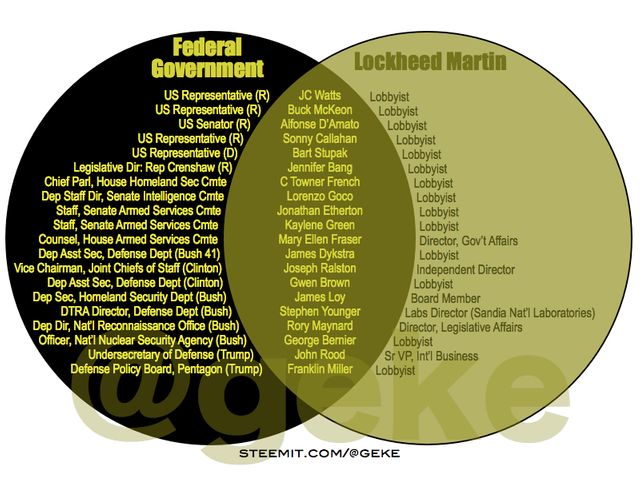 Above is a venn highlighting the overlap of Lockheed Martin and the federal government. The survival of corporations like Lockheed Martin depends on continual U.S. engagement in weaponized conflict and the military's ongoing consumption of their products. It's often said that war is a racket, and this overlap shows the racket in action.
Unfortunately, this venn omits James Comey, a former Lockheed Martin attorney who left his post as Deputy Attorney General at the Justice Department to work for Lockheed.
According to an August 2005 article in the Washington Post, "Charles W. Garrison of District-based Garrison & Sisson Inc., a recruiter, said Comey was 'pretty much able to write his own ticket,' given his credibility and his longstanding contacts within federal agencies. 'While Lockheed Martin hasn't had a lot of problems, it's probably a very good defensive acquisition for them, and an offensive acquisition for them as far as Comey being able to open doors,' Garrison said."
Comey was appointed director of the FBI by President Obama in 2013.
As a corporatist entity, Lockheed Martin and the other six corporations highlighted in this series have employed lobbyists and specialists who were also hired as staff members of agencies and committees handling defense-related decisions, including the Defense Department, the departments of the Army and Navy, the House and Senate Armed Services committees, and various appropriations committees. Government staff positions like these provide former and future employees of companies like Lockheed Martin the ability to influence the direction of military funding, the awarding of contracts, even decisions regarding when and how often to engage in military conflict.
Watchlist Total Awards for October 2019:
$18,557,080,401
October 2019 totals by company:
BAE: $271,776,390
Boeing: $330,406,600
Booz Allen Hamilton: $0
General Dynamics: $765,647,338
Lockheed Martin: $7,745,391,454
Northrop Grumman: $262,911,202
Raytheon: $248,334,913
Watchlist Total Awards for September 2019:
$18,557,080,401
September 2019 totals by company:
BAE: $3,960,903,941
Boeing: $3,849,808,915
Booz Allen Hamilton: $387,765,526
General Dynamics: $732,569,140
Lockheed Martin: $2,245,553,282
Northrop Grumman: $5,134,193,906
Raytheon: $2,246,285,691

This information is provided to highlight just how much taxpayer money is spent, per day, to enrich companies participating in the military industrial complex. The idea that our economy requires a governmental redistribution of wealth from individual taxpayers to large corporations that are friendly and well-connected to government came from the Keynesian argument for demand "stimulus" -- that our economy's health depends on higher and higher levels of spending. For this reason, personal saving is discouraged and often penalized by the government. But because individuals still tend to follow personal incentives to save, the Keynesian argument remains in effect: that government should spend money the public is reluctant to spend through tax-and-spend policies. Its spending primarily enriches the military industrial complex, including the big seven: BAE, Boeing, Booz Allen Hamilton, General Dynamics, Lockheed Martin, Northrop Grumman, and Raytheon.