A REVIEW OF THE SECURITY OF DEEX EXCHANGE
INTRODUCTION
It was never a secret that Cryptocurrency exchanges are the backbone of Cryptocurrencies in general and on this note, it is imperative to have secure, fast and reliable exchanges services that we can trust because our experiences of the past is not pretty at all, there has been so many targeted attacks in cryptocurrency Exchanges because they huge funds are always traded on them on a daily basis, in some exchanges, as much as $100,000,000 million are transacted on a daily basis, just imagine if you were a hacker, would you have allowed such a huge hit to pass you by?
LET'S TAKE A LOOK AT SOME OF THE HIGHEST EXCHANGE HACKS
Mt. Gox: The Japanese cryptocurrency exchange called Mt. Gox Exchanges was established in 2010 and was the premier bitcoin exchange that was operational for some years until it was hacked and hundreds of thousands of bitcoin (approximately 750,000 BTC) was carted away, it still remains the most epic cryptocurrency related hack in the history of the world, thousands of traders were affected and lost their hard earned funds and what made it worse was that it wasn't hacked just once, it was hacked twice.

Bitfloor: This is another Epic Bitcoin hack in history, 24,000 bitcoin was carted away in this attack which happened in September 2012.
I could go on and on about high level hacks that has been targeted on exchanges in which millions of dollars worth of Cryptocurrencies has been carted away and the perpetrators were never apprehended and these hacks is why people has been clamouring for a secure exchnages where they can securely trade their funds and still sleep with their two eyes closed at night.
On this note, I want to introduce you to a revolutionary Cryptocurrency exchange which I discovered recently, an exchange which is securely built in the blockchain and utilizes the full security and protection offered by blockchain technology and to crown it all, it also uses a decentralised model which is a backbone of Blockchain Technology. The name of this revolutionary Exchange is DEEX EXCHANGE.
WHAT MAKES DEEX EXCHANGE SECURE?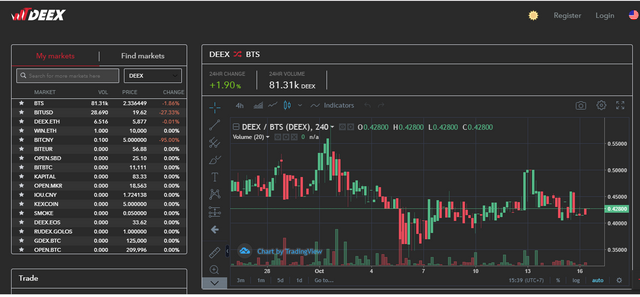 The brains behind DEEX Exchange has taken the time to study existing Cryptocurrency Exchanges in other to identify their weak points and create a platform that is devoid of all those weaknesses and the brain child of those research efforts is the DEEX exchange, but have you wondered what makes it so secure? The secret is quite simple.... BitShares Blockchain.
BitShares Blockchain was carefully chosen by the DEEX team to be the platform that the exchange would be built in because the platform has a history of being very secure, since it was established, it has never been hacked before and while other blockchains has been vulnerable once or twice or has succumbed to the efforts of hackers, BitShares has been known to be airtight and locked up tighter than a vault, so what better platform to build the DEEX Exchanges?
Incase you have not yet discovered the DEEX Exchange, I invite you to try it out and confirm for yourself that it is fast, secure and has one of the easiest trading interface in existence.
I hope I have been able to enlighten you about the security protocols integrated in the DEEX Exchange, to learn more about DEEX, Watch out for my next article about another exciting aspect of DEEX Exchange next week, till then you can check out the links below to learn more about DEEX.
Exchange: https://www.deex.exchange
Telegram: https://t.me/deex_exchange
YouTube: https://www.youtube.com/channel/UC5oYUk9QC4kbM5ZBpodOUcQ
Twitter: https://twitter.com/deex_exchange
My Details
Bitcointalk Username: Collinberg
Profile Link: https://bitcointalk.org/index.php?action=profile;u=1532780