DAOSWAP - Evulation of Yield Farming #defi

hey guys,
in this article , i will introduction about defi and DAOSWAP. before i explain about DAOSWAP you must know about trend now in crypto trading world it's DEFI . DEFI most new populers now.
DeFi stands for "Decentralized Finance", which includes various financial applications in cryptocurrencies directed to reduce financial intermediary issues. Defi plans to evolve financial services in the real world, even some experts predict they will replace banks around the world with the concept of DeFi . DeFi is highly favored by investors today in 2020 probably until the following year . these are some of the reasons why DeFi has many benefits that the community likes:
Fees are so cheap compared to traditional money in terms of transactions, even than international money DeFi is much better.
does not require any diamond permission to stand. the nature of the defi is decentral, which weighs no one has the right to control this difficult defi to be monopolized.
there is no minimum limit on joining, when compared to banks that have minimum amount of DeFi tends to have no minimum or maximum limits.
Peer to Peer network, p2p transactions are 2 person transactions directly without intermediaries quickly and at a low cost.
Security tested, Some defi have security that has been contained in it to protect people's assets as well as from dangerous searangan. the ordinary, data storage is stored on more than one computer, making it more secure.
By learning the benefits of DeFi even we ourselves must also be interested in joining and take advantage of the concept, defi kosep has just been popular this year and it is not too late to study and join them. Here we will study a DeFI related project called DaoSwap, they are DeFi that aim to invest with as much return as possible assets invested.
What is DaoSwap?
DaoSwap Illustrates the development of a condensed financial decentralization industry in current and future markets aim to serve the community traditional centralized financial problems. Daoswap Works is Community assets will be placed to liquidity providers to create and increase the value of liquidity. and those who lend it will get passive income in return for the contributions of those who have raised the marketed by liquidation pools. Daoswap Has a team of technical experts as well as working together to design and offer the best service in the DeFi area.
DAVOSWAP PLATFORM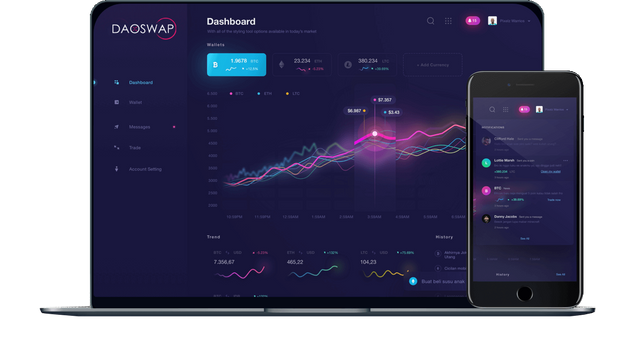 Daoswap has presented a platform called DAVOSWAP dedicated to the community. Here we can track our investments. Every Crypto we input is taken into account along with our passive income. UX is best designed so navigation is very smooth for a community experience. Some features include:
Track Your Investment
Calculate Rewards
Easy Data Visualization
Best in Class Logical Layout
Saves User Time
Suitable in-Dislay Media
BENEFIT OF DAOSWAP
DaoSwap has many benefits that certainly qualify as DeFi. these are some of the benefits of DaoSwap:
Each Transaction recorded is blocked on the ethereum network. The block is a thousand computers that use blockchain . a detailed copy of your tranksasi will continue to be unpermed or tampered with.
The entire network will be transparent and the farm results are calculated from every percent they input. Everything cannot be controlled because DaoSwap has a decentralized system that is based on blockchain technology.
all moves based on blockchain technology. with smart contract intragrasi, there is no place for human intervention in DaoSwap.
DaoSwap's investments do not have a third-party prantara. This app has a transaction system Peer to Peer(p2p). It increases transparency.
Learn More About DaoSwap by this link below:


Website: https://daoswap.app
Telegram Group: https://t.me/daoswap_chat
Telegram Channel : https://t.me/daoswap_announcements
Medium: https://medium.com/@daoswap2021
Reddit: https://www.reddit.com/user/daoswap2021


Author
Innerpumper
Bitcointalk Profile Link:

View the profile of Innerpumper


Eth Wallet: 0x8f5706c0de7775910f8e593f60d50897c43e7f0c