Nutbox Blog is online , APY of SP delegation mining reaches 118%
Nearly one month has passed, since the project launched. Nutbox's delegation pool has gotten more than 1.1M SP from Steem community members. Its APY reaches 118%, rather than 20-30% which is common among other delegation projects on Steem.
Nutbox( https://nutbox.io/ )正式上线一个月,获得社区用户1123K SP代理,挖矿年化收益率高达118%。在平均收益率只有20%-30%的代理平台中,独树一帜。
On this special date, we announce that Nutbox blog ( https://blog.nutbox.io ) is online. The Nutbox.blog focuses contents related to the blockchain economics/ finance, provides a platform for people who are interested in blockchain to communicate. We are expected that Nutbox Blog will become a real blockchain lover community on Steem, just like bitcointalk.org on Bitcoin.
在这个特殊的日子里,我们宣布上线 Nutbox Blog( https://blog.nutbox.io )。Nutbox Blog定位于区块链经济人社区,区块链志趣相投的用户有了个可以交流的地方。Nutbox Blog之于Steem,就如bitcointalk.org对于Bitcoin一样,会形成一个区块链真正爱好者的社区。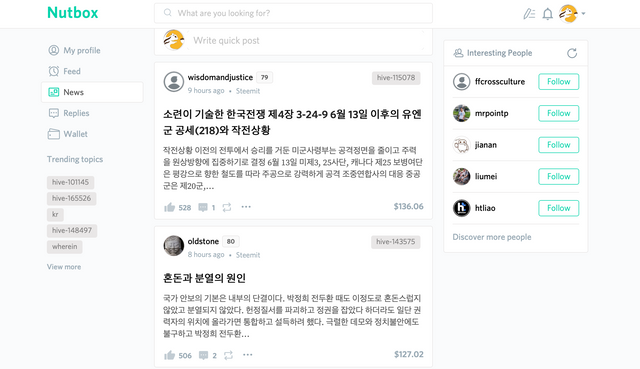 Nutbox is a real blockchain-based blockchain-content media, enthusiast can post their works and get rewards. As long as the contents being posted, they will be recorded by blockchain, which means the copyright is protected.
Nutbox是一个真正基于区块链底层的区块链内容媒体,爱好者在上面创作都会得到应有的收益,且发布即上链,版权也能得到保护。
In 2018, when blockchain technology is flamming, there are more than 10K blockchain media. This year, as the new giant tide of DeFi, We believe more blockchain-content communities based on Steem and Nutbox will bring about.
2018年,区块链火热的时期,全球有一万家区块链媒体。今年,随着DeFi开启这轮区块链浪潮,相信基于Steem及Nutbox,一定会出现无数区块链内容社区。
PS: It may increase the Nutbox.mine 's upvote probability and scale if you post your blog through blog.nutbox.io
PS:用 blog.nutbox.io 将有机会获得 @nutbox.mine大赞
Nutbox Guide
CN | https://blog.nutbox.io/hive-180932/@honoru/steem-keychaine-tron-sp-tron-nutbox-pnut
EN | https://blog.nutbox.io/nutbox/@wherein/the-nutbox-is-operating-and-the-steem-y-era-is-coming-or-nutbox-steem-y
Nutbox introduction
CN | https://blog.nutbox.io/cn/@nutboxs/nutbox--y-combinator-of-steem-blockchain-20201016t055718157z
EN | https://blog.nutbox.io/cn/@wherein/nutbox--y-combinator-of-steem--will-coming-soon-20201017t190449041z
KR | https://blog.nutbox.io/hive-196917/@ayogom/steem-nutbox-y-combinator
DOCS | https://docs.nutbox.io
Webside | https://nutbox.io/
Contact US
Steem:https://blog.nutbox.io/@nutbox
Discord:https://discord.gg/zPkMuGY
Telegram:https://t.me/joinchat/PrBejBh_Grp6lFZEGArDpA
Vote For US
Please vote for our witness smt-wherein:
https://steemconnect.wherein.mobi/sign/account-witness-vote?witness=smt-wherein&approve=1