Die Hamster sind los - die wahre Natur des Menschen DE / ENG The true nature of mankind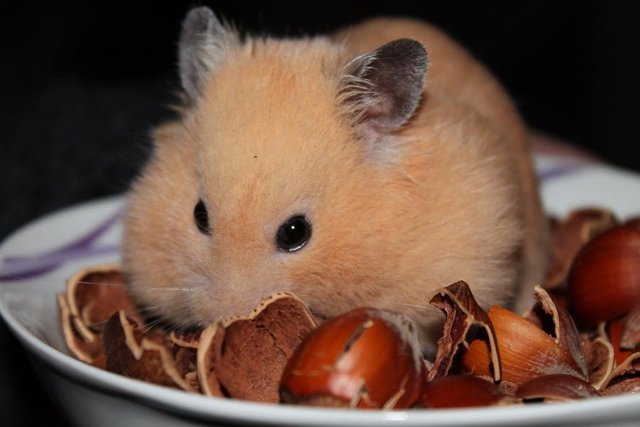 Kaum haben wir beim Dienstags5er untersucht, welches Tier eine passende Definition des Menschen abliefern würde, kommt etwas Neues. Es fällt mir wie Schuppen von den Augen:
As soon as we have examined at the Tuesdays5er, which animal would deliver a suitable definition of humans, something new comes up. It falls like scales from my eyes:
Der Mensch ist ein Hamster!
Da stand ich aber echt auf der langen Leitung! Dabei ist es doch jetzt bewiesen - sogar unser Mittwochsquickie @backinblackdevil hat Beweisfotos geliefert! Die Regale sind leer - es gibt von einigen Lebensmitteln nichts mehr zu ergattern. Erfolgreiche Käufer bestehen auf ihren vollen Einkaufswagen und sind nicht bereit zu teilen. Es scheint offensichtlich zu sein dort unten im Süden...
Zu meiner Entschuldigung muss ich sagen, dass mir selbst noch keine leeren Regale untergekommen sind. Bis jetzt habe ich alles einkaufen können, was ich wollte.
Vielleicht gibt es ein Nord-Süd Gefälle in der Ausprägung des Hamsterdaseins eines Menschen? (Auch @mima2606 meldet aus dem Norden wenig Leerstände.) Der schwerfällige Norden reagiert wahrscheinlich langsamer, bedächtiger und damit später? Wann werden auch bei mir die Menschen ihr wahres HamsterGesicht zeigen?
Man is a hamster!
I was really on the long line there! But now it's proven - even our Wednesday Quickie @backinblackdevil provided proof photos! The shelves are empty - there is nothing left to get hold of some food. Successful buyers insist on their full shopping cart and are not willing to share. It seems to be obvious down there in the south...
To my excuse I have to say that I haven't found any empty shelves myself. So far, I've been able to buy everything I wanted.
Perhaps there is a north-south divide in the degree of a person's hamstering? (Also @mima2606 reports few empty shelves from the north.) The cumbersome north probably reacts slower, more thoughtful and therefore later? When will people show their true hamster face in my region, too?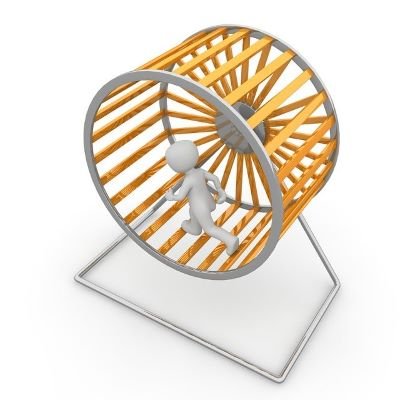 In Krisenzeiten fallen viele Masken, weil es um das nackte Überleben geht. Völlig klar, dass der Mensch dann wieder zum Tier wird. Oh, ich vergaß - er war ja bereits vorher im Hamsterkleid unterwegs: viele Menschen leben ein Leben im Hamsterrad! Also dürfen wir uns jetzt auch nicht wundern, wenn die Hamster los sind!
Besteht eventuell ein Zusammenhang zwischen dem Hamsterradleben und dem Hamstern in Krisenzeiten?
Einmal Hamster - immer Hamster?
Gibt es soziale Hamster?
Habt ihr den Hamster in euch schon entlarvt? 😎
In times of crisis many masks fall because bare survival is at stake. It is quite clear that man then becomes an animal again. Oh, I forgot - he was already on the road in a hamster dress before: many people live a life in a hamster wheel! So now we should not be surprised when the hamsters are free!
Is there possibly a connection between the hamster wheel life and hoarding in times of crisis?
Once a hamster - always a hamster?
Are there social hamsters?
Have you already exposed the hamster in you? 😎
Mach dein Ding und STEEM ON!

Mittwochsquickie von @muelli erklärt:
Ja besser kann es doch nicht kommen, "Der Hamster ist los" ist das Thema heute beim #MittwochsQuickie, bei dem man in 10 Minuten aufschreibt, was einem zum Thema in die Birne kommt.
Wenn Du dies noch mit dem tag #mittwochsquickie verzierst und veröffentlichst, hast Du alle Regeln befolgt.
( Nur für den Fall, das Du es nicht wusstest. )
Translated with www.DeepL.com/Translator (free version)
Hamster von bierfritze auf Pixabay
Hamsterrad von Peggy und Marco Lachmann-Anke auf Pixabay