Ein Meilenstein..... Ein Wunder.... Es ist mehr als Genial / A milestone.... A miracle.... It is more than genius
The first Chair
[DE] Was bin ich
Ihr kennt mich hier auf Steemit unter dem Namen
@backinblackdevil
. In meiner Freizeit fahre ich wie viele wissen, sehr sehr gerne Motorrad. Genau aus diesem Grunde haben einige Freunde und ich uns dazu entschlossen DRIVE FOR KIDS ins Leben zu rufen. Geben tut es dieses Programm schon seit ein paar Jahren. Nun möchte ich das ganze auf der Blockchain publik machen und hoffe auf Unterstützung und zahlreiche Mitwirkung.
[EN] What i am
You know me here on Steemit under the name
@backinblackdevil
. In my spare time I drive as many know, very much with pleasure motorcycle. Exactly for this reason some friends and I have decided to create DRIVE FOR KIDS. This program has been running for a few years now. Now I would like to make the whole thing public on the Blockchain and hope for support and numerous cooperation.
---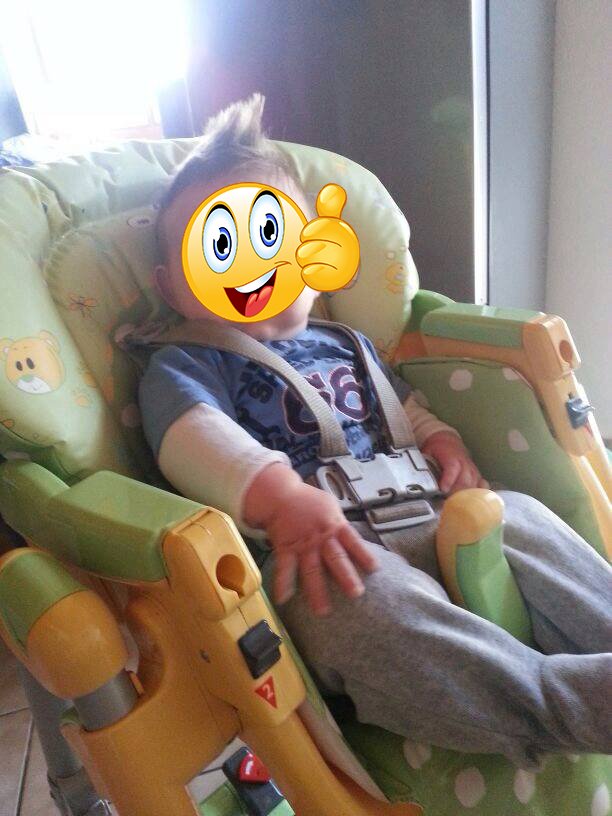 [DE]Der erste Stuhl ist da
Ich habe doch vor einiger Zeit einmal darüber berichtet, das wir unbedingt Geld sammeln für so Multifunktionsstühle, welche Behindertengerecht sind. Diese Stühle haben den Vorteil, das sie unterschiedliche Einstellmöglichkeiten besitzen. In denen kann man spielen, schlafen, wickeln, essen und alles. Super Teile, besonders teuer.
Die Kosten für so einen Stuhl belaufen sich zwischen 700 und 3000 Euro. Bei der teuren Variante ist alles elektronisch und mit wahrscheinlich noch mit Spracherkennung. So dank vieler kleiner Spenden unter anderem aus der großzügigen Gemeinschaft um Steemit..... Hier sind von vielen Usern spenden eingegangen, ich hab sie alle schon benannt. Diverser anderer Spender aus dem Reallife, konnten wir heute den ersten Stuhl übergeben. Der zweite Stuhl, da bin ich noch in Verhandlungen mit dem Hersteller, ob er uns nicht mit den Kosten etwas entgegen kommt.
Ich kann euch sagen, ich habe noch selten eine Mutter gesehen, die so glücklich war. Mir stehen immer noch die Tränen dieses Momentes in den Augen.
Solche kleinen Dinge sind es, die im Leben zählen. Keine Politik kein drum herum sind so wichtig wie ein glücklicher Mensch. Als ich heut mit Steffi diesen Stuhl überreicht hab war es so ein Moment, ein Moment in dem man sich so großartig fühlt. Da kommen Fragen von der Mutter, womit habe ich das Verdient..... Warum? Unter Tränen der Freude kommen wieder Zweifel.
Ich sag dir warum sie das Verdient hat. Sie opfert sich täglich für den kleinen auf, sie gibt alles ihr ganzes Leben auf um diesen kleinen eine Kindheit zu verschaffen welche mit Glück erfühlt ist. Der kleine J. wird sich nie daran erinnern, er wird nie Wissen wie sehr seine Mutter für ihn da war. Er wird nicht mal in die Schule kommen. Es ist aber eins gewiss, ich kann guten Gewissen sagen, ja dieses Kind hat jetzt noch ein wenig Erleichterung und kann etwas besser Leben.
Einzige Bedingung an diesen Stuhl ist es, das er irgendwann wenn er nicht mehr gebraucht wird, weiter gegeben wird an eine Stelle wo er dringend benötigt wird.
So nun ist aber gut. Mir stehen schon wieder die Tränen in meine Äuglein ...... Danke an euch das Ihr so tatkräftig mitgewirkt habt und es weiterhin tun werdet........ Geile Sache.
Kurz zur Info.... Die Stühle sin so unendlich teuer, weil diese für Einrichtungen geeignet sind. Abwischbar, Feuerfest und und und..... Sowas gibts auch für den Hausgebrauch als Variante günstig und klapprig, erfüllt aber nicht den Zweck der Anforderung einer Kinderkrippe.
[EN]the first chair
Some time ago I told you that we have to raise money for multifunctional chairs, which are suitable for disabled people. These chairs have the advantage that they have different adjustment possibilities. In them you can play, sleep, change diapers, eat and everything. Super parts, especially expensive.
The costs for such a chair amount to between 700 and 3000 euros. With the expensive variant everything is electronic and with probably still with speech recognition. So thanks to many small donations among other things from the generous community around Steemit..... Here many users have made donations, I have already named them all. Various other donors from the real life, we could hand over today the first chair. The second chair, I'm still in negotiations with the manufacturer, whether he won't come to our aid with the costs.
I can tell you, I have rarely seen a mother who was so happy. The tears of this moment are still in my eyes.
Such little things are what count in life. No politics, no politics around it are as important as a happy person. When I presented Steffi with this chair today, it was a moment, a moment when you feel so great. There come questions from the mother, what have I done to deserve..... Why? With tears of joy doubts come again.
I tell you why she deserved it. She sacrifices herself daily for the little one, she gives up everything her whole life to give this little one a childhood which is filled with happiness. Little J. will never remember, he will never know how much his mother was there for him. He will not even come to school. But one thing is for sure, I can say with a clear conscience, yes this child now has a little relief and can live a little better.
The only condition to this chair is that it will be given to a place where it is urgently needed when it is no longer needed.
So now it is good. The tears are already in my eyes again ...... Thank you to you that you have worked so actively and will continue to do it.......... Cool thing.
Briefly to the info.... The chairs are so infinitely expensive, because they are suitable for facilities. Wipeable, fireproof and and and..... There is such a thing also for the domestic use as variant favorable and rickety, however, does not fulfill the purpose of the requirement of a crèche.
---
[DE] Wie könnt Ihr Steemians helfen
Ihr könnt mich zum einen gerne im Discord anschreiben wenn Ihr Sachspenden habt und wir finden einen Lösungsweg. Zum anderen würde ich mich sehr freuen wenn wir diesen Account etwas pushen. Das ganze soll so aussehen, das für Delegation von Steempower von mir einmal alle 24 h ein Upvote auf deinen Account vorgenommen wird. Die dadurch erhaltene Curation werde ich dann für Anschaffungen wie Papier, Stifte etc nehmen. Weiter könnt Ihr diesen Account mit einem Upvote unterstützen, ich werde fast täglich einen Post über den Aktuellen Stand des Accounts posten. Weiter kommen von mir auch Aktionspost von Übergaben bzw auch geplanten Aktionen. Natürlich dürfen auch Steem und SBD gespendet werden.
[EN] How can you help
From now on I would like to inform you weekly about the current status of the delegations and the posts voted by me. All income of the SBD generated from these posts goes to the kids. Of course, in between, current actions and actions from the past will be presented.
---
[DE] Wie funktioniert die Delegation von SP
Ihr delegiert dem account
@driveforkids
Steempower. Als Dankeschön erhaltet ihr 1 pro Tag (alle 24h) ein gewissen Upvote. Das ganze wird von mir wie folgt in Leveln angepasst.
Level 1) - 10 - 70 SP - 5 % Upvote
Level 2) - 71 - 140 SP - 10 % Upvote
Level 3) - 141 - 210 SP - 15 % Upvote
Level 4) - 211 - 300 SP - 20 % Upvote
Level 5) - 301 - 500 SP - 30 % Upvote
Level 6) - 501 - 800 SP - 40 % Upvote
Level 7) - 801 - 1100 SP - 50 % Upvote
Level 8) - 1100- 2000 SP - 75 % Upvote
Level 9) - 2001 - 5000 SP - 85 %Upvote
Level 10) über 5001 SP - 100 % Upvote
[EN]How does the delegation of SP work?
You delegate Steempower to the account
@driveforkids
. As a thank you 1 per day (every 24h) you get a certain Upvote. The whole thing is adjusted by me in levels as follows.
Level 1) - 10 - 70 SP - 5 % Upvote
Level 2) - 71 - 140 SP - 10 % Upvote
Level 3) - 141 - 210 SP - 15 % Upvote
Level 4) - 211 - 300 SP - 20 % Upvote
Level 5) - 301 - 500 SP - 30 % Upvote
Level 6) - 501 - 800 SP - 40 % Upvote
Level 7) - 801 - 1100 SP - 50 % Upvote
Level 8) - 1100- 2000 SP - 75 % Upvote
Level 9) - 2001 - 5000 SP - 85 %Upvote
Level 10) über 5001 SP - 100 % Upvote
---
Zur Info Spendenquittungen können wir keine Ausstellen, da wir völlig frei von jedweder Bürokratie arbeiten. Wir sammeln und wir geben es denen die es Nötig haben.
We cannot issue donation receipts as we work completely free of any bureaucracy. We collect and give it to those who need it.
Wenn Ihr Fragen habt, könnt ihr diese gerne in den Kommentaren stellen..... Ich bedanke mich schon jetzt bei allen die dieses Projekt mit Unterstützen.
Ich bedanke mich bei den bisherigen Delegatoren für Ihre Unterstützung.
@meins0815 , @parzifal1,@prinzvalium, @alexvan, @peter2017 aka @actifit-peter, @tomhall, @kanrat , @masterthematrix, @sniem5180, @der-prophet, @parzifal1 , @curationvoter, @backinblackdevil @fotogruppemunich, @neophilosoph, @kizumo, @gammastern, @nerdtopiade, @sebescen81, @fredfettmeister, @gwynnefer, @landshutbrauhaus, @patschwork, @solomon.grundy, @balte, @
Ich habe mir überlegt, das die ersten 20 Delegatoren ein Level höher einsteigen.