Lisa möchte Danke sagen........ / Lisa says thanks
[DE]Lisa möchte Danke sagen.
Liebe Steemit Community. Ich würde euch jetzt gerne ein paar Bilder präsentieren von der Übergabe des Fahrrades an Lisa. Leider ist mir dies jedoch wie so häufig verwehrt. Ich kann und werde aber immer und zu jeder Zeit akzeptieren, wenn Eltern nicht wollen das Bilder Ihrer Kinder veröffentlich werden. So auch in diesem Fall. Dennoch soll ich euch allen, allen die mit dazu beigetragen haben ein ganz dicken Kuss geben und vielen vielen Dank sagen. Ich selber war bei der Übergabe des Fahrrades nicht mit dabei, da ich mich auf Flitterwochen befand. Mir wurde nur überbracht das Lisa zu tränen gerührt war und sich richtig über das Fahrrad gefreut hat.
Nochmals ein Dickes Danke an euch alle, ihr seid einfach stark.
[EN]Big Bigger Biggest ...... Thank you from Lisa
Dear Steemit Community. I would like to present you some pictures of the handing over of the bike to Lisa. Unfortunately this is denied me as so often. However, I can and will always and at any time accept, if parents do not want the pictures of their children to be published. So also in this case. Nevertheless I shall give all of you who have contributed to it a big kiss and say thank you very much. I myself was not present when the bike was handed over because I was on my honeymoon. I was only brought that Lisa was moved to tears and was really happy about the bike.
Once again a big thank you to all of you, you are just strong.
---
https://steemit.com/deutsch/@driveforkids/fahrrad-fr-lisa-bike-for-lisa-ksiw64qb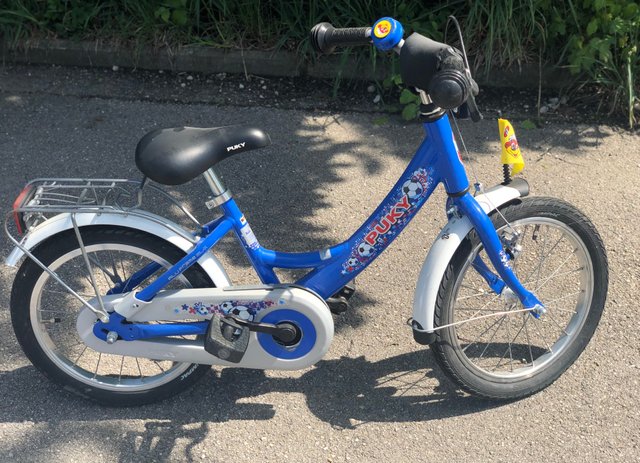 ---
[DE]DFK Coin
Der Treibt mir ja den Schweiß auf die Stirn. Ich finde kein nützliches Tool was mir zuverlässig anzeigt wer denn genau gerade ein paar Coins erworben hat. Nur die eh bekannte Seite, das find ich aber recht unübersichtlich. Man muss immer raussuchen wer da jetzt neu drin ist. Vielleicht habt ihr nen Tipp.
Zunächst möchte ich euch aber mal kurz aufklären wie das mit der Verteilung läuft. 1000 DFK Coin entsprechen einen Vote von 5 % von @driveforkids..... Aktuell könnt ihr 1 DFK für 0.001 Steem kaufen. Tiefer wird der Preis nicht gehen, auch wenn sich da jemand anbietet der 0.0001 geben möchte.
[EN]DFK Coin
He's the one who's putting the sweat on my forehead. I can't find a useful tool that reliably shows me who has just purchased a few coins. Only the already known page, but I find that quite confusing. You always have to find out who is new in it now. Maybe you have a tip.
But first I would like to explain to you how the distribution works. 1000 DFK Coin correspond to a vote of 5 % of @driveforkids..... Currently you can buy 1 DFK for 0.001 Steem. The price will not go lower, even if there is someone who wants to give 0.0001.
---
[DE] Wie könnt Ihr Steemians helfen
Ihr könnt mich zum einen gerne im Discord anschreiben wenn Ihr Sachspenden habt und wir finden einen Lösungsweg. Zum anderen würde ich mich sehr freuen wenn wir diesen Account etwas pushen. Das ganze soll so aussehen, das für Delegation von Steempower von mir einmal alle 24 h ein Upvote auf deinen Account vorgenommen wird. Die dadurch erhaltene Curation werde ich dann für Anschaffungen wie Papier, Stifte etc nehmen. Weiter könnt Ihr diesen Account mit einem Upvote unterstützen, ich werde fast täglich einen Post über den Aktuellen Stand des Accounts posten. Weiter kommen von mir auch Aktionspost von Übergaben bzw auch geplanten Aktionen. Natürlich dürfen auch Steem und SBD gespendet werden.
Ich bedanke mich auch bei @simsibee, sie hat mich im Discord angeschrieben, sie hat noch Stifte und Papier, da lacht das Herz und ich freu mich sehr darüber
[EN] How can you help
On the one hand you can write to me at Discord if you have donations in kind and we will find a solution. On the other hand I would be very happy if we push this account a bit. The whole thing should look like this, that for delegation of Steempower once every 24 h an Upvote is made by me on your account. I will then use the curation for purchases like paper, pens etc.. Further you can support this account with an Upvote, I will post almost daily a post about the current state of the account. Further I will also post action mail from handovers or planned actions. Of course Steem and SBD can also be donated.
I also thank @simsibee, she wrote to me in the discord, she still has pens and paper, there laughs the heart and I am very happy about it
---
[DE] Wie funktioniert die Delegation von SP
Ihr delegiert dem account
@driveforkids
Steempower. Als Dankeschön erhaltet ihr 1 pro Tag (alle 24h) ein gewissen Upvote. Das ganze wird von mir wie folgt in Leveln angepasst.
[EN]How does the delegation of SP work?
You delegate Steempower to the account
@driveforkids
. As a thank you 1 per day (every 24h) you get a certain Upvote. The whole thing is adjusted by me in levels as follows.
---
Level 1)
10 - 70 SP - 5 % Upvote
Level 2)
71 - 140 SP - 10 % Upvote
Level 3)
141 - 210 SP - 15 % Upvote
Level 4)
211 - 300 SP - 20 % Upvote
Level 5)
301 - 500 SP - 30 % Upvote
Level 6)
501 - 800 SP - 40 % Upvote
Level 7)
801 - 1100 SP - 50 % Upvote
Level 8)
1100- 2000 SP - 75 % Upvote
Level 9)
2001 - 5000 SP - 85 %Upvote
Level 10)
over 5001 SP - 100 % Upvote
zum Abschluss möchte ich mich noch bei @sebescen81 für die Krasse Unterstützung bedanken. Von Ihm bekomme ich 25 der Einnahmen der LCT Token.... also liebe User, kauft LCT.