Einzigartig schön │ Uniquely beautiful
Wolfsmilchschwärmer ■ Spurge hawk-moth
Hyles euphorbiae (Linnaeus, 1758)
Der Wolfsmilchschwärmer ist ein Nachtfalter aus der Familie der Schwärmer (Sphingidae). Mit einer Flügelspannweite von bis zu 80 mm zählt er zu den größten Nachtfaltern in Deutschland. Die sehr schön variabel gefärbte Raupe, erreicht eine ähnliche Größe und ernährt sich vorwiegend von Zypressen-Wolfsmilch (Euphorbia cyparissias). Der Falter selbst ist dämmerungsaktiv. Im Schwirrflug fliegt er wie ein Kolibri von Blüte zu Blüte um Nektar zu saugen. Schwärmer sind ausgezeichnete Flieger und gehören zu den schnellsten Insekten der Welt. Einige Arten erreichen Geschwindigkeit bis zu 100 Stunden km. Der Wolfsmilchschwärmer fliegt von Mai bis Ende August in einer Generation. An besonders warmen Standorten, kann sich eine zweite Generation bilden, die bis Ende September fliegt. Der Falter fliegt bevorzugt auf Magerrasen und Wacholderheiden. Die Raupen findet man allerdings deutlich häufiger als den Schmetterling.
The Spurge Hawk is a moth from the family of (Sphingidae). With a wingspan of up to 80 mm, it is one of the largest night butterflies in Germany. The very nicely colored caterpillar, reaches a similar size and feeds mainly on cypress spurge (Euphorbia cyparissias). The moth itself is active at twilight. It flies like a hummingbird from flower to flower to suck nectar. Hawkmothers are excellent flyers and are among the fastest insects in the world. Some species reach speeds of up to 100 hours km. The Spurge Hawk flies from May to the end of August in one generation. At particularly warm locations, a second generation can form, which flies until the end of September. The butterfly prefers to fly on lean grassland and juniper heath. The caterpillars, however, can be found much more frequently than the moth.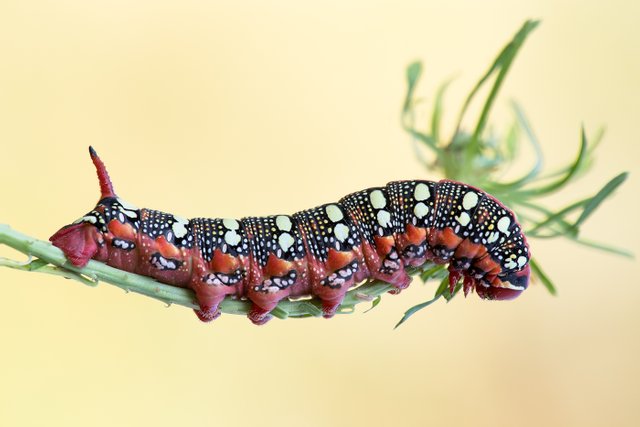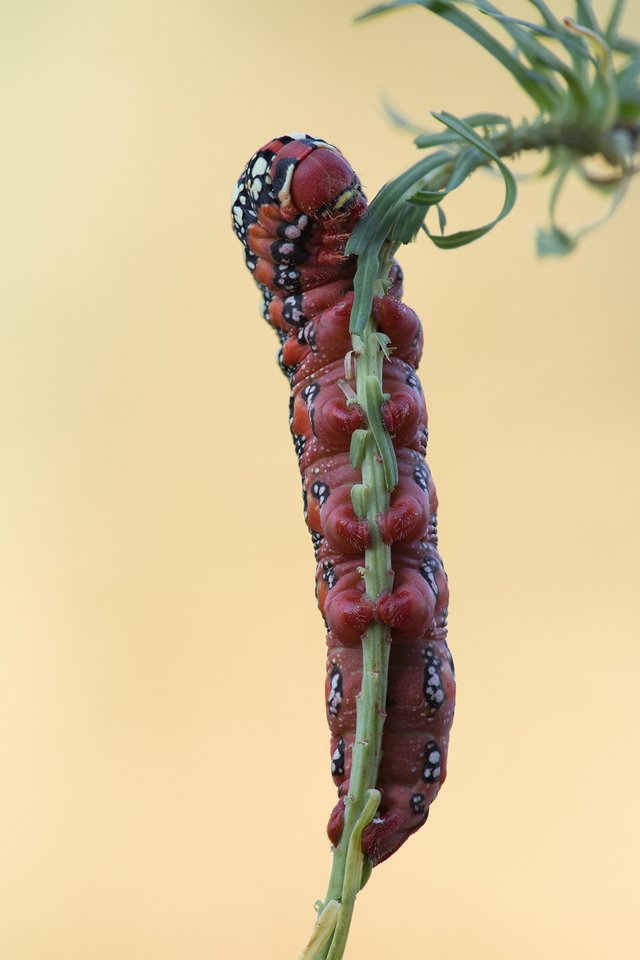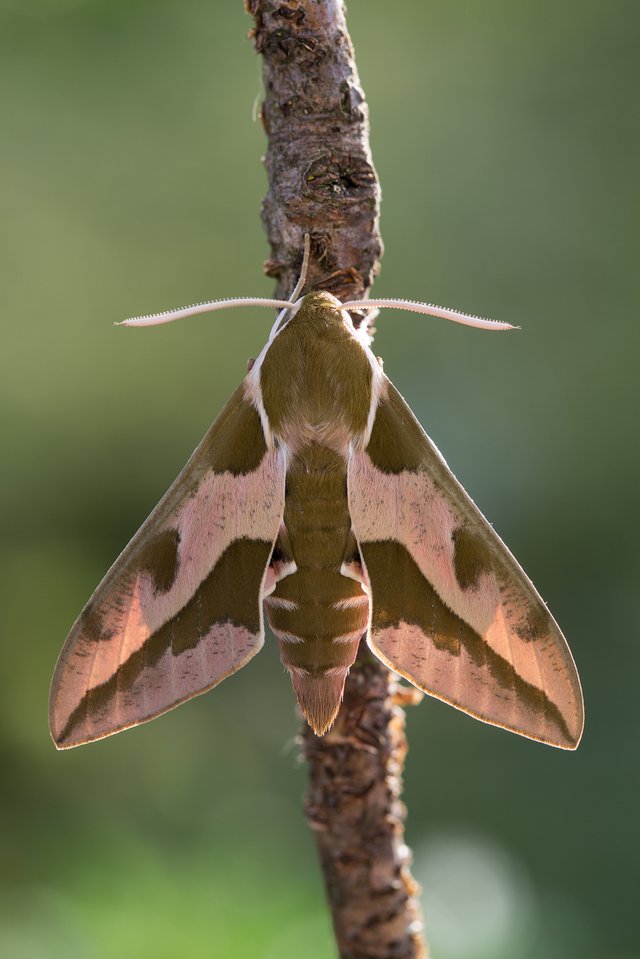 ▲ Click on the image for full resolution ▲
| | |
| --- | --- |
| Category | Macro |
| Camera | Canon 5D Mark IV |
| Lens | Canon Macro EF 180mm f3.5 L |
| Location | Deutschland, Baden-Württemberg, Odenwald, Hardheim |
Wenn dir mein Beitrag gefällt, freue ich mich über deine Nachricht.

Herzlichen Dank und viele Grüße vom @faltermann 🐛
If you like my contribution, I am looking forward to your message.
Many thanks and greetings from Germany 🐛